Obama's campus visit recognizes FIU's commitment to immigrants
---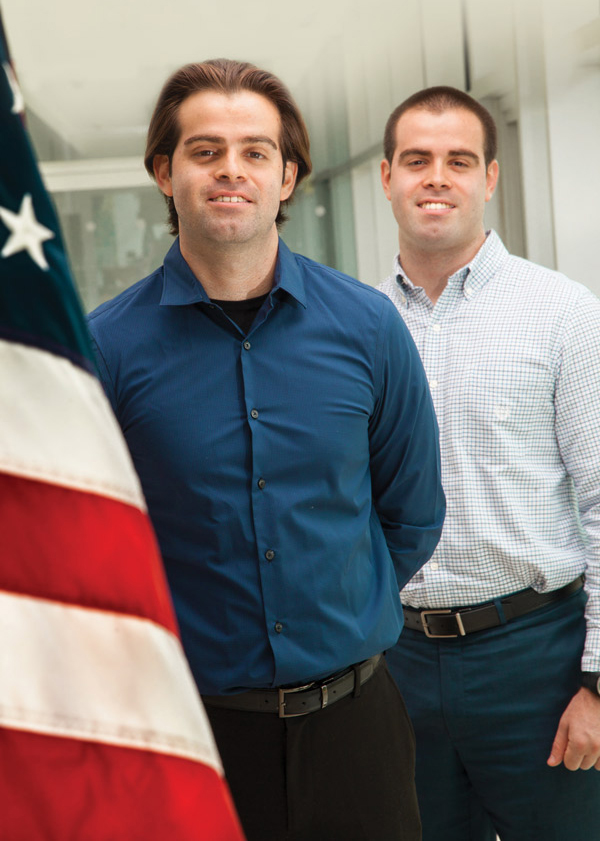 Twins Nicolas and Esteban Wulff dream of opportunity. They dream of working hard to achieve success. They dream of a college education.
When President Barack Obama visited campusFeb. 25 for a town hall on immigration, the FIU community came together to dream with them. The brothers were among a handful of FIU students selected to participate in the historic event because their story is emblematic of the national dialogue in support of immigration reform.
The Wulff brothers arrived in the United States when they were 5 years old. They had packed up their toys and made the journey from Colombia to reunite with their mom who had come a couple years earlier to earn money to support them. The distance had become too big a strain on the family.
The family decided to risk it all and stay in the country together — illegally.
"We grew up American," says Nicolas.
They attended elementary school, middle school, high school… but they were stuck. They didn't have a Social Security card, so no real jobs; no driver's license, so limited mobility; nor a bank account, so no meaningful savings for the future.
Still, they believed. Their mother told them the key to success was an education and they worked hard, graduating with honors from high school and taking as many classes as they could afford at Miami Dade College.
Then in 2012, President Barack Obama announced that the U.S. Department of Homeland Security would not deport certain undocumented youth who came to the United States as children. The brothers were overjoyed. The Deferred Action for Childhood Arrivals (DACA) changed everything for them. Having completed the paperwork, the two received notice by Aug. of 2012 that they each qualified for a renewable two-year exemption from deportation and a work permit.
"I feel like I'm finally moving forward. We're not stuck in limbo anymore," Esteban says.
For Nicolas, preparation finally met opportunity. "I got my first legal job and used it to pay for college," he says.
---
The Hope Clinic: Law students help young people in immigration limbo
---
A 1997 report, The Americans by the National Research Council, found that immigrants – both legal and undocumented – with college degrees save the government money, while those with just a high school diploma consume more in services than they contribute in taxes.
"People like me that who grown up here for the vast majority of our lives are here to stay," Nicolas says. "It doesn't make sense to handicap us financially and academically – and make it considerably more difficult for us to graduate from college and live a productive life. It's a win-win situation. Students get the education and training to succeed, and the economy and job market gets a stronger, smarter, more productive workforce. In the long run, it favors everyone."
Both Nicolas and Esteban are now studying at FIU, joining more than 50 FIU students who have benefited from a tuition waiver that allows them to pay in-state tuition, which is approximately one-third the price of out-of-state tuition.
FIU is the first public university in Florida to offer in-state tuition to students who have qualified for DACA. Before, local undocumented students paid out-of-state tuition.
During the opening remarks at the town hall, Obama congratulated FIU for its diversity.
FIU is the largest Hispanic-serving university in the nation and the largest producer of Hispanic graduates in the country.
Later, FIU President Mark B. Rosenberg noted, "President Obama wanted to speak at our university because our community is a community of immigrants. No one at our university is a foreigner."
The Wulff brothers have become advocates for their peers. They were previously actively involved with the Students Working for Equal Rights organization, and Nicolas interned at the Congressional Hispanic Caucus Institute with Congressman Joe Garcia's office. He represented FIU at a Champions of Change event at the White House promoting the effect DACA status has had on undocumented students.
Nicolas says the goal for him and other DACA students is "to be successful and contribute."
He adds, "As cliched as it sounds, America is the land of opportunity. That is the whole reason my mom moved here from Colombia 23 years ago. At my current job in an immigration legal office, I fill out asylum packets almost every day, and I talk to people who have lived in the worst conditions in other countries and see the United States as a way out.
"I might not have all the benefits granted to a U.S. citizen, or a lawful permanent resident, yet – but this is the hand I was dealt, and through smart, hard work, I will accomplish what I set out to do."
Nicolas graduated this past spring with a bachelor's in political science and was cited by President Mark B. Rosenberg as a standout graduate. He hopes to pursue a graduate degree in economics and a certificate in project management. Esteban is working on his final three semesters and hopes to take his degree in economics to the technology industry.
Both are optimistic about immigration reform. They are living their dream—taking advantage of the opportunity. But they still await the realization of the ultimate dream: becoming a citizen of the only county they've known.
Esteban says, "To me, an American is a person who wants to achieve. It's a state of mind more than a nationality." ♦