To mark the 50th anniversary of FIU's founding, President Mark B. Rosenberg shared his vision for the next generation on a wide range of topics.
You started your teaching career in 1976 at FIU and have been president for nearly six years. What does this anniversary mean to you?
It symbolizes a coming of age. It's a marker in the evolution of the university and the community. I was used to being around universities that were created in the 1700s and the 1800s in this country. It's unique to have such a large and impactful public university that is so young. In those early days, when I started at the university, we more often than not cursed our youthfulness and fundamentally saw it as a disadvantage. Today it's clear to me our youthfulness is an advantage. It gives us the opportunity to extend ourselves in ways that are consistent with our mission, in ways that many older universities are reluctant to do because their value propositions are based on exclusivity. Our value proposition is based on engagement and inclusivity. Those are elements of our rootedness and organic culture that we need to celebrate and be proud of. Finding ways to build bridges is who we are and what we do.
A lot has shifted in higher education during that time. What changes have had the biggest impact on FIU?
I don't really look at the university without understanding the broader global and national context. So, I think the world has become a lot more complex and diverse and fragmented. Financial and economic power is shifting away from the U.S. gradually.
Nationally we are reflecting that fragmentation. The country is far more dependent upon new skills and competencies that, for the most part, can only be taught and learned through a higher education context, a university context. It's a country where natural resources are less and less central to competitiveness and human talent is more central. The university in that context is very, very well situated to thrive.
At the local level, the community is far more diversified and complex than it was when the university was opened. The community is far more conscious of its potential and its reach, and it has become mainstream nationally and globally in its identity. So that carries with it some opportunities and some obligation and some challenges that reflect squarely on the university and how it evolves over the next few years.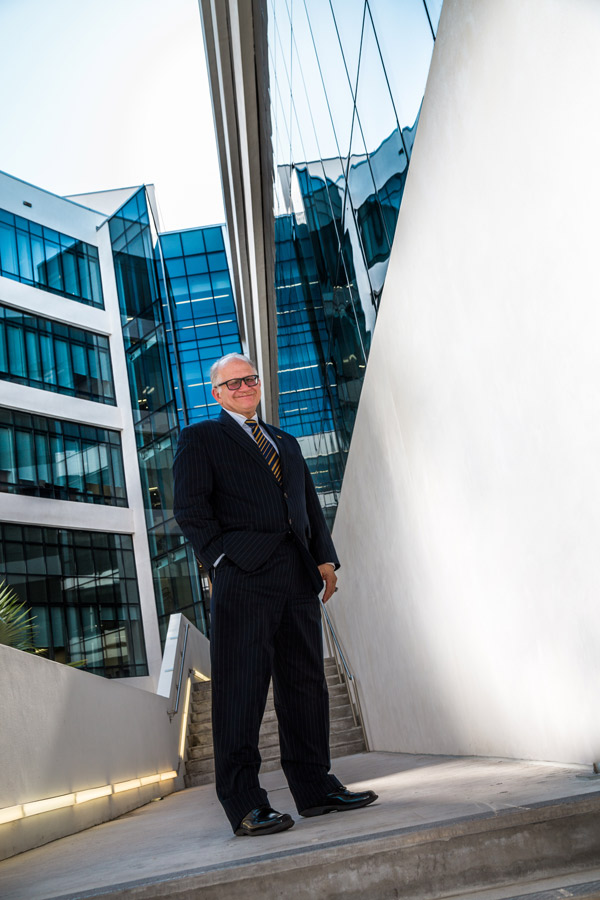 What academic trends are on the horizon that will be influential for FIU's future direction?
First, universities have lost their monopoly on learning. Second, the "massification" of high-speed digital technologies has had a major impact upon us. Third, the growing opportunity that comes about in human potential as it relates to wellness, health and performance is almost exponential.
And a fourth trend that I think is very, very important is China and the willingness of China and the Chinese people to go beyond their boundaries and to extend their culture and extend their economic and financial and technical wherewithal. That will be a major driver of 21st century movements.
The other element is the trend toward disruption and the growing power of disruptive forces, whether they are technological or religious or racial. I see that as a very powerful social element in
the change.
Across time, you will see us moving away from discipline-based education and opportunities for people to more cause-based or mission-based. Whether it's health and wellness, or life extension or related to those, the university will have to respond. It will be more cause-based and problem-based education and certification.
What does that mean for the academic experience of tomorrow's students?
Academic experience will become far more tailored to individual interests and cognitive capabilities and mission orientations. We will move to more personalized education. Traditionally, we have addressed massification and expansion of higher education wholesale, but I think as we move to greater technological sophistication, we will have much more specialized modules and modalities that will fit specific interests in a more personal fashion. Education will become far more fragmented based on technical competencies, based on personal mission orientations and interests and far more normalized within the life span of the human being.
Our university in particular is moving into partnership-solution logic to bring value to our community, to bring value globally as well. That increasingly will be the wave of the future.
How about trends in research? Where are we going?
The research will be far more solutions-oriented, far more applied, far more driven by team-based multidisciplinary groups and far more data driven as a consequence of large data sets and big data. You will see not just classic researchers. You will see also individuals with specific competencies, in terms of experience, solutions and applications.
You also will have research teams that include people with anthropological and sociological competency. So, I'm not worried about the humanities disappearing or the social sciences disappearing. The more we aggregate data, the more we will need the involvement of those who understand family matters, family organization, community organization, sociological and political dynamics.
The areas we have aligned around in generic terms include arts and entertainment from a consumer orientation, which is going to require serious research. In terms of health, we'll have significant moves forward in life extension and quality of life. You are also going to see blending of human-machine cognition, where you really won't know where the traditional human being ends and life forms that are manufactured or fabricated begin. You are already seeing that with artificial limbs and the whole debate over whether people with artificial limbs have an advantage. You are seeing it with cataract removal and lenses that are manmade and are very effective. I see incredible things happening there. That will involve, as well, emphasis and people who are more skilled in dealing with normative sociology issues.
Obviously environment, the enhanced skills to maintain environmental reconstruction and the whole issue of sustainability are major. Water and energy increasingly will be even more major. We have to do a lot more work in those areas.
Let's talk global. What are the major international and global trends that matter to FIU?
I do think China is a major, major area that we have to do a lot more work on, just understanding a country, a formation of that magnitude demographically, economically, financially, technologically. The estimate is, that by the year 2040, China's GDP will be $123 trillion. The European Community and the U.S. combined will be $30-35 trillion. Let's assume we're off by even 40 percent. You are still dealing with an entity that is on the order of three times the size of the United States and Europe in terms of production. That is something we need to come to grips with.
Where we are growing globally relates to the life of the mind. It is critically important that we do a better job; and we have staked out this ground on the Global Learning initiative. International understanding was one of the original university goals. We start with doing a better job of making sure our students interact more with students from other countries and with other perspectives.
We also have to find ways to replicate the look and feel of the world of work that students are going into by ensuring our students have important opportunities to experience different cultures and different ways of doing things. That can be through study abroad or cross-national collaborative design simulations or research projects.
So, let's talk about engagement. In a broad sense, what will the "public' of public higher education mean for FIU going forward?
"Public" will connote a certain value proposition that the public university is the platform for addressing the challenges and opportunities that come about through social change. Public universities have the obligation to make sure there is broader awareness of those challenges and opportunities and to make sure there's a capability to address them.
---
New strategic plan sets ambitious goals for next five years
---
What do you see happening in terms of the funding aspects of public higher education and how we sustain the university in the future?
I'm not one of those people who is going to curse the darkness in that sense. Times change, and we have to change with them. We are perfectly situated to change and prosper because we have the human talent and values proposition and the organizational culture to successfully thrive in this much more complex and ambiguous environment.
Therefore, we should expect as we do that we are able to, and we must diversify our financial base. There will always be some funding coming from the state as a public institution, but we should expect across time that as we become more successful and larger, that funding will diminish in size and scale and percentage. Why? If we are creating value, we're able to monetize that value in a way that enables us to have sustainability.
This country is enormously wealthy, and this country is full of dreamers and people who are able to turn dreams into reality and then want to help others. I'm confident that as we become more successful, we will see more philanthropy and more purposeful giving coming into the university on one hand, and we will be able to monetize that value in a way that will enable us to maintain a cadre and corpus of talent that will enhance the institution.
We've built out the MMC and we have the opportunity to go bigger with the additional fairgrounds acreage. What will FIU look like for the next generation?
It's the next generation that expansion to the fairgrounds is all about. I do still see the need for brick and mortar. Traditional research requires state-of-the-art facilities and labor; and people are social animals who feel the need to gather and share their learning and experiences. Even if we do a lot more education in a personalized, just-in-time, modular fashion, there will be a need to bring people together to share learning and benefit from the serendipity of one-on-one, face-to-face relationships.
In the case of the Maidique campus, our academic health center has the potential to become a billion-dollar stand-alone enterprise in 20 years. That is my vision for it because of the exponential improvements in health and advances in health research that will take on a logic of its own. That in part is why we need the additional acreage to the south of us.
We will probably see more specialized centers and sites out there across time similar to Brickell or South Beach or I-75 or China. We will see more as we can develop business models that work. That provides value in communities that might not be able to access our main platforms.
At a core mission level, what are we doing today that will ensure we thrive tomorrow?
One, we are becoming far more student-centric and far more committed to how to improve student performance. Within the next 10 years, we are going to have individualized cognitive measures that will allow better understanding of where a student enters into the learning curve and measures how much a student is able to learn. That will be aggregated by programs and disciplines and institutions and globally benchmarked.
Two, our ability to survive is going to be based on our willingness to depart from traditional approaches to access and traditional measures of success. If we continue to base admissions on SAT scores and ACT scores, we are going to miss some of the truly unbelievable talent in this community that just wants a chance to be in an embracing and intense learning environment. I don't believe in open admission as such, but I do believe that admission should be a function of measuring talent and talent potential as opposed to more traditional indicators of success that are completely misaligned with our demographics and our geography. We have a sacred obligation to advance that human potential.
I mentioned in the 50th anniversary prayer meeting that in many ways our divinity is hope and opportunity. We must never forget that's what we bring to the table: hope for people who might not otherwise have the opportunity to get an education and learn at such a dynamic place, and opportunity in that there's a perception out there that FIU students are well prepared and that opens incredible opportunity they might not otherwise have. That's who we are.