The Hope Clinic: Law students help young people in immigration limbo
---
An army of volunteers helps thousands find a future through DACA
By Eric Barton
The first people started lining up outside FIU's Carlos A. Costa Immigration and Human Rights Clinic around 7 a.m. on Aug. 18, 2012. By the time the doors to the clinic opened two hours later, hundreds were in line.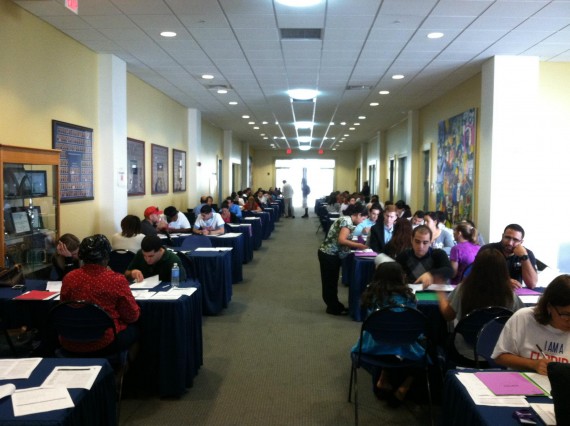 They were all looking for help with the paperwork required under what was the then-new Deferred Action for Childhood Arrivals (DACA) program, which gave work permits and temporary protection to individuals who had been brought to the U.S. before they were 16 years old.
It was all a bit overwhelming for Kenia Garcia, at the time a student at FIU's College of Law and a volunteer at the clinic. She soon realized that every case in front of her was so much more than just paperwork.
"These were people who had been holding on to nothing for so long," Garcia recalled. "All these people wanted was to come out of the shadows, and we could help them do it."
Ensuring opportunity
Since then, the clinic, along with a coalition of lawyers, nonprofits and volunteers, has processed more than 2,000 applications. It's a routine drill that should be little more than filling out the right forms. Yet without access to the free help, these children of immigrants might well have had to spend thousands of dollars on private legal fees—if they could afford it.
The DACA applications have become a major focus for FIU's clinic, which was already the last resort for many South Florida immigrants. It opened in 2004 and has become an important provider of legal services to the poor while giving law students the opportunity to practice under the supervision of seasoned attorneys.
"One of the things we're trying to do is create something like a teaching hospital for the law," said Juan Carlos Gomez, the clinic's director. "Part of this is exposing students to a world they never thought they would deal with and exposing them to actual people with real problems." About 70 law students volunteer each semester, and the clinic is currently working on DACA renewals, which have to be filed every two years.
Driven by personal history
Gomez says his own interest in the work goes back to the time when he saw his father sent to a labor camp in Cuba. Persecuted by Castro supporters, the family emigrated to the United States in the 1970s on one of the so-called Freedom Flights.
---
Obama's campus visit recognizes FIU's commitment to immigrants
---
"People like my family didn't have a chance in Cuba. We had a chance here," Gomez said. "We're not fighting the U.S. government," he said of the clinic's mission. "We're trying to work with it, to work fairly within the law, to make sure everybody has an opportunity."
Garcia likewise recalled her own history while working as a volunteer at the clinic. When she was 15, her family crowded into a homemade raft with their dog and two other families. They spent 23 hours at sea before making it to Florida. That memory fueled her drive to help others.
"At one point I had 18 open cases," she recalled. "I realized each one of these files was a family. Every file I worked on was someone's future," said Garcia, who earned her JD in 2012 and has since opened a practice focused on immigration law.
And as Gomez meets with new applicants, he remembers a saying his father often repeated: "El hambre duele," hunger hurts. Gomez knew many of the DACA kids grew up wanting the simple things their friends took for granted. They feared getting pulled over because, for example, they couldn't get a driver's license. They didn't bother applying for colleges because they weren't allowed to receive financial aid.
"These are kids who had no hope," Gomez said. "For the most part they were hopeless, and now they have hope again."