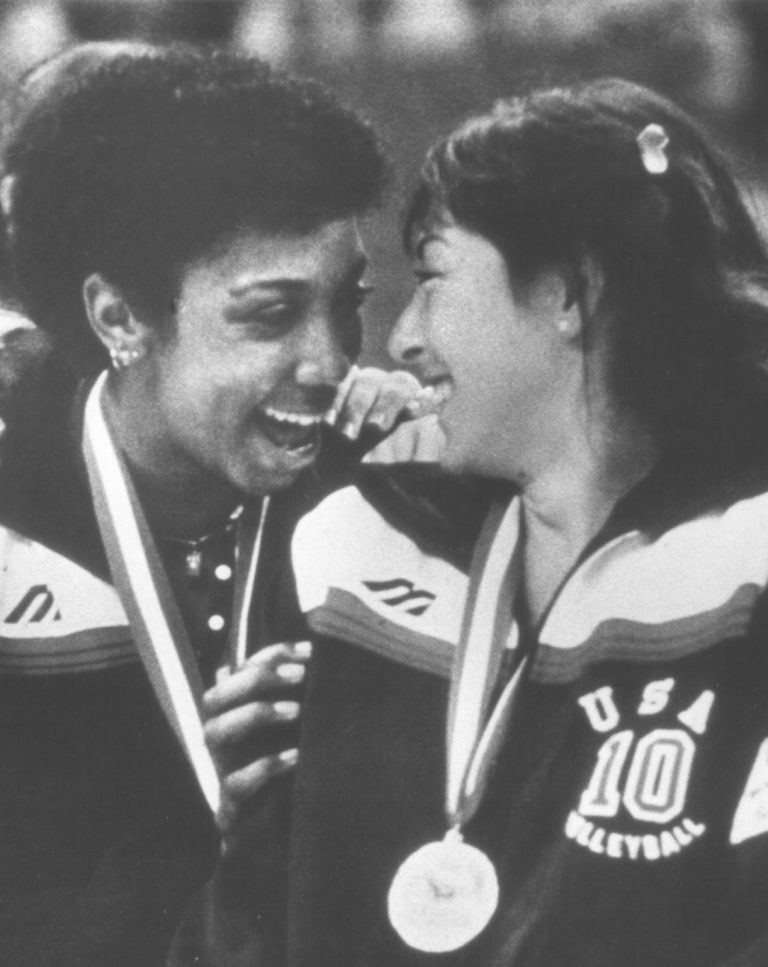 By Joel Delgado '12 MS '17 
FIU coach Rita Buck-Crockett years ago achieved what many athletes only dream of: becoming an Olympian.
Buck-Crockett, who arrived at FIU in 2011 as an assistant athletic director and head coach for both indoor volleyball and beach volleyball, was a member of the 1980 U.S. Summer Olympics team that saw its collective dreams dashed by the U.S. boycott of the games in Moscow. She returned for the 1984 Olympics in Los Angeles and helped the U.S. win a silver medal in volleyball. In the lead up to the 2016 Olympic Games in Rio de Janeiro in August, Buck-Crockett sat down with FIU Magazine to reflect on her Olympic experience.
1. FIU Magazine: What did your path to the Olympics look like?
Rita Buck-Crockett: I was just a little girl from San Antonio, Texas, living on a dairy farm and I was blessed to be at the right place at the right time. I didn't even know there was an Olympic team for volleyball. I just didn't follow the sport that closely and I didn't set out to be an Olympian. I was just an athlete and I loved being an athlete.
While I was at the University of Houston in 1978, the national team coach approached me about joining the team and helping them qualify for the 1980 Olympics. At first I didn't want to leave college – when you're young, you think of the immediate impact – but once I realized what this really meant, that I could represent the my country, I decided to pursue it.
2. How did you feel when the United States officially announced its boycott of the 1980 Summer Olympic Games in Moscow in response to the Soviet invasion of Afghanistan?
It was probably my worst experience as an athlete. I was one of the younger players on that team, which made me fortunate enough to be able to compete in the '84 Olympics. But at that point, politics came into a world that it should not have. To be able to represent your country, it's not political. It's just about the people.
Because of my time on the U.S. team, I've been all over the world and I still have friends from Cuba, Russia, Japan, Brazil and everywhere in between. They are your friends for life and they are all good people. I think in that respect, that's one reason why I love coaching here at FIU. We are allowed to bring in international athletes who want to build our program and I love it.
3. What was the most rewarding part of the Olympic experience?
For me it was the camaraderie with my teammates and all the other Olympians who were a part of it. I'm still in touch with people like Edwin Moses, who was on the track and field team, and some of my teammates. There is a bond there that never goes away. If you're an Olympian, it's part of who you are and that will never change.
4. Was there a specific moment from the '84 Olympics that you will never forget?
The opening ceremonies were just the biggest rush you could imagine. We were one of the last countries to go out for the ceremony so we got to see a lot of it happening while we were waiting to come in. It was just a very awesome feeling going out there and walking out with your teammates and all the other athletes competing for the U.S.
5. What was the level of competition like at the Olympics and how was the experience unique?
It's a different world. You don't realize how big the gap between the college or professional level and the Olympics is until you are there. Everything is faster, more precise, and there's little room for error. And as an athlete there, everything is about character. Wherever you go, you are an ambassador for your country. When you are wearing "USA" on your back, what you do in Cuba, Russia or Japan will affect the people you are representing back home. It's hard to relate to unless you've been there.
6. What advice would you give to FIU athletes who are competing in the Olympics for the first time?
Try and keep everything in perspective. You have to realize it's not about you, but the country you're playing for. I realized that this is bigger than me. It's not my Olympics, it's my country's Olympics. For me, I'm one of 12 people chosen for women's volleyball to go and do the best for my country. When you keep that in mind, your fears go away, your confidence goes up and your pride comes out and you just do what you do. ♦