Last year, FIU professor David Kadko led a team of 51 U.S. scientists into the Arctic on the U.S. Coast Guard icebreaker Healy. Reaching the North Pole on Sept. 5, 2015, his landmark expedition aimed to map the geochemistry of the Arctic seafloor.
Ten years earlier, in 2005, economics alumnus Jonathan Bilby '11 reached the North Pole, too—on the same ship taken by Kadko. The two join an elite echelon of researchers, explorers and military worldwide who have had the opportunity to venture to the top of the Earth.
Then a boatswain's mate for the Coast Guard in Astoria, Oregon, Bilby got a call recruiting him for the Healy in 2003. They needed a crewman with his level of skill in navigation and ship operations. There was just one caveat: The ship was set to sail north three days later.
"Everyone knows they travel around the world," he said of the Healy's reputation for research and exploratory missions. It made the decision to go easy.
"I knew without a doubt that I would be late in returning to college," said Bilby, who attended Campbell University for a year before enlisting after 9/11. "I extended my military contract for an additional year and a half to make sure that I would be part of this once-in-a-lifetime trip."
On the ship, Bilby's duties ranged from logging each day's wavepoint data to calculating routes for each trip, and more. He also served as an on-ice escort for researchers and explorers, protecting them from polar bears and other threats off the ship.
During his time in the service, Bilby was awarded three Arctic Service Medals, which recognize members of the U.S. Coast Guard for 21 consecutive days of duty ashore or afloat north of the Arctic Circle.
The first night on the Healy is an unforgettable experience for everyone, said Bilby, because the ice scraping against the ship's hull is so loud.
"It's amazing anyone gets any sleep at all," he said. "The ice is constantly moving and revolving. If the ship was not moving forward, the ice was pushing back with flows that could reach two miles per hour."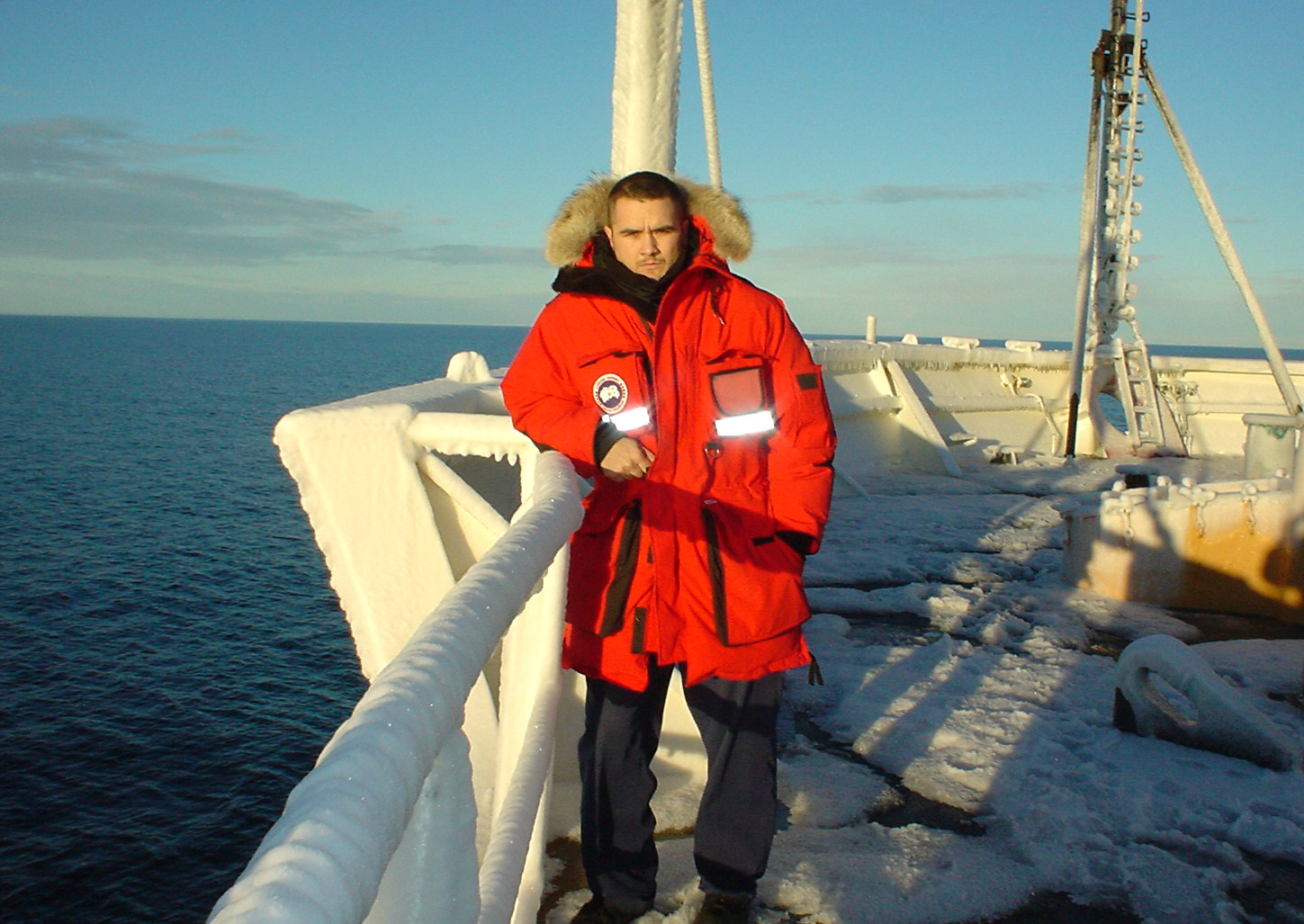 It's one of the many things to which sailors must adapt when cruising the Arctic Ocean. Ice buildup on the deck and windows is comically juxtaposed with 75- and 80-degree temperatures inside the ship, where crewman wear t-shirts with their uniforms and researchers are often seen wearing shorts.
Bilby remembers unusual weather patterns, sometimes characterized by blankets of dense fog. Since the Arctic is classified as a desert with ice covering everything, very little water evaporates to create precipitation. But when it does snow it blizzards, dumping several inches at a time and creating whiteout conditions.
"I hadn't experienced summer, or even a spring, in three years," said Bilby, who spent his time off the Healy stationed in Alaska during the winter. "As soon as it got warm enough for the ice to start melting, we'd leave. When you come back it's winter again. So I had perpetual winter for three years."
He said sailors must also adjust to the long hours of free time at sea. People on board the Healy would spend hours reading, watching movies and playing bingo for prizes like CDs and DVDs.
"You want to keep yourself as busy as possible, or you just go stir-crazy," he said. "You could sleep 18 hours a day, but that's a miserable way to spend six months in the Arctic."
On the Healy, Bilby met people from countries all over the world, including Japan, Sweden, Canada, Portugal and more. Ships would often pass each other in the Arctic Circle or team up for research missions, like one mission Bilby remembers with the Swedish icebreaker Odin.
The different cultures and customs to which Bilby was exposed on the Healy were eye opening. During his three years aboard the vessel, he picked up several languages, including Japanese and French. When meeting with other countries' ships, the foreign crewmen would often put together meals from their own cultures using whatever ingredients were in the Healy's pantry. He even learned that Santa Claus only lives in the North Pole according to American culture.
"I have heard that Santa lives in Greenland, Iceland, Norway, Siberian Russia, and islands north of the Arctic Circle," he said. "It all depends on who you are talking to that day."
After retiring from the military, Bilby attended FIU, graduating with a bachelor's degree in economics in 2011. His degree from FIU landed him a job in Orlando, where he now works as an economist for the Southwest Florida Water Management District while earning an MBA at the University of Florida.
But the journey to the North Pole remains unforgettable for Bilby, who said: "As long as you live you will never mistake the Arctic sea ice for anything else, the blue glow of a sun that never sets, or the early red dawn that lights the ice leads [cracks] that stretch on to the horizon."  ♦
---
Read more about Kadko's landmark research expedition in the Arctic.