By Joel Delgado '12 MS '17 
Coaching the whole athlete
A lot can go wrong in 33 feet. FIU diver Lily Kaufmann knows that well. No matter how many times a diver stands atop the platform and looks down at the tranquil water below, the worry that something will go awry still rattles the nerves.
"In diving, there's a lot of room for failure," says the junior psychology major. "You're more likely to screw up than get it right. But it feels so good when you do get it right."
Dealing with the fear is half the battle, and with the help of her coach and mentor Rio Ramirez, Kaufmann (pictured above, right, with Ramirez) has been able to face it again and again with great success. Under his guidance, she claimed bronze medals in two diving events at the Conference USA Championships last season and participated in the NCAA Zone B Diving Championships, where she set a personal best.
The greatest battles for any diver are in the mind, and Ramirez has been able to provide both a listening ear and words of wisdom to help Kaufmann and her teammates push past the anxiety and take the plunge.
"When you're on top of the tower," Ramirez says, "it's just you. You and your fears, your strength and your power. Every time you do a dive, you are reinforcing that you can overcome those fears."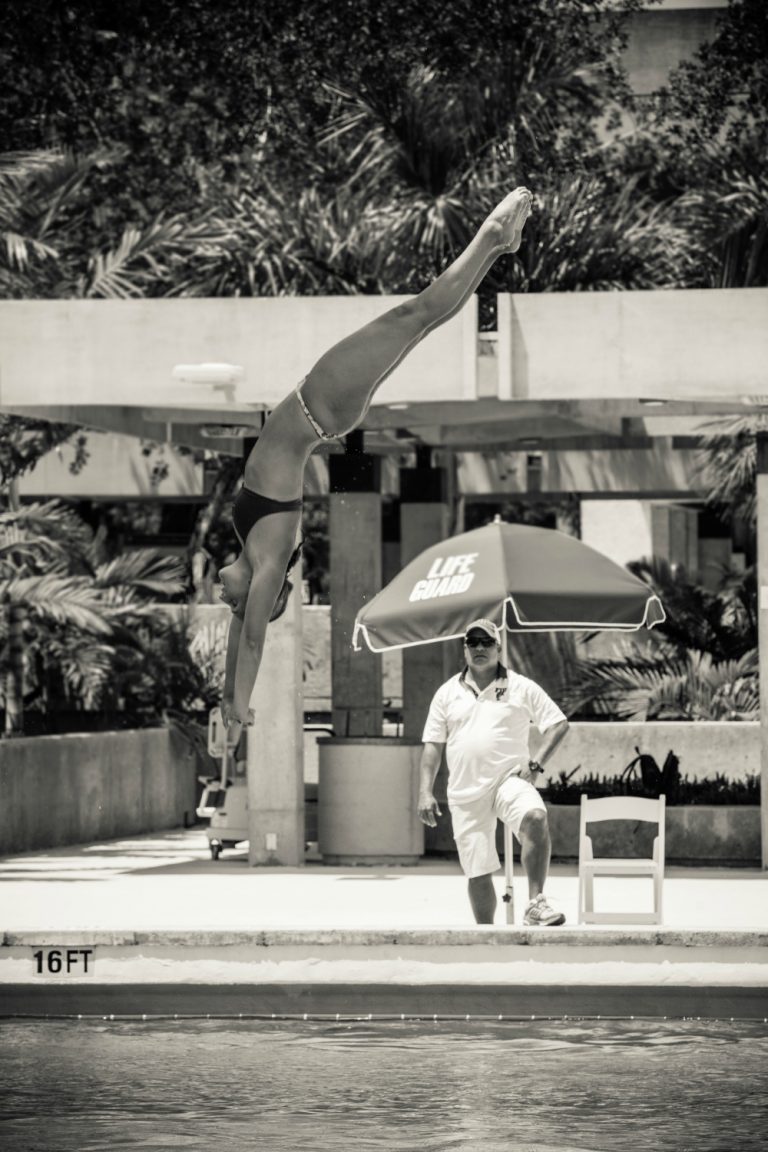 Helping student-athletes work through those challenges gives Ramirez an opportunity to break the barrier between sport and life to instill lessons that his divers, like Kaufmann, can use both in and out of the pool.
"Sharing my experiences with them is what I like the most about coaching—that human element," Ramirez says. "Every chance I get, I try to make a regular moment into a teachable moment and a learning experience."
International Connection
Kaufmann came to Miami from Winnipeg, Canada, and faced acclimating to a new city in a new country and balancing a schedule that is filled with diving practice, competitive meets and demanding college classes. She is one of 18 international students on the current FIU swimming and diving team roster.
In the course of helping athletes adjust to their new environment—and teaching them such skills as how to manage time and combat stress—Ramirez has shared both the trials and triumphs of his own journey.
He defected from communist Cuba in 1993 and enrolled three years later at the University of Miami, where he won four NCAA individual diving championships and earned three All- American titles. After graduation, he landed a spot on the USA Diving Team, competing in the Pan-American Games and the 2000 Olympic trials. He even spent three years, from 2004 to 2007, in the entertainment world as a lead character in the Cirque du Soleil production O, performing acrobatic rolls and high diving as part of the show.
After several years of pursuing other interests, a desire to return to diving led Ramirez to forge a new career path in coaching and FIU proved to be the perfect fit. Swimming and diving Head Coach Randy Horner hired him as the program's first full-time diving coach in August 2012.
---
Read more about mentoring: The art of faculty mentoring
---
Kaufmann was part of Ramirez's first recruiting class. Almost immediately, the two had differences of opinion on the way practices should be conducted and they clashed personally.
"She's very driven and determined to be a part of the decision-making process and that's a great gift, but sometimes it's a little extreme," Ramirez says. "She's a leader, and I've learned to recognize that and help her be the leader that she wants to become."
Working through those difficulties proved a valuable lesson for Kaufmann.
"He's helped me learn to focus better and to be patient with the process," she says. "Frustration doesn't solve anything. He's helped me learn how to channel that energy toward making the changes I need to make and to make the best of situations, even when it's not exactly what you want."
The two have developed mutual trust and respect that has over owed into discussions about everything from post-college goals and personal issues to politics and religion. With counsel from Ramirez, Kaufmann says she plans to pursue a master's degree in physical therapy and hopes to pass down what she's learned from Ramirez and her collegiate experience to others.
"He cares about me as a person and not just as an athlete," says Kaufmann, who is now a team captain and has worked with Ramirez to welcome and help integrate new divers into the team. "The coaches I've had in my life, especially Rio, are going to be mentors I look to for life. They are there for the best moments of your day and the worst moments."  ♦