Family medicine: Three dynamic siblings attend the Herbert Wertheim College of Medicine
---
Photos by Doug Garland '10
The three sisters who each chose FIU's Herbert Wertheim College of Medicine (HWCOM) for their medical degrees have always been close, with just a little bit of what their father calls "healthy sibling rivalry."
So it comes as little surprise that Valerie, Monica and Jeanette Polcz (pictured above, left to right) followed one another around the state of Florida for their higher education, first regrouping as undergrads at the University of Florida and then all landing spots in FIU's medical school.
"We're not snowflakes," joked eldest sister Jeanette, who's in her final semester at FIU. "We're not original."
But for the HWCOM, which celebrates the tenth anniversary of its founding this year, educating three sisters consecutively is original, indeed. In fact, the Polcz sisters are the only siblings to date to attend the college.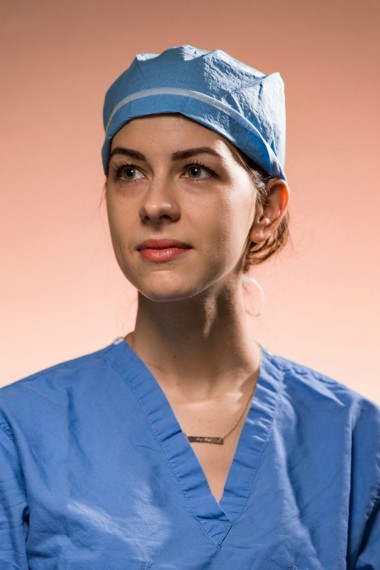 Monica, 26, was the first to come to FIU, graduating with her medical degree in 2015. Her experience convinced Jeanette, 27, and Valerie, 24, to follow.
But it was their father, reproductive endocrinologist Dr. Tibor Polcz, who first sparked the ladies' passion for medicine. The sisters grew up immersed in the medical field, watching him help families overcome fertility issues.
"I always thought after seeing me working hard and long hours for so many years, they would follow any one of their other interests, thinking the grass is greener somewhere else," their father said, adding that the girls had always shown an interest in science and math, "but I was wrong."
Some of Valerie's first memories are of "Bring Your Child to Work Day" at Polcz Fertility Center in Boynton Beach, Fla., where she was inspired by a hallway lined with hundreds of patients' photos with their new babies.
"He was a big role model," said Valerie. "The way that he interacts with his patients, and us being able to see that, was really special, because he just has this great way of being professional but personal at the same time."
When the girls were children, their mother Irma Muller also worked in the practice as an office manager. So the girls often spent their days off and weekends at the office, and as they grew older, they spent time in their father's lab learning the science of reproductive endocrinology.
"Growing up, I always thought my dad was one of the smartest people," said Monica, "and so I'm sure at some point I associated that with medicine."
Their father has been impressed by the quality of his daughters' training at FIU.
"The girls have had an overwhelmingly positive experience. The education is high level, no doubt," he said. "It is not surprising that in a relatively short period of time, the school proved itself to be a world-class center."


Watch FIU med students reveal their residency matches at the HWCOM's 2016 Match Day ceremony.
Celebrating ten years of excellence
Since HWCOM's inception, the college has grown in both size and reputation.
While its inaugural class graduated just 33 students in 2013, this past fall it welcomed to campus its largest: 123 students.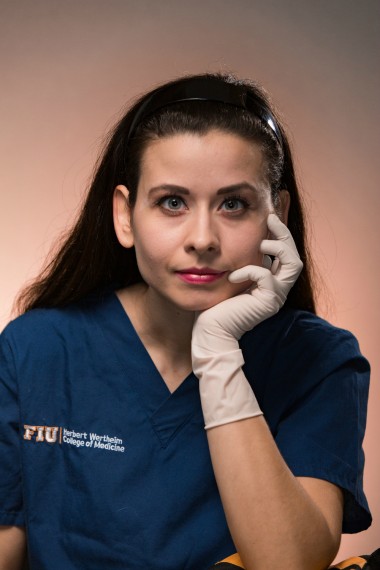 Along the way, the college has achieved important milestones, including the receipt of full accreditation by the Liaison Committee on Medical Education in 2013 and ranking among the top 10 medical schools in the country for Hispanic students by HispanicBusiness.com in 2014. Last year, the college made news by establishing a physician assistant master's program to meet growing demand.
The college curriculum promotes cultural sensitivity and emphasizes real-world experience by embedding students directly in the community through focused outreach programs that target the needy.
"We truly have a social mission," said Dr. John Rock, founding dean and senior vice president for Health Affairs, "and that is in the process of educating men and women, we improve the quality of life in the communities we serve."
And the results of such training have been promising: FIU students perform above the national average on state licensure exams.
Preparing for a life of service
Monica graduated from FIU's medical school in 2015. Since starting her surgical residency at Vanderbilt University Medical Center, she has found her happy place in the operating room.
"There, time has a tendency to stand still and nothing else matters," she said. "I find myself in a state of awe and complete focus, where the only thing on my mind is the patient lying on the table."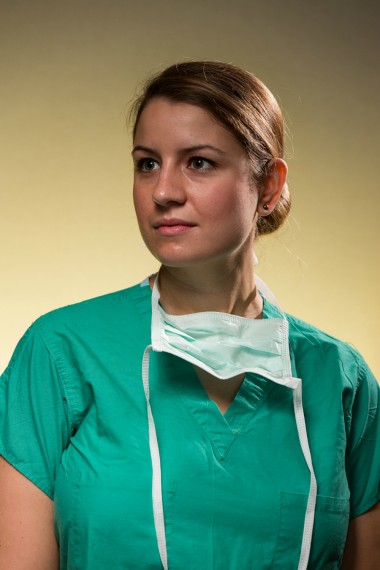 Jeanette found her focus in the military. Before entering medical school, she commissioned for the Army through the F. Edward Hébert Armed Forces Health Professions Scholarship Program, earning status as a second lieutenant.
She completed the Army Medical Department's Basic Officer Leadership Course in San Antonio the summer after her first year in medical school. The program introduced her to surgery through externships and trained her to take on the role of active duty captain upon graduation from FIU in May of 2016. That's when she will head off to her top choice for surgery residency, Walter Reed National Military Medical Center in Bethesda, Md.
"I really can't think of a better way to give back than by military service," she said. "It's nice that I'll be able to combine my passion for surgery with that."
Valerie is in her third semester at the college and asserts the most important thing she has learned so far is the value of collaborating with others. "It's the only way you're really going to succeed in medical school," she said.
The constantly evolving nature of medicine makes it difficult for their father to predict his daughters' futures in the field, but he believes firmly they will transcend any obstacle life throws their way.
"Changes present new challenges, but without them there is no progress," he said. "I am confident that the girls won't just quickly adapt, they will be in the forefront."