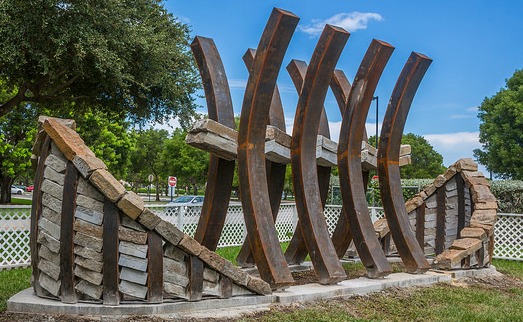 FIU has righted a sinking ship.
The outdoor sculpture "Journey's End" first docked on campus in 1997. Sometimes referred to as "Noah's ark" by passersby, the 12-foot-by-40-foot artwork represents a seafaring vessel that has taken on water.
Exposed to the weather for almost two decades, the sculpture grew increasingly rickety as its wooden elements suffered damage. So the university commissioned the original artist to recreate it with steel. The New York-based sculptor Ilan Averbuch in August had the forged components trucked down to MMC, where he personally assembled them near the northeast corner of the Wertheim Performing Arts Center. The piece soon rode a wave of positive reactions.
"It's beautiful," says Maria Sobera, a junior music major who walks past the sculpture daily on her way to class. "I watch 'Game of Thrones,' and it's kind of like ships that you would see in George R.R. Martin's fantasy worlds," she says, referring to the writer whose novel inspired the TV program. "It makes me want to travel."
Shantanu Balkundi, a trained biomedical engineer employed in FIU's Office of Technology Management and Commercialization, found the composition an ongoing source of interest. "This was a little intriguing for me," he says. "I have been looking at it every day and trying to figure out what it meant. It gave me some food for thought."
Tender loving care
The work, which first arrived as a gift of the Martin Z. Margulies Family Collection, is one of more than 60 the university displays on the grounds of its two campuses. Its restoration signals FIU's commitment to stewardship of outdoor art, whether owned by the university or on long-term loan from private collectors. These pieces together constitute FIU's Sculpture Park, and keeping them in good condition has taken on new urgency.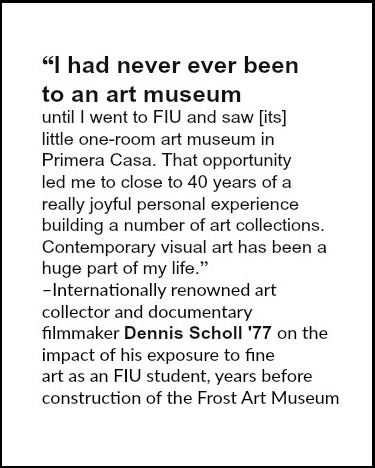 "You can't just put it out there and hope that it survives," says Jordana Pomeroy, director of FIU's Patricia and Phillip Frost Art Museum. New to the university in 2015, Pomeroy has taken a proactive approach by convening a task force on monumental works. A conservator was hired to examine and assess the condition of existing pieces, and the resulting report offers a detailed maintenance and restoration program.
Universities and cities across the nation are grappling with the costs of preserving al fresco sculpture. (In South Florida, high humidity and salty air pose special concern as they can cause mold growth and corrosion.) These include not only the expense of routine cleaning but, sometimes, treatments and repairs that require expert attention.
Task force members will consider future additions to the campus sculptural landscape—be they outright purchases, commissions, donations or loans—with an eye to projected expenditures. What costs too much to maintain? Will insurance on certain works exceed what the university can afford?
Quality over quantity
Equally important, the group will begin to craft a plan for building a cohesive collection moving forward by considering, among other things, aesthetic attributes and individual works' importance from an art history perspective. While reaching consensus on art might seem nearly impossible—"A hundred people are going to have a hundred opinions," Pomeroy concedes—she has the right individuals in place to begin making the tough decisions.
Chief among them is internationally renowned art collector, documentary filmmaker and former Knight Foundation vice president Dennis Scholl, a 1977 FIU alumnus who is leading the task force.
"Every great university deserves a great sculpture garden," Scholl says. And while he acknowledges that getting there can take "decades and decades," he is up for the challenge.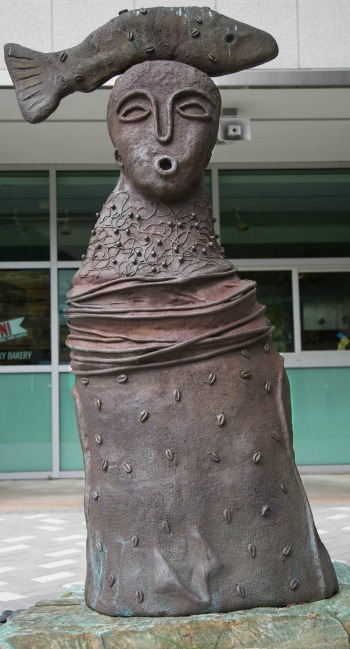 "You have to first establish a plan, then go out and look for opportunities to acquire the kind of work that you're seeking to exhibit," he says. "We all hope . . . that there will be people in the FIU community and in the South Florida community who want to participate with us, whether it's by donating large-scale sculptures or by helping us acquire or commission sculptures by world-renowned artists."
Ultimately, Scholl adds, it's about creating an outdoor setting equal to the level of intellectual activity that goes on in the classroom and research lab. "We want to make sure that the impression one gets is of a world-class university."
Firing imaginations
Thoughtfully situated art helps foster a sense of place and "makes us think critically about our environment and our public spaces." So says landscape architecture professor Roberto Rovira, who serves on the task force with other university personnel, among them an architectural historian, the Frost's resident curator, a graphic designer and a representative of the university president. "Anything that provokes that process is absolutely in line with our mission as a place of learning."
Rovira encourages students and others to ask questions when they encounter a work. "Hopefully it makes them want to know more," he says. "Who is it by? What is it made of? Why did the artist choose to do it this way? Why did the university select this piece of art over another?"
Pomeroy adds that public sculptures can serve as oases of calm and beauty that enhance the experience of walking through campus. And an investment in high-quality works drives home that "This is a place where creativity and art is appreciated."
Averbuch, the artist who made "Journey's End," believes his piece fits in with many of these goals, particularly with regard to sparking meaningful reflection among young people. He encourages viewers to see a narrative in the work, be it one taken from the Bible—the aforementioned Noah's ark—or from popular novels and movies that speak to "dislocation," of objects appearing in unexpected places—such as a ship on a landlocked university campus.
"My hope is that it tells each student a story that he wants to hear," Averbuch says. "The idea is to steer people's imaginations and minds."  ♦