By Joel Delgado '12 MS '17 
Golf has always been a family affair for Meghan MacLaren.
Her parents, David and Mary, play the game. So does her younger sister, Rebecca. Growing up in eastern England in the city of Cambridge – located 62 miles north of London – she began playing golf when she was 4 years old and hasn't stopped playing since.
Over the years, the lessons learned on the course shaped how she approaches other aspects of life, as well.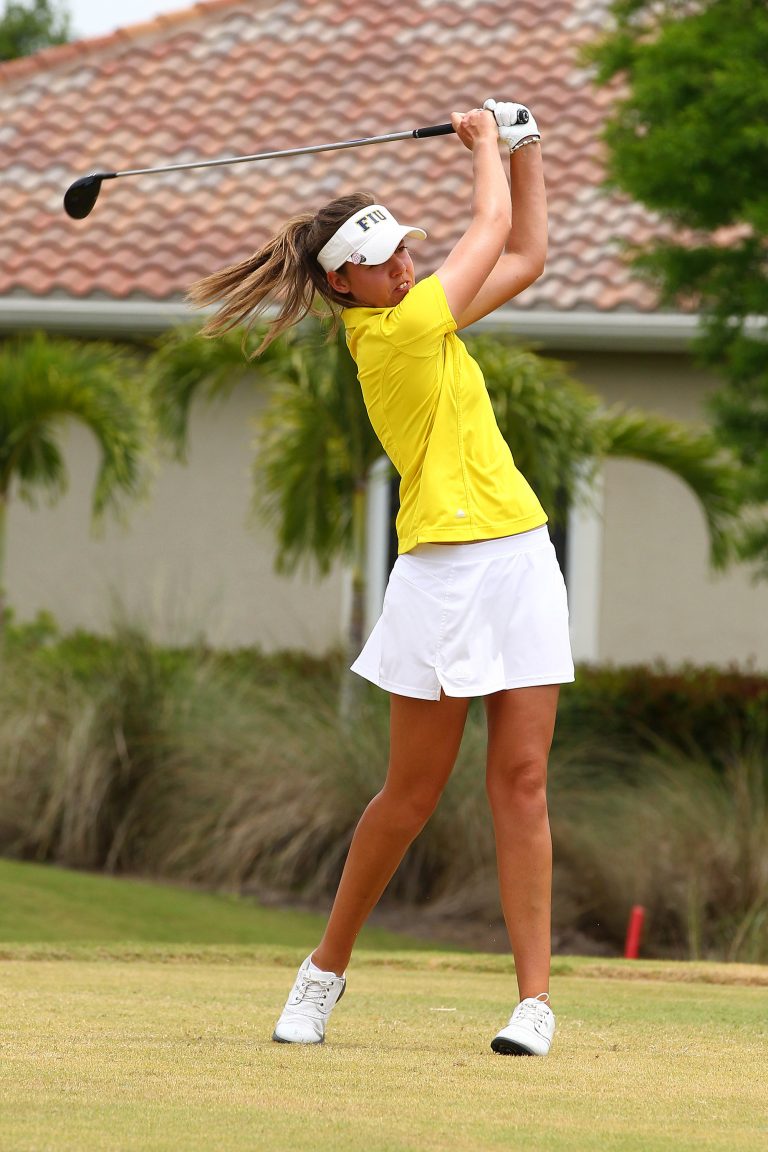 A quote by American golf legend Bobby Jones – "Golf is the closest game to the game we call life" – has always resonated with MacLaren, and the truth found in that statement has been reinforced with every swing and every stroke she has taken.
"Golf can be a very frustrating game at times and it gives you a lot of lows," MacLaren says. "But going through that makes the good moments very special. You can never perfect every part of golf but you can always get better, and that's a massive motivation for me. There is always room for improvement."
And that motivation drove her to come to the United States in 2012 to pursue a college degree while continuing to pursue her dream of one day becoming a professional golfer.
With hundreds of universities across the nation with golf programs to choose from, MacLaren faced a difficult decision. But great weather, solid facilities and a commitment shown by head coach Joe Vogel ultimately persuaded MacLaren to pick FIU.
"Having a coach who I knew was going to care about what I did with my life was a big factor for me and helped me make the right decision," MacLaren says. "And being able to practice in good conditions and good facilities in winter, that helps you get ahead of a lot of people."
It didn't take long for MacLaren to make the adjustment to the college game in the United States. In her collegiate debut, she finished tied for the lowest score among all the golfers participating in the Wolverine Invitational at the University of Michigan.
Fast forward several months and she was leading the Panthers to their first conference championship in program history with a Sun Belt Conference-best 73.90 stroke average en route to being named the SBC Freshman of the Year.
A big part of that early success was having teammates that helped make the transition to life in Miami much easier for her – some who were also international student-athletes going through the same experience she was.
"Even though it feels like you're on your own, you're not on your own because everyone is going through the same thing," MacLaren says. "That team was very close – we fought for each other and they helped me settle in."
But it was during her junior (2014-2015) and senior (2015-2016) seasons when MacLaren cemented her legacy as one of the greatest golfers in program history.
Her list of accomplishments during that two-year span included:
Winning back-to-back Conference USA Individual Tournament titles to join Moira Dunn (1991-1993) as the school's only three-time individual conference champions.
Advancing to the NCAA Championship in 2015, finishing 25th overall in a field of 131 competitors.
Being named Conference USA Golfer of the Year in 2015 and 2016.
Setting the single season stroke average record (72.43) in her junior season and nearly breaking her own record a year later with a 72.81 stroke average.
Making back-to-back NCAA Regional Appearances, bringing her career total to three (2013, 2015, 2016).
"It's been an amazing four years," MacLaren says. "The more I've been home and had time to process it, the more grateful I am for the opportunity I had to be there. It made me a better golfer and a better person."
For MacLaren, who graduated with an English degree and minored in political science, the FIU experience also introduced her to a world of other possibilities and allowed her to tap into passions outside of golf.
During her final semester, she worked at the FIU Center for Excellence in Writing, helping other students brainstorm, draft and revise papers for their courses.
"Writing is something I've always liked. That's one of the great things about FIU – it wasn't just about golf and keeping that side of me open was a lot of fun," MacLaren says. "The longer I was at FIU, the more I realized I wanted to take advantage of the opportunities that were available to me."
In the end, being at FIU and competing on the course helped her gain clarity about her dream of pursuing a career as a professional golfer, a path she is currently preparing to embark on.
"I realized this is 100 percent what I want to do," MacLaren says. "I'm excited for the next chapter."
In late August, she will travel to California to participate in the first of three qualifying tournaments that will determine which golfers will gain membership for the 2017 LPGA Tour.
She hopes to become the first FIU alumna to gain entry into the LPGA Tour since Michelle Simpson '01, who played in 12 LPGA tournaments between 2004 and 2006. Gaining membership into the LPGA Tour is a tall order and only a handful of the approximately 200 golfers competing in the qualifying process will make it for 2017. But regardless of the outcome, MacLaren can't see herself being away from the game, and she is moving forward with every intention of making it work. It's a mindset that has served her well in the past, and that's what she is sticking with.
"There are so many different paths you can take, but if you question everything that you're doing, you'll never put 100 percent into it," MacLaren says. "An important part of my mindset is to commit to whatever you're going to do. Otherwise you're never going to get the best out of it. ♦