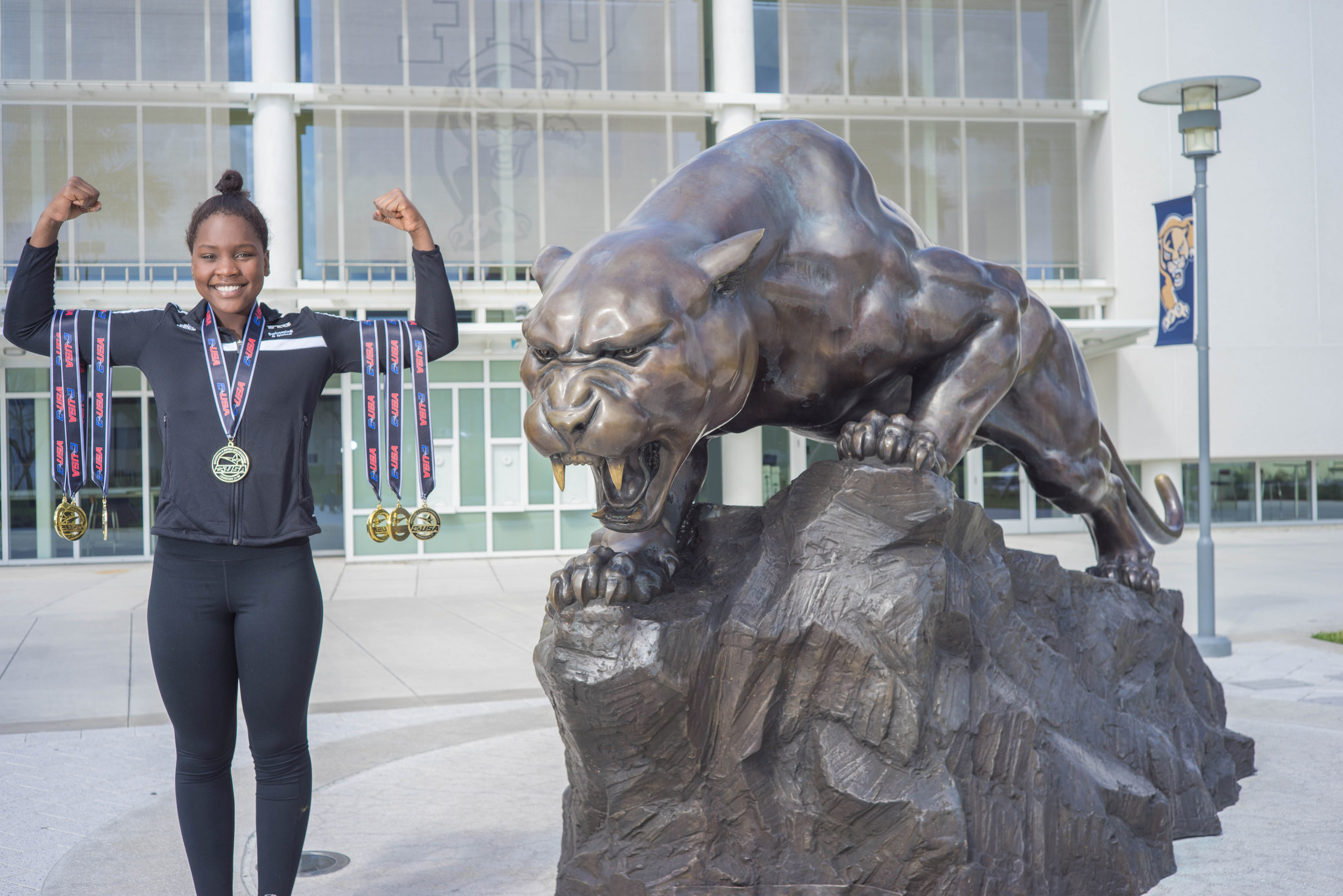 By Joel Delgado '12 MS '17 
OLYMPIC UPDATE: Naomi Ruele finished fourth in her heat with one of her best times: 26.23 seconds. Unfortunately, she did not advance to the women's 50-meter freestyle semifinals.
Naomi Ruele's dream of one day competing in the Olympics can be traced back to the swimming pool of a hotel in her native Botswana. Growing up, she took every opportunity to accompany her mom, who worked at the hotel, simply to get into the water. And when it was time to go home, she would always protest.
"Once I was dropped into the pool, I didn't want to get out. I wanted to know everything about swimming," Ruele says. "I really liked being able to move in the water smoothly, and it came naturally to me. When I try something I have to get it right."
That early love led to years of training, which led to pursuing collegiate swimming at FIU and, last season, her completion of one of the most successful debut campaigns in the history of FIU swimming and diving. Now, Ruele is preparing for her biggest challenge yet: representing her homeland in the Olympic Games next month in Rio. She will be the first FIU swimmer to compete at the Olympics as a current student-athlete.
"It's going to be a great experience for me," Ruele says. "I'm going to be able to compete with the best of the best, see how they work and watch how it could be for me as I look to improve."
But a couple of years ago, her dream of competing on the world stage was in serious jeopardy.
The injury
During a swimming event in Zambia in February 2014, Ruele injured her shoulder at the touch of the wall at the end of one of her races. She was rushed to the hospital and came back to swim the following day.
Ruele continued to compete throughout the year and even won two silver medals for Botswana at the Africa Youth Games and competed in the Youth Olympics in China. Although she didn't think much of the injury at the time, the pain in her shoulder continue to plague her.
It wasn't until she arrived at FIU that fall and underwent a required physical that she learned she had torn her labrum, a rim of cartilage that reinforces the ball and socket joint of the shoulder. That same week she underwent a surgery that sidelined her entire 2014-2015 season.
"It's a tough enough adjustment to come from another country to go to college and compete athletically," FIU head swimming and diving coach Randy Horner says. "But then to have a surgery take away your ability to participate makes it that much harder to blend in with the team, feel like you belong and stay focused."
But Ruele used it all to her advantage. The experience of treatment and recovery altered the way Ruele looked at swimming and provided her with a newfound focus and determination to get back in the pool.
"Getting the surgery really put into perspective and made me realize how much I appreciate being able to swim every single day now," Ruele says. "I decided then that I wanted to do something and make an impact somehow."
And make an impact she would.
From rebound to Rio
If there were any doubts about how she would perform upon her return, she quickly quelled them with a series of impressive performances in dual meets last fall to kick off the 2015-2016 season.
"We knew she had a great amount of talent, but it was a guess as to how good she could be. She bounced back faster than expected, and when she got back in the pool she really took off," Horner says.
As the season progressed, she steadily improved and went on to have one of the most successful seasons in the program's history. She put an exclamation point on it with a near-perfect performance at the Conference USA Championships in February, etching her name into both the FIU and C-USA record books. Ruele tallied gold medals in all seven events she swam and set three school records (and the all-time C-USA meet record in the 50-yard freestyle in 22.23 seconds) over the three-day tournament.
The performance earned her C-USA Swimmer of the Year honors and helped the Panthers win their second consecutive C-USA championship in the most decisive victory in conference history.
"She's humble and she's hungry. A lot of times when athletes get a lot of success and set records, it's easy for them to get ahead of themselves. That hasn't happened to her," Horner says. "She's handled it well, appreciates her teammates and knows she's nowhere close to where she wants to be to be satisfied with what her goals are."
After competing in the NCAA Championships in Atlanta in March – only the fifth Panther swimmer to do so – she stayed in the city to take part in an official FINA (Fédération Internationale de Natation – the international governing body of swimming, diving and other water sports) approved time in an attempt to qualify for the Olympic Games in Rio. There she consciously distanced herself from the seriousness with which she had attempted an earlier time trial, in Orlando a few before, in which she came up 0.08 seconds short.
"I went into this race pretending it was just for fun and took the pressure off of myself," Ruele says. "I just wanted to see what I could do."
The new approach worked, and she qualified for this summer's Olympics in the 50-meter freestyle by posting a time of 26.07 – just enough to meet the Olympic Selection Time "B cut" time standard.
"There was a lot of excitement," Ruele recalls. "I didn't believe it was happening at first."
Setting the standard
Competitive swimming in Botswana, a landlocked country of just over two million in southern Africa, is still in its developmental stages, and in many ways Ruele is taking on a pioneer role for the sport in her country. She will be only the second female swimmer from Botswana to compete in the Olympics since the founding in 2004 of the Botswana Swimming Sport Association, which falls under the umbrella of the Botswana National Olympic Committee.
"She is by far the fastest swimmer to ever come out of Botswana," Horner says. "She is going to set the standard for many younger swimmers to dream big. They'll see what Naomi has done and see that it's possible for them."
For the past several months, Ruele has trained under Horner and FIU assistant coach Ignacio Gayo in Miami with the goal of shaving off time in the 50-meter freestyle as well getting mentally prepared for the world's biggest sports event.
"I've been told it will be quite different from anything else I've done," Ruele says. "I need to go in level-headed, remember that I deserve to there as much as anyone else there and race my heart out."
Botswana's recently announced selection of Horner to coach both Ruele and another Miami-area swimmer who represents the country (David Van Der Colff, a student at Nova Southeastern) should help keep her focused and comfortable.
Whatever happens in Rio, Ruele will return to Miami with three years of competitive swimming eligibility remaining at FIU. Horner is excited to see how the Botswana native continues to develop and improve in the pool. And chances are this won't be the last time we see Ruele at the Olympics, with an appearance in the 2020 Olympic Games a strong possibility.
"If she continues to set those kind of goals, she can do great things," Horner says. "At the NCAA level, she wants to win an NCAA championship. It seems like a lofty goal, but if you look at where she started a year ago, well, who knows?" ♦