Once on the receiving end, students now make a difference for local youngsters
November 4, 2016 at 12:00am
---
By Joel Delgado '12 MS '17 
Coming full circle
Aaron Armbrister knows the challenges that children in underserved communities face. For many years, he was one of them.
"I've always lived in a poor neighborhood," says Armbrister, pictured above, who started life in the Goulds area in southwest Miami-Dade County and later moved to West Coconut Grove. "A lot of kids will do what their friends are doing in their communities, which for the most part is not much. There aren't many opportunities there."
But in seventh grade, Armbrister was recruited to take part in a six-week summer enrichment program offered by Breakthrough Miami, an organization dedicated to preparing motivated youngsters to go to college.
"It was the first time I had contact with other academically driven students my age," Armbrister says. That summer of learning set Armbrister firmly on a path toward academic achievement, and today he is a biomedical engineering major at FIU.
Equally important to Armbrister's success, Breakthrough Miami offered him a chance to help others—and learn about himself in the process. Armbrister was enlisted to serve as a mentor and role model for younger students, something he has done now for several years. This past summer he used what he has learned at FIU to create a biomedical engineering curriculum for ninth and tenth graders and worked with the students to build an electrocardiogram device.
"I wanted to contribute back to the program," Armbrister says, "because I gained a lot from it–opportunities to discover what I like to do and to be myself." That example of someone coming full circle is exactly what the Breakthrough Miami leadership looks to create.
"He's been in those students' seats and is very relatable for them," Nichelle Haymore, the organization's director of college access, says of Armbrister. "They see someone who went through the program and sets an example for what the future could be like for them. Aaron is a great ambassador for what we do."
---
Read more about mentoring: Peer-to-peer mentoring
---
And the payoff is there. An eighth grader whom Armbrister has mentored for three years sought him out this summer to express his appreciation.
"He thanked me for helping him realize how much he likes math and told me he was doing so much better in school now that he has confidence in himself," Armbrister recalls. "It's very rewarding to know that you were able to impact someone's life and help build their confidence."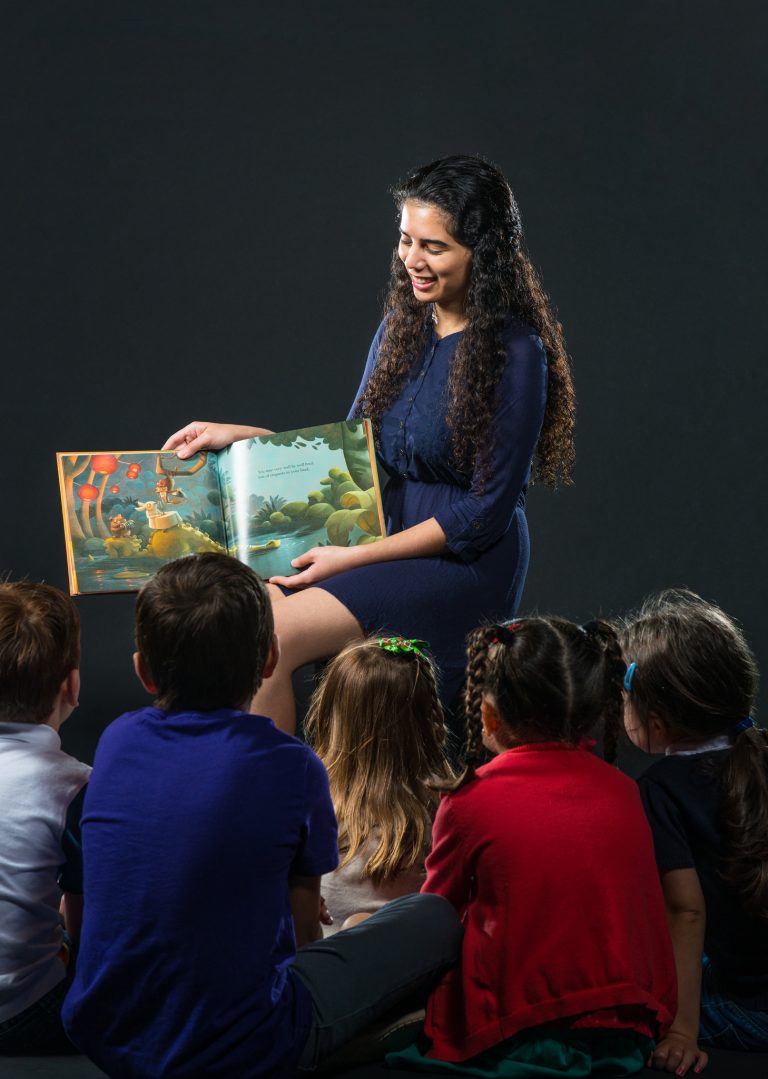 Shaping the future
Eshrat Nikrooye-Asli arrived at FIU with a big decision to make.
She had been running an after-school tutoring program for elementary-school children that she had created with several friends. Now faced with the challenges of attending college, she had to choose whether or not to keep it going.
Rather than let the kids down, she made the program even bigger. She and a few other students in the Honors College together established EAST (Elementary, Arts, Science and Technology), an after-school enrichment program at Sweetwater Elementary.
In the spring, Nikrooye-Asli–now a junior triple majoring in political science, international relations and Asian studies–worked with the school's fourth graders on a collaborative book project to introduce them to creative writing. Nikrooye-Asli and her colleagues are working to publish the students' short stories in a book.
And during the current school year, they are students to gardening and theatre. She and her colleagues look to fill a gap for kids whose school has seen a discontinuation in after-school arts and science programming, and they want to provide youngsters with role models to look up to. Nikrooye-Asli herself recalls how much such mentors impacted her own life.
"I remember in elementary school they would come, and they would be like a big brother or a big sister to me," she says. "When you go into a school, you are a role model for these students and can inspire them to go to college and be anything they want to be."
Sweetwater Elementary Principal Janet Olivera likewise recognizes the power of what Nikrooye-Asli has helped establish.
"It's important for our students to develop those educational and emotional connections with college students like Eshrat who are really passionate about working with them," she says. "They really help give our students a vision of what they can be in the future."  ♦