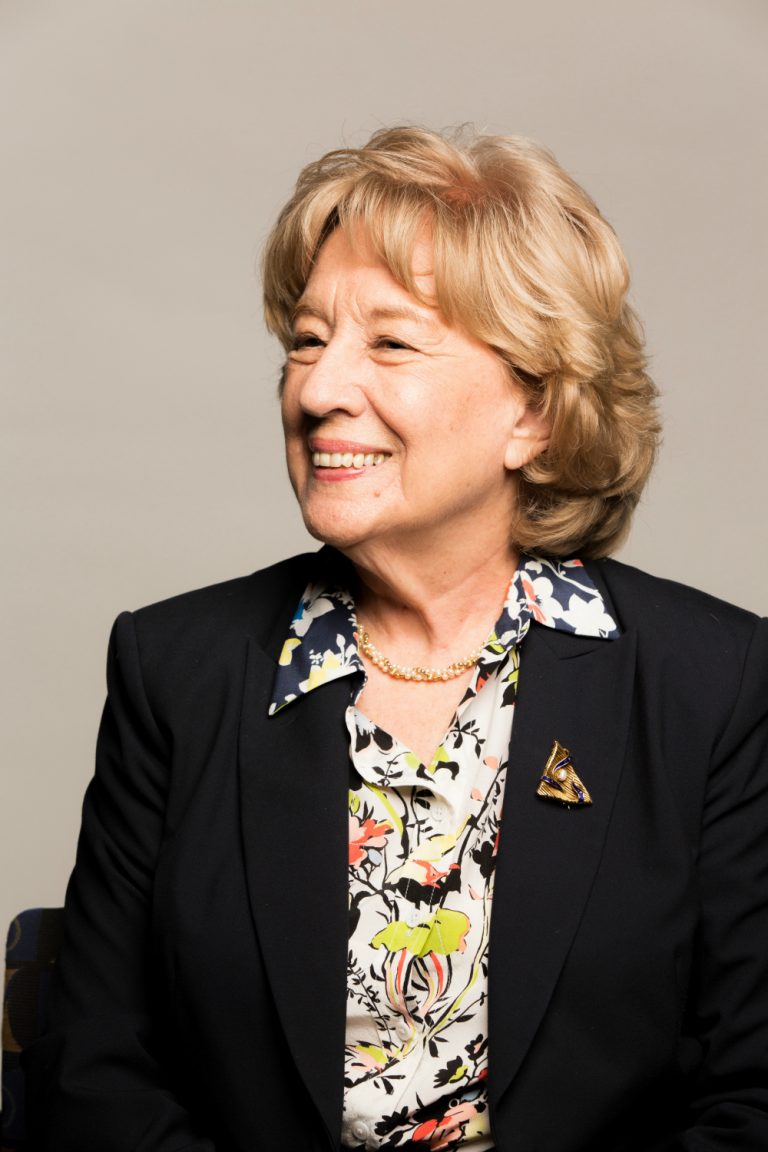 The founding director of a transformational program for faculty and staff helps the underrepresented tap into their potential.
Barbara Bader knows each of the 170 faculty and staff members who have participated in the Educational Leadership Enhancement Program (ELEP). She knows who is job hunting and who is content. She knows who loves their job but not their supervisor — and vice versa.
ELEP participants know Barbara Bader. They know she has a loving husband, Jerry, two daughters and four grandchildren. They know she believes in the power of a handwritten thank-you note or typed business letter. Most importantly, they know she believes in them.
The familiarity is built on dozens of out-of-town conferences, hundreds of group meetings and thousands of phone calls, emails and one-on-one meetings. For 23 of her 43 years at FIU, Bader has worked with women and minorities to imbue them with the knowledge and self-assurance needed for senior leadership positions. Graduates have gone on to such posts at institutions around the world, including FIU.
At the center of it all is Bader, her gravitational pull impossible to ignore. Time and again, ELEP alumni reference Bader's ability to make people feel special. Many ELEP alumni keep in touch years after completing the program. Through the years she has received calls from Dubai and cities across the United States from alumnae who were considering career opportunities. Bader listened and asked questions, providing input.
Her central message to ELEP participants: "If you want to get ahead, you have to know more than your job." She challenges them: Who is FIU's CFO? How is our budget funded? Are you financially savvy? You need to be, she tells them. When must you write a letter, and when will an email suffice? Are you a good negotiator? What's going on outside FIU? Bader recommends buying the Sunday New York Times and reading one section each night. She says, "Be aware. Know things beyond your specific discipline."
Filling A Need
ELEP was created in 1993 by former Florida senator, Florida Education Commissioner and University of South Florida President Betty Castor, who saw a lack of women and minorities in senior positions. When state funding ended after seven years, most of the state universities eliminated the program. Not FIU. Bader credits President Mark B. Rosenberg, then-provost, with protecting it then and now.

The yearlong initiative offers mid-level staff and tenured faculty access to senior leaders, pairs them with an FIU mentor, facilitates conferences (including a visit to Tallahassee) and assigns readings. Participants conceive of and implement a project that will bene t their professional development. They also bring what they've learned back to their jobs.
ELEP alumna Consuelo Boronat, director of operational analysis in FIU's Office of Analysis and Information Management, is one of many program graduates who come back and participate in the curriculum at Bader's request. She leads the financial literacy workshop and welcomes the chance to give back.
"Barbara's program was the single best professional development opportunity of my life because it brought me into contact with a wide range of senior leaders," she says. "It gave me the opportunity to see the university from a different perspective. Before my perspective was limited to the day-to-day functioning of my unit. Now, I feel that I'm looking at the university from the 30,000 foot level."
Mentoring Across the Disciplines
Suzanne Minor, director of clinical faculty development and assistant professor in the Office of Medical Education in the Herbert Wertheim College of Medicine, participated in the program five years ago. Her mentor was Mary Helen Hayden, director of the School of Social Work in the Robert Stempel College of Public Health and Social Work. The relationship continued after the program ended and today they enjoy a "real relationship of mutual respect," says Hayden. They meet on campus once a month, sharing personal and professional news.
"She's a great reality check for me," says Minor. "She helps me see all sides of an issue, not just my own point of view."
Hayden, who has served as a mentor many times, believes passionately in mentoring. "As you move up, it's important to pull someone up with you."
A New Era
Bader retired from full-time employment in 2003. In August, she stepped down completely from the program that evolved from an assignment to a labor of love.
ELEP alumna Elizabeth Bejar, vice president for Academic Affairs, now leads the program.
To those who say there's no need for such a program in 2016, Bader says just look at the statistics on women and minorities in leadership roles. "We've made some progress," she says, "but we've got a ways to go."  ♦