Professors build unique partnership around Nepal earthquake research
January 21, 2016 at 12:00am
---
Engineers and social scientists don't regularly collaborate, but a trio at FIU could set a new trend. N. Emel Ganapati of the Steven J. Green School of International and Public Affairs welcomed the opportunity when two professors of construction management came knocking.
Ali Mostafavi and Nipesh Pradhananga wanted to submit a proposal for a Rapid Response research grant to the National Science Foundation for a project related to the April 2015 earthquake in Nepal. The time-sensitive nature of the proposal – it was submitted within days of the disaster and fast-tracked for review – encouraged Mostafavi to reach out to Ganapati, who he knew had an established track record with NSF in the field of post-disaster recovery.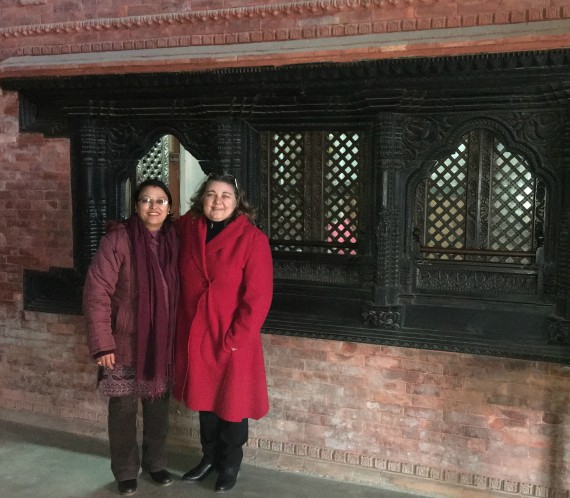 Connecting across disciplines
Mostafavi's goal was to examine the impact of the massive quake on buildings, roadways and community access to electricity and water, and he understood that Ganapati's involvement could help win funding as well as add value to the work at hand. And he was right. The team secured the grant to study infrastructure failures in Nepal, in part because NSF puts a premium on investigations conducted by teams with diverse research interests and academic backgrounds.
"The topics we're addressing are interdisciplinary in nature," Mostafavi says. "They have science aspects, engineering aspects, policy aspects and social aspects. If you really want to get to the essence of these problems and develop solutions that help decision making and policy making analysis, [a project] should consider all those aspects."
Likewise, Ganapati welcomed the opportunity to collaborate because she recognized how her training and perspective as a social scientist could enhance the research.
"We see different things, we notice different things and we have different ways of doing research," Ganapati says of how the approach taken by those in her field complements that of colleagues in the harder sciences. "I have worked on some quantitative studies," she says, "but most of my research is qualitative. I like spending time in the field hearing the stories of the people."
That experience – she conducted a dozen focus groups after the 2010 earthquake in Haiti and, while completing doctoral studies at the University of Southern California, did similar fieldwork after the 1999 earthquake in her native Turkey – came in handy while in Kathmandu this past December. There she assisted in 14 interviews with representatives from international relief agencies, private companies and government, and she helped develop questions and activities for a focus group with community leaders.
---
Related: Digging up data, best practices from Nepal's earthquake rubble
---
And although "the current project is not directly up my alley," says Ganapati, whose expertise is in "shelter recovery," or how housing is allocated after a disaster, she appreciates the opportunity to expand her horizons on another aspect of recovery. "I'm learning a lot from them," she says of her engineering colleagues, "but they are also very open to the things I have to say. I really feel like we have a true partnership."
Moving forward, the three professors together have plans to apply for another NSF grant related to Nepal – the current one lasts for only a year – and are now exploring potential topics.
A voice for the displaced
Even with the current Nepal grant having a focus outside of her primary research area, Ganapati has observed much in that country about the critically important issue of sheltering the displaced. While some positive efforts are being made – albeit too slowly to have settled everyone in appropriate housing prior to the onset of winter – she has seen the unfortunate enactment of policies that do not fully take into account the desires and needs of the people most affected. The latter misstep is not unprecedented in the world of disaster recovery, according to Ganapati.
The same occurred in Turkey after the 1999 quake when the central government built new homes far from the city center in which many survivors had previously lived and worked. Likewise in Haiti, survivors received little help with housing from the government and had to rely almost exclusively on the aid of relief organizations, which could do only so much. And in the United States, Ganapati's NSF-funded research related to Hurricane Katrina in the South, flooding in the Midwest and drought in Texas confirmed that, more often than not, the combined forces of government, relief agencies and private groups ignore, usually unwittingly, the wishes of the very individuals they try to assist.
"It's the same story you're hearing over and over: They feel excluded," says Ganapati, who through her publications hopes to encourage changes in how post-disaster housing plans and policies are drafted.
"What I see everywhere is that people want to have a voice."  ♦