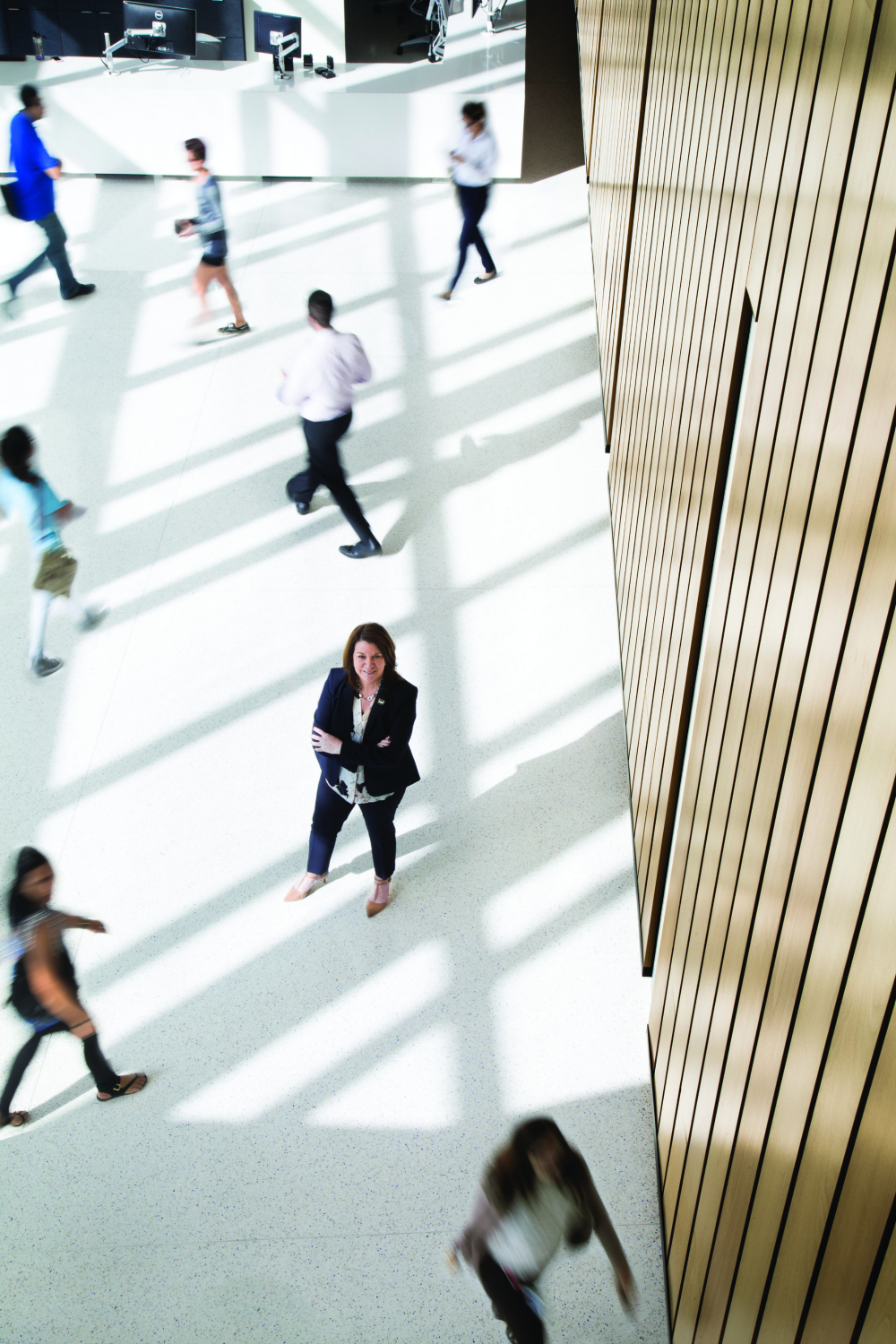 As dean of students, Cathy Akens sees it all: from students looking to change the world and lead the march to those struggling with the transition to university life. She and her staff encourage young people to interact with others in meaningful ways, and they create a "culture of care" by providing resources for well-being and offering support during times of distress or crisis.
1. Why does the university promote campus involvement as an important complement to academics?
We know that certain types of experiences contribute to student learning and success, and so our programs and services are designed with that in mind. Students who are connected to the university and feel a sense of belonging and community are more likely to stay. So, our efforts really focus on engaging students, creating communities and providing opportunities for students to develop.
2. Describe the programs that help students get the most out of their time at FIU.
We offer many! Students can join one of several hundred student organizations, including fraternities and sororities, and participate in service projects within the local, national and global communities. They can go out for intramural sports and fitness programs, take leadership roles within various groups and even serve as peer educators, tutors and resident assistants. The possibilities are truly endless, and we try to help students find what will be most meaningful and enjoyable to them. 
3. Why does the university emphasize what takes place outside of the classroom?
Traditional approaches assumed that knowledge was acquired in the classroom and personal development occurred outside of the classroom. We now understand that student learning is much more integrated. When we provide students with co-curricular experiences such as service learning, leadership development and campus engagement opportunities, we are often helping them to develop competencies such as leadership, teamwork and communication skills that they will need to succeed in their careers. These experiences help students make greater meaning of what they are learning in class.
4. When students encounter serious life challenges, how does FIU help?
We have many resources within the Division of Student Affairs. Our Panthers Care initiative invites concerned students to look out for one another, and so we often learn of someone who is struggling personally, financially or in other ways. We reach out and connect the student with resources such as Counseling and Psychological Services, the Victim Empowerment Program, the Disability Resource Center or our Food Pantry. We want to help students address the obstacles that could become barriers to achieving academic goals.
5. What do alumni tell you about their time as students at FIU?
We hear from alumni all the time. They recognize that many of the experiences they had outside of class helped prepare them for real-life workplace challenges. In some cases, that involvement helped shape their career choices. In others, it taught them how to work in teams, manage projects or give large presentations.  ♦