For  FIU Magazine
Jacqueline Crucet MPA '16 looks over the railing of a pontoon boat meandering past the mangrove-lined shores of Boca Chita Key. This is a place she knows well. After nine years working for the National Parks Conservation Association (NPCA), she's been on this educational tour through Biscayne National Park a dozen times.
The captain steers the boat into a keyhole on the adjacent key, an inlet of calmer water that serves as a safe haven for crabs, sponges and other marine life.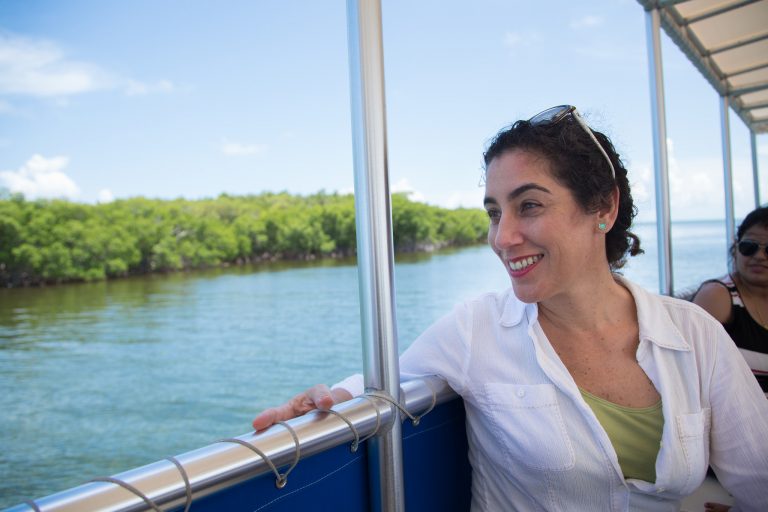 Crucet stoops to point out a Cassiopeia jellyfish to a young boy, no more than 4 years old, sitting next to her. Soon the boat is surrounded by hundreds of the striped, mushroom-shaped jellyfish, which make their home in the shallow, warm waters. The tour guide gestures to a white egret perched on the roots of a red mangrove and then spots a treat for guests: two manatees floating just below the surface near the boat.
A faint view of the Miami skyline sits on the horizon, a reminder of the constant struggle between developing South Florida land for human consumption and the need to preserve natural habitats like this one for future generations.
Connecting Miamians to the nature that surrounds them
Flanked by Big Cypress National Preserve and the Everglades to the west, Dry Tortugas National Park to the south and Biscayne National Park to the east, South Florida is surrounded by more than 3,800 square miles of protected habitats – and Miami is the only city in the United States bordered by two national parks.
Crucet serves as senior program manager for the Sun Coast Region at NPCA, a nonprofit that supports and advocates for national parks across the United States. She oversees community engagement and education for the region's 23 parks spreading across Louisiana, Florida, Puerto Rico and the Virgin Islands.
Crucet helped facilitate the dialogue between Miami-Dade County Parks & Recreation and the National Park Service that created the Biscayne National Park boat tour, which opened for the organization's centennial celebration in 2016. She also led a local effort to instate a free trolley service in Homestead that transports South Florida residents to Biscayne and Everglades national parks on the weekends in November through April.
"We needed to make these parks that are right in our backyard more accessible," Crucet says. "My job is to connect citizens to their national parks so they have a direct relationship with them and understand the value."
Remembering the pioneer Joneses
The tour guide tells the 15 tourists on the boat about the famous Miami families who once owned the keys in the area: the Sweetings, known for cultivating pineapples in the once-fertile key soil; and the Honeywells, who earned their fortune making thermostats, who bought Boca Chita in the mid-1900s for a vacation home and built the 65-foot ornamental lighthouse that stands there today.
The keys in Biscayne National Park, he says, were once considered frontierland and were given by the federal government under the Homestead Act to families willing to live and work the land for five years.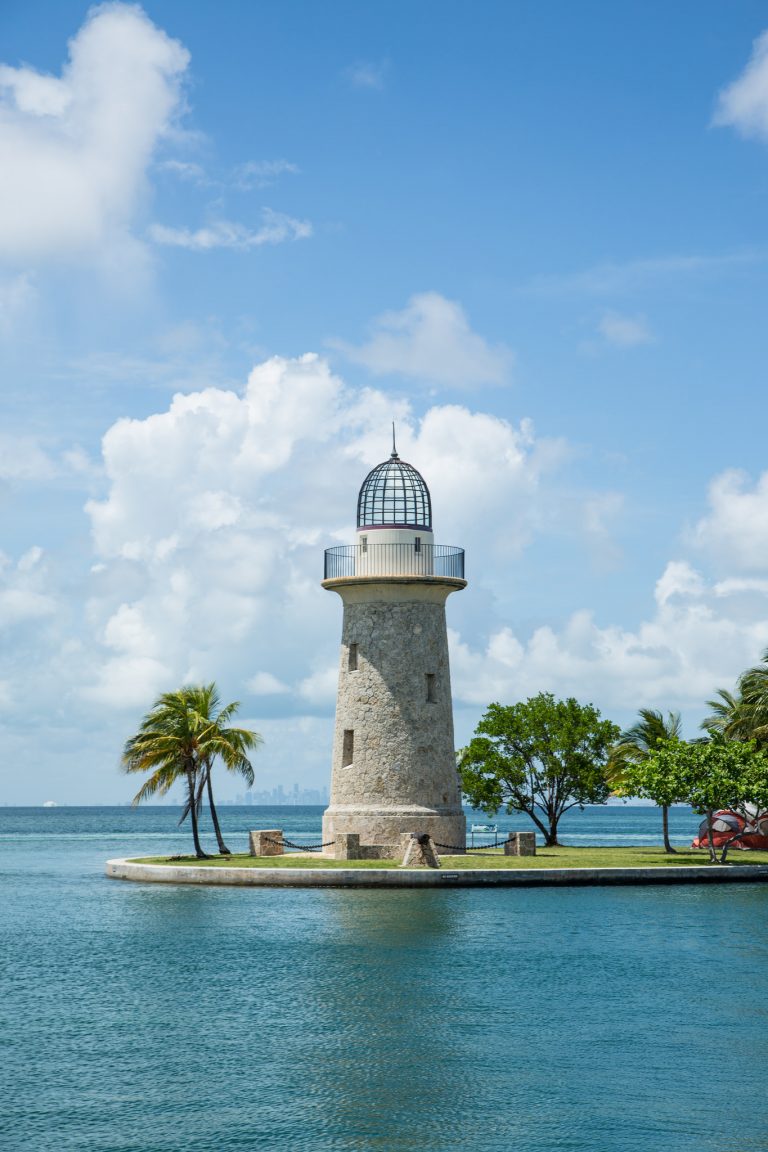 Later, atop the lighthouse, Crucet glances past boats docked and tents pitched at Boca Chita's popular camping grounds and points south toward Porgy Key. She tells the story of Lancelot Jones, an African-American whose family lived there from the 1890s. They made millions through the years, first as key lime farmers and then as fishing guides to high-profile tourists after a hurricane wiped out their crop and the inundation of saltwater spoiled the fertile ground.
Long after his family died, Jones continued to live on Porgy Key alone, taking countless dignitaries who visited Miami, including five U.S. presidents, on fishing trips. Eventually he sold his land to the National Park Service with the caveat that he be allowed to live out his days on Porgy Key. It wasn't until the day before Hurricane Andrew hit Miami that he was finally convinced to leave.
But after arriving on the mainland, watching as Andrew made landfall on Porgy Key and leveled his childhood home, the 90-something-year-old man faded into the shadows, his family's rich history seemingly forgotten.
"It's amazing how little the local history books tell us about the Jones family," Crucet says, noting that archival records of the Jones family tell us nothing of the end of his days. "We don't even know where he's buried."
She's made it her mission to honor their memory by telling Jones's story to the community groups with whom she works – an effort that sparked an idea to create a commemorative Sir Lancelot Jones Day, which has since been recognized by Miami-Dade and Monroe counties and is observed on the second Monday of October.
FIU communications student Saige Raymond was part of the group that advocated for the holiday. He met Crucet through a lesson she coordinated to help young people develop their civic voices and was inspired by Jones's story.
"Things weren't easy for black men at the time, and still he did something pretty monumental,"  Raymond says, noting that Jones could have made millions selling Porgy Key to developers but instead decided it should be preserved. "He deserves something to remember him by, because South Florida would be completely different if we didn't have Biscayne National Park. People needed to know about the park and how it came to be here."
Raymond has a background in public speaking but hadn't before ventured into advocacy. With Crucet's help, he stood up in front of the Monroe County Commission to propose Lancelot Jones Day.
"She really has a fire in her, and she sees things in people," Raymond says. "To get young people to really care about issues these days is unreal."
Increasing environmental awareness, accountability
Crucet loves to spend time outdoors in the parks under her purview. She and her husband, who share an appreciation for the outdoors, were even married at Virgin Islands National Park in 2002. But most of her days are spent in meetings devising new plans for community engagement, education and collaboration.
"It's very fulfilling to turn people on to where they live, because then they want to get involved," says Crucet, who serves as regional head for youth engagement as part of her role at NPCA.
She's just come from one such meeting with an inner-city church youth group looking to get involved in beekeeping and urban farming. She plans to bring them to Boca Chita in the fall to learn about Lancelot Jones, and from there she hopes to get the children in front of elected officials to exercise their voices in conservation advocacy.
"We try to teach kids skills on how to enjoy nature and advocate for its protection," she says. "From there, they can advocate for anything that's important to them, from stop signs in their neighborhoods to Stand Your Ground."
Turning east, she points just offshore of the docking area on Boca Chita to long, white gashes in the seagrass. They're "prop scars" – damage done by engine propellers when a boat navigates improperly into shallow water, destroying seagrass beds that are home to Key West pink shrimp, baby lobsters and other creatures important to Florida's multibillion-dollar fishing industry.
In response, NPCA worked with the local government and the National Park Service to create an awareness course for boaters. It teaches them how to properly navigate in shallow waters and emphasizes the importance of preserving the public land and water in South Florida.
"It's easy to forget that you're camping in a national park when you come to Boca Chita," Crucet says, noting that many Miamians grew up enjoying the waters of Biscayne National Park without knowing it was a national park. The course is just one way her team's community education efforts have positively influenced the environment.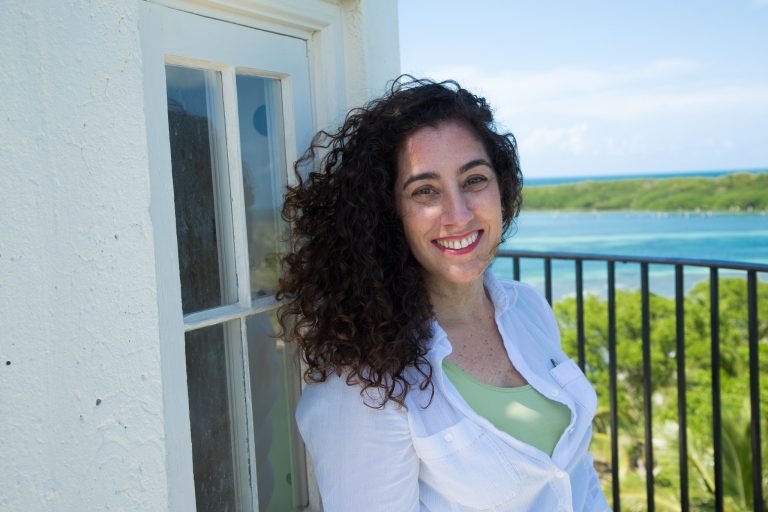 Helping veterans continue service
Crucet also helps lead NPCA's national veterans engagement initiative, connecting military veterans who wish to continue serving their country through community service to the parks.
In one such program, soldiers returning from overseas provide manpower for park maintenance projects that have been deferred due to lack of resources or personnel. Another program puts veterans with diving experience to work monitoring Biscayne National Park's underwater Maritime Heritage Trail.
"They work hard for their national parks, they sweat, and they leave the park better than they found it," she says. "It connects our heroes to their heritage."
Marine Corps veteran and FIU alumnus David Riera '15, MS '17 met Crucet through a fellowship from The Mission Continues, a nonprofit that pairs veterans with organizations like NPCA. Together, Crucet and Riera have coordinated volunteer opportunities for veterans at Dry Tortugas and Everglades national parks. They've also advocated in Washington, D.C., for protection of the parks, an opportunity that, as a graduate of FIU's agroecology master's program, expanded Riera's horizons.
"I already knew how to be an environmental scientist. I just didn't understand that I could also be an advocate for the environment," Riera said.
---
Read more:  FIU's agroecology program prepares veterans to succeed in the farming business
---
Putting a master's to work
Crucet graduated from the Executive Master of Public Administration program in 2016. She says the program challenged her to explore how other governments approach and place value on their public lands.
She studied how industry demand plays a role in determining the future of the environment. For instance, she explains that in Biscayne Bay, there is a decrease in fish populations, but an increase in fishing. As environmental advocates push local governments to limit the activity, marine industry interests are pushing back.
"Our economy depends on healthy fisheries. That's a sustainable economic factor," she says, looking over the channel that separates Boca Chita from the coast of Miami-Dade. "So it's in our best interest to protect this habitat."
The program emphasizes collaboration, and because of this, Crucet grew close with fellow student Ashlee Thomas MPA '16, the president of Miami Urban Contemporary Experience (MUCE305), an organization focused on preserving heritage through the arts.
"We were able to find intersectionality in our work. We wanted to find ways to connect art to public land use," Thomas says.
The two are planning a collaborative effort between NPCA and MUCE305 to bring people from underserved communities out into the parks to go camping and discuss conservation. They're also working together to preserve the story of Lancelot Jones by introducing it into Black History Month.
"I'm excited to see how our collaborative partnership continues to grow," Thomas says. "She's really dedicated to advocating for our environment and its history."
* * * * *
On the ride back to the mainland, Crucet glances back over the rail of the pontoon at the mangrove-lined shore of Boca Chita. Less than a year after opening, this educational tour of an area that was once only accessible to people with boats has become so popular that the park had to expand the service.
It's this kind of interest from the community in learning about the environment that keeps her going.
"This is America's park," she says. "This is for all of us."   ♦