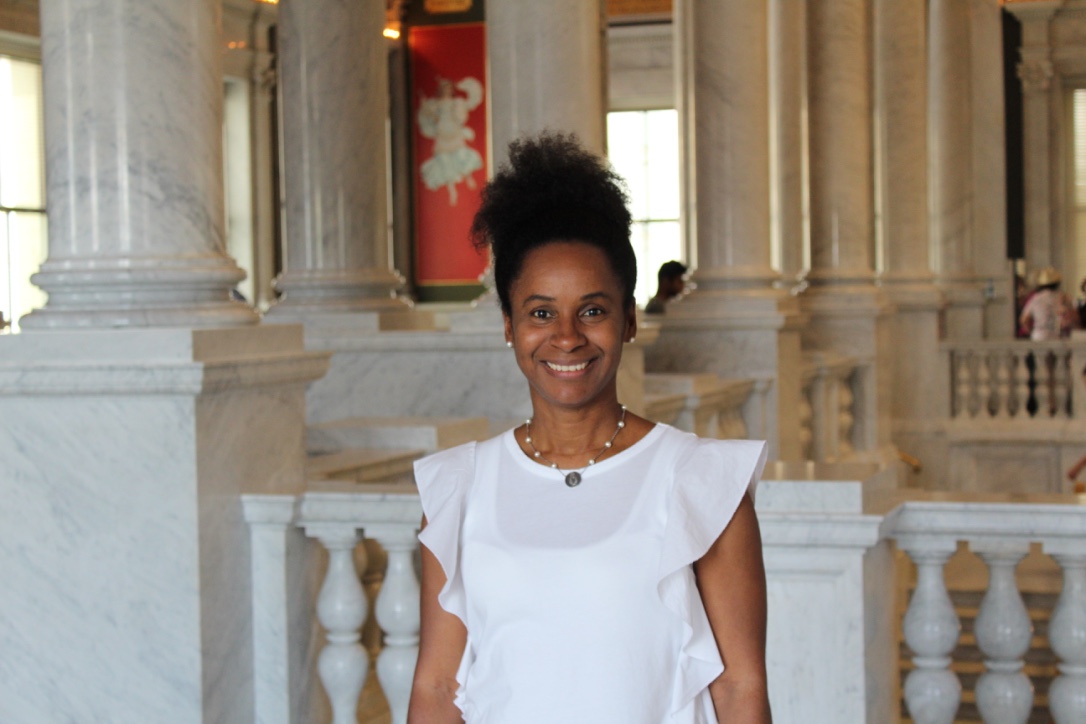 Like many Cuban immigrants, music alumna Eva Reyes-Cisnero '11 moved to South Florida with little resources and knowledge of the English language in pursuit of a better life.
While researching places and public transportation, Reyes-Cisnero made the public library an extension of her home, not knowing this would transform the course of her life.
"When I moved to Miami for the first time, I didn't have a car and I didn't have a family. I had nothing. So the public library was the place I used for internet and books. The library was always my point of reference and a place that helped me understand who I am," she says.
In December of 2016, Reyes-Cisnero was appointed librarian of the  U.S. Library of Congress ' Iberia/Rio Office Section of the African, Latin American and Western European Division. She is responsible for acquiring and cataloging materials from the Iberian Peninsula, Brazil, Surinam and Uruguay. The position requires that she have knowledge and understanding of Spanish, Portuguese, Basque, Galician and Catalán.
Reyes-Cisnero studied classical guitar at FIU, earning her bachelor's from the School of Music. A single mother at the time, her son, Noah, attended the university's  Children's Creative Learning Center , while she worked at the FIU Green Library in the cataloging department, audio/visual collections and digital collection center.
Later, she worked as a conservation assistant at the University of Miami Libraries' Conservation Lab and interned at the university's Cuban Heritage Collection.
Reyes-Cisnero also holds a certificate from FIU in Cuban and Cuban-American studies.
"The FIU Green Library was the turning point. The first time I heard about the Library of Congress was while working in the cataloging department. I was like, 'Oh my God that place must be amazing.' So, here I am," she says.
She adds School of Music Professor David Dolata taught her how to research, which has been crucial to her career.
Her capstone project, which was a fully cited 30-page research paper under Dolata's direction, sharpened her research techniques and dramatically improved her English skills.
"We're really proud of Eva's new position because she has found a place in one of the world's most important institutions dedicated to preserving history and culture," Dolata says. Eva is an example to FIU students because she came to this country with next to nothing, and she found a home at FIU. It was through her persistence and hard work that she was able to find and pursue her dreams."
During last year's Hispanic Heritage Month, Reyes-Cisnero presented a lecture at the Library of Congress Hispanic Division and the Hispanic Cultural Society on 19th century Cuba – using maps, census, newspapers and travel guides.
Despite her accomplishments in research, she continues to be engaged with music by participating in the Library of Congress Chorale.
"Music is always going to be with me. I breathe music," Reyes-Cisnero says.
Reyes-Cisnero started studying musicology, guitar performance and art history in Havana, Cuba. She comes from a family of musicians. However, her grandmother also encouraged her to spend time in the city's library, which she says is now bare.
"My grandmother planted the seed and said books are the way to go. Every time I go back to my old town, I cry. I've kept that part of my childhood with me because the library was a central part of my life."
Although a long journey, Reyes-Cisnero says the secret to her success is focus. "Some people say I give them hope, being Hispanic, a black woman – and a single mom for many years. Nothing is impossible. When your goals are set, you can do anything."