Architecture faculty build, live in "Tin Box"
Behind impressively overgrown plumbago, lantana and firebush sits a house one with nature.
August 22, 2017 at 8:00am
---
On either side of the front walkup stand fruit-bearing Persian lime, Key lime and Meyer lemon trees while nearby pineapple plants congregate like old friends, their bounty nearly ripened. In the back of the home tower an avocado and a banana tree, and along the western flank thrive a variety of shrubs that allow mottled sunlight to flood a room-length bank of windows. Meanwhile, broccoli, collard greens and tomatoes suffer the ravages of peacocks pecking at them in search of worms, and heads of lettuce and pods of pigeon peas wait ready for the picking.
The light-gray abode at the center of it all nearly disappears into the foliage.
David Rifkind and Holly Zickler like it that way. The associate professor and adjunct lecturer, respectively, set out to design a dwelling for themselves and their two teenagers that reflects what they know of sustainable building and living.
"We were really lucky to have this opportunity," says Rifkind  of a project that began in 2011 when his wife came across a 10,000-square-foot corner lot across from a public park in South Miami, just minutes from busy U.S. 1. "The relationship to the site, the resources and the ability to help sustain community, all three of those are going to be treated differently on different sites," he explains of what mattered most when getting started. "Every building is an opportunity to shape the public realm."
From theory to reality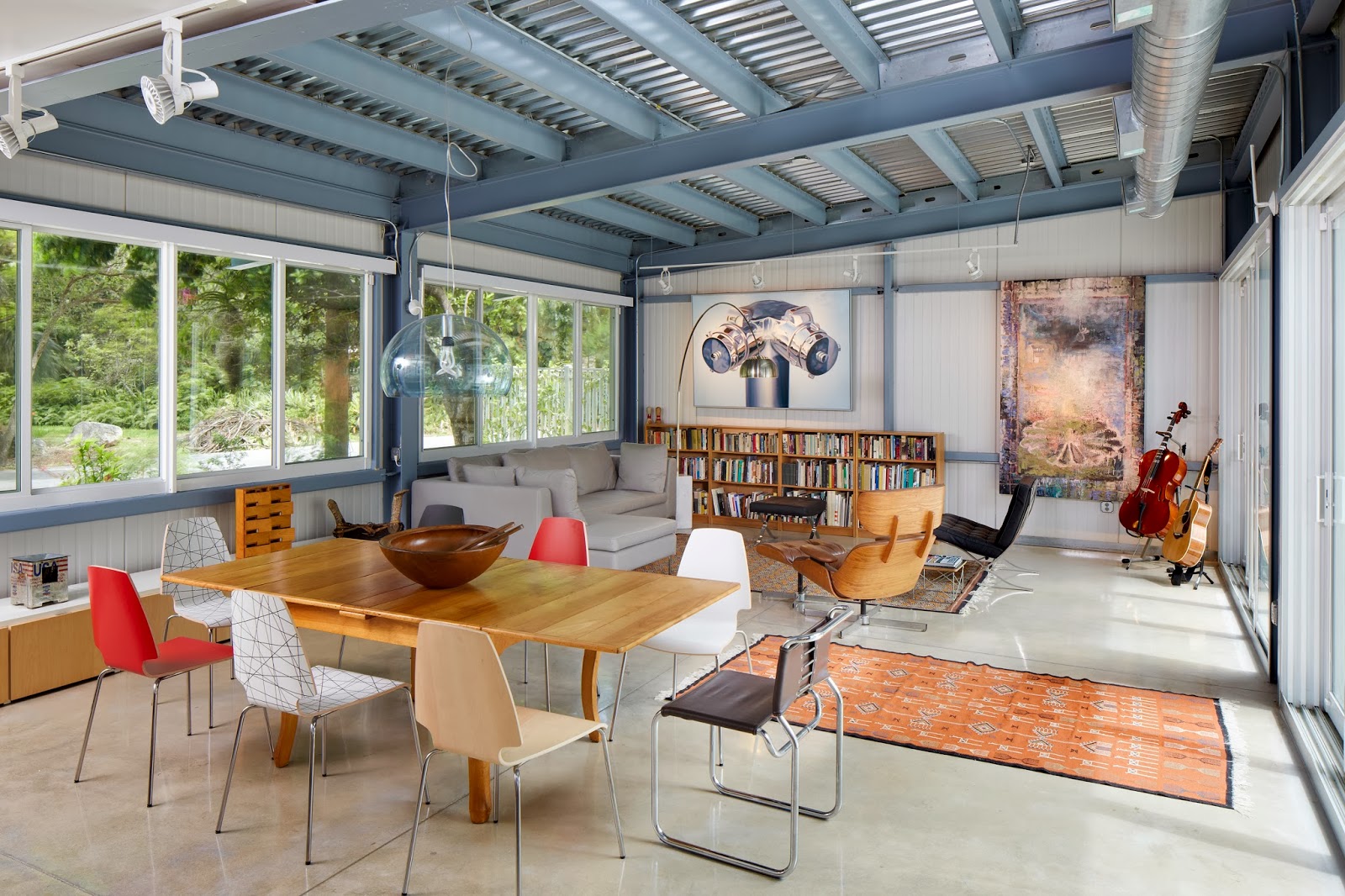 That level of consciousness undergirding every detail of their plan, the pair took advantage of the private endeavor to put into practice what they have taught in the classroom for years—something that " FIU architecture students pick up on immediately when they visit," Rifkind says. "It's like, 'Oh I get it, all the stuff you showed in class.'"
That includes lessons from Rifkind's history survey. "I'll go from ancient Egypt all the way up to the 1950s in the United States, and they'll see things like the  Case Study Houses in California"—late-1940s residential experiments designed by major architects to be inexpensive and efficient—"which are one of the sources of influence on our house."
The home embraces industrial design and leans heavily on steel, with no wood components whatsoever. (Most South Florida homes have roofs supported by a wooden truss, a big reason for the ubiquitous termite tents.) All of the couple's decisions have revolved around reducing their family's carbon footprint.
For example, the steel construction—most South Florida homes rely on concrete block—makes use of plates fabricated from recycled Cadillacs, refrigerators and other junk rescued from landfills, Rifkind explains. In the concrete foundation and slab floors—an "absolutely horrific" source of carbon emissions at the time of their production but a necessary evil in all building construction—the steel-making byproduct slag replaces a portion of the cement, thereby offsetting some of the environmental damage.
Reducing the use of non-renewable resources: the floor has been polished but not topped with tile or anything else, drywall has been restricted to a few key areas, and the kitchen cabinets—handcrafted by an FIU alumna—feature sustainable bamboo.
On the rooftop a solar array converts sunshine into electricity, and during the wet season a cistern collects rainwater that is then purified for drinking, cooking and washing.
Bringing the outside in

The house exudes an almost-farmhouse feel, the corrugated-steel wall panels resembling wooden slats, and the muted colors and clean lines of both the design and modernist furniture evoking a simplicity often associated with living in harmony with nature—which this family does.
The courtyard, around which three sides of the house converge, serves as an extension, an "extra room" that faces northward, an orientation that floods the house with abundant natural light for most of the day but contributes no direct heat gain from the sun.
Seen from indoors, the park across the street appears to merge with the couple's own property through the precise placement of contiguous windows. Someone seated in the living room or dining area sees no sign of the road that runs by but instead enjoys a completely different experience.
"We end up borrowing the view of an acre park," Rifkind says of a trick that is actually a principle of landscape architecture that goes back hundreds of years. "It makes you feel like we're on a big estate."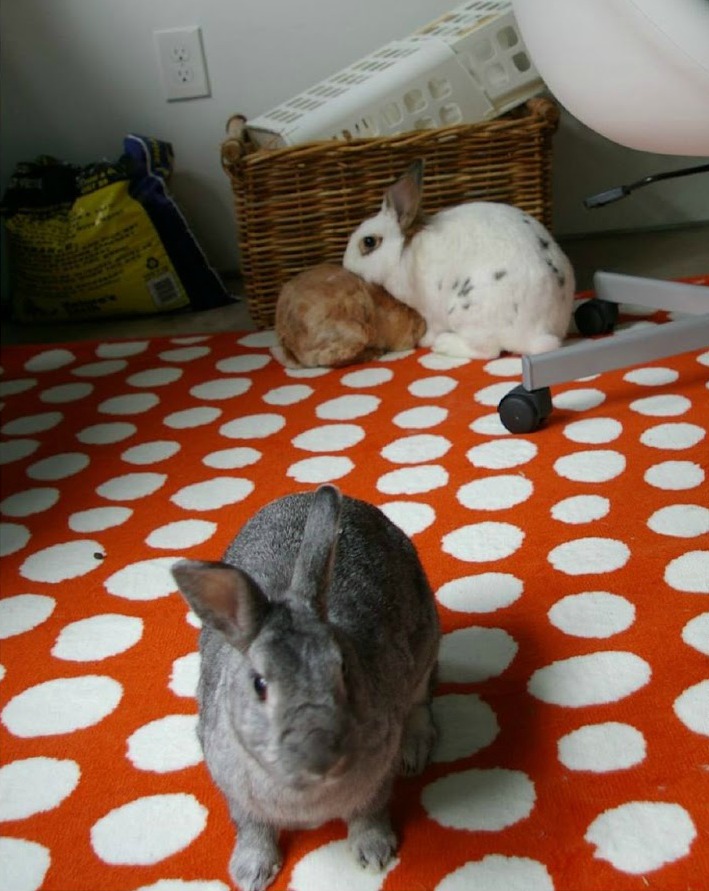 Another quirky nod to nature: a back room (one of five bedrooms in the 2,700-foot home) given over almost exclusively—save for the storage of old books and trophies on shelves—to the housing of wild rabbits. The surprise residents, four of them, appear more at ease with the arrangement than does Rifkind, who chalks up the unusual circumstance to the kind-heartedness of his other half.
In addition to a landscape that invites attention—Rifkind believes the lushness of his urban jungle has encouraged parents to walk with children past the house on the way to school, and he doesn't mind if a stranger helps him- or herself to a bit of what grows there—the couple made a few other strategic choices to encourage neighborliness. They built a 150-square-foot side porch that puts them in view of anyone who passes by, the easier to engage. And their garage was intentionally  not placed on the street corner so as to present an "open" face at the intersection.
A greener future?

An oasis, the home represents a culmination of Rifkind's and Zickler's professional interests as well as their values and shared personal dream.
And yet, there are regrets.
"It's been really rewarding because it's, on one hand, an affirmation of what we've learned over the years," Rifkind says. "At the same time, there was something that we realized almost as soon as we were done with it: That it was all wrong.
"We realized that if we really wanted to make an impact in terms of the environment, we should have never built a single-family house, that we should be living in denser housing, like an apartment, something more close to public transit. The big problem is that I still drive eight miles each way to get to FIU. And even driving a Prius, there's still a carbon footprint involved in that."
A better option, he contends, would have been "a net-zero apartment building right across from FIU," where others might have joined the family in sidestepping the daily commute. His hope now is that students and faculty will one day find new living options closer to campus, something the university supports through the  UniversityCity project.
And there are other ways to effect needed change, Rifkind adds.
On campus, for example, FIU has pushed for environmentally responsible construction that meets a minimum  LEED Silver standard for every new building. Additional measures have for the past eight years earned the university recognition as  the most energy efficient in the state.
"There are a lot of other things we should do, but that's a good start," Rifind says. "I give a lot of credit to FIU."