FIU has helped a young African woman land on a path to her dream job.
In 2016 Nicholine Azirh came to FIU as part of the U.S. Bureau of Educational and Cultural Affairs' six-week Mandela Washington Fellows program, which aims to develop young African leaders through coursework, site visits and networking opportunities. FIU has for four years running served as one of about three dozen host universities across the country and the only one in Florida.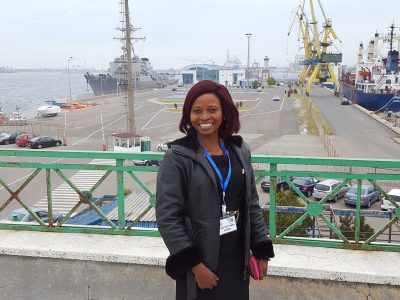 Azirh chose FIU's public management track because she was in the process of starting a nonprofit that would enable young African girls to establish themselves in the maritime industry and help close the existing gender gap.
"I was looking forward to forming partnerships and collaborations with shipping companies in the U.S. that would provide onboard training to the young girls I want to recruit through my NGO," Azirh said.
At FIU, Azirh shared her story with guest speaker Lisa Lutoff-Perlo, CEO of Celebrity Cruises. That fateful meeting has led to an opportunity that can directly help Azirh achieve her life's dream of one day serving as a ship's captain. On Aug. 27 she began sailing to the Caribbean on the Celebrity Equinox as a deck cadet.
The Cameroon native recalls watching television as a child and seeing a woman dressed in captain's regalia. She told  her mother, "I decided to be the first female ship captain so I can model the way for other young women into the industry."
With her sights firmly set on becoming a ship captain one day, Azirh completed a four-year degree in nautical science at the Regional Maritime University in Ghana and was awarded the title "best student"  in the university's Nautical Science Department in 2010. Eventually, Azirh packed her bags and moved to Sweden where she received a scholarship to study for a master's degree in maritime safety and environmental administration at the World Maritime University. For her dissertation, she drew inspiration from her own experience and wrote about women seafarers, specifically about how to empower West African women to go to sea.
"The findings of the research revealed that there are few women seafarers in West Africa and in Africa as a whole. This is due to lack of awareness, insufficient training facilities and lack of gender equality legislation," she noted.
Shortly after arriving at FIU, Azirh began making the most of the opportunity. She expressed her interest in meeting someone that worked in the maritime industry to Susan Webster, FIU's director of training and international research initiatives and Mandela Washington Fellow program director. Webster invited Celebrity Cruise Line's Lutoff-Perlo to come and speak to the fellows at the end of their six weeks.
"We jumped on the opportunity [to invite Perlo]. I knew of Nicholine's background, of her interest in maritime, and I knew of her struggle. But what happened next with Mrs. Perlo was unexpected."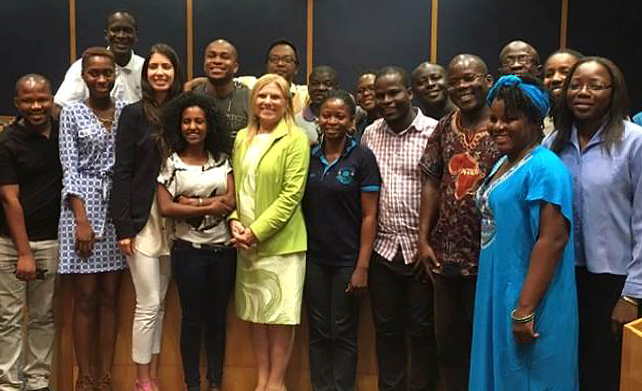 At the end of Perlo's talk about leadership, the fellows had a Q&A with the CEO. That was when Azirh stood up and shared her struggle of finding a job with a shipping company or a cruise line in Africa. 
"When I met Nicholine, she shared her story and her credentials, along with the obstacles that she was facing. Not only was she the kind of candidate that we search the world for, but what was standing in her way seemed like something that needed to change for those in her part of the world to have the chance to achieve their goals," said Perlo.
Perlo reached out for help to Celebrity's Senior Vice President Patrik Dahlgren, who quickly hit a roadblock. Dahlgren had to work to get Azirh's credentials from Sweden and Ghana recognized through Malta, where Celebrity registers its ships. Dahlgren spent a year building bridges between the three entities to create a partnership that allowed Azirh to work on board a Celebrity ship.
"It was quite a moment within our company when Patrik shared the news that Nicholine had been cleared to accept a position on our team. If it were not for FIU and the Mandela Fellows leadership team inviting me to speak, this would not be possible today. I'm grateful that I was there on that fateful day," said Perlo.
Nicholine echoed the sentiment: "I am so grateful to have been part of the FIU group of Mandela Washington Fellows 2016. Most importantly, I am grateful to Dr. Susan Webster for arranging a meeting with the CEO of Celebrity Cruises. That meeting is what is making it possible for me to be a role model for other women who want careers at sea."  ♦