FIU in DC: Students, faculty and alumni are making a mark in the nation's capital
---
By Joel Delgado '12 MS '17 
D arren Martin didn't know how cold it could get in Washington, D.C.
It's a mistake any student from FIU could make. Pea coats and snow boots are not part of a typical South Florida resident's attire, and Martin soon realized he would need both as he served an internship in the fall of 2011 in the Office of Presidential Correspondence at the White House.
Not long after getting started, Martin met Carlos Becerra '98, MPA '01, who heads the Washington branch of FIU's  Office of Governmental Relations, otherwise known as " FIU in DC." When Martin said he did not own a coat, Becerra offered him his own. That gesture, and the support that followed from Becerra's team, quickly made Martin feel at home in the Beltway and provided a sort of extended family.

"Carlos brought me in to meet the team," Martin recalls. "They were all very inviting, encouraging me to get involved."
After finishing his internship and graduating in 2012 with a bachelor's in political science, Martin returned full time to the White House, eventually working up to an associate director position in the Office of Legislative Affairs.
Through it all, Martin stayed in touch with Becerra and helped advocate for the university and even hosted FIU President Mark B. Rosenberg in the West Wing. He also mentored FIU students who came to Washington to complete their own internships.
"If I had not gone to FIU, I might not have had the opportunity to get involved in politics," says Martin, who participated in clubs on campus and volunteered in local elections as a student. "As an alum, you should want to give back and see your school supported. This is my way of giving back."
Martin's success story stands out as just one of many Becerra has witnessed and that FIU leadership hopes to replicate. "Our students have grit and go above and beyond," Becerra says. "You transport them to a competitive town like this one, and they will succeed and become our best ambassadors in D.C."
---
Read more:  Acosta nominated for U.S. labor secretary post
---
From the halls of Congress to the offices of K Street, FIU's presence is everywhere in Washington, D.C.
Approximately 2,500 alumni in the D.C. metro area work in places such as legislative offices, engineering firms and museums. Roughly 80 to 100 students annually hold internships and  fellowships at government agencies such as the Department of Energy and nonprofit organizations such as the Congressional Hispanic Leadership Institute. Hundreds of professors and researchers – including infectious diseases expert Dr. Aileen Marty and  College of Arts, Sciences & Education Dean Michael Heithaus – visit each year, often to brief public officials on a range of issues such as the Zika threat and agricultural innovation.

FIU has had an office in D.C. since 2001, which began with a focus on fostering congressional and federal agency relationships and strengthening alumni relations in efforts to expand the university's financial base, including securing federal funds for research conducted at FIU. That is still the case today, but that mission has been expanded in recent years.
Now the office also works with students, faculty and alumni to help them gain a competitive advantage in one of the most important cities in the world, amplifying FIU's voice in national dialogues on a number of important issues facing the nation, including sea level rise, higher education and transportation infrastructure.
And the payoff is there. In 2016 alone, the office advocated for critical grant initiatives that resulted in $22.7 million in funding; produced more than 40 events, including  TEDxFIU and presidential debate watch parties, and hosted 800 individuals and key federal officials; welcomed 140 students who were either completing internships or visiting as part of their studies; directly placed 13 of  those interns in positions the office helped negotiate; and worked to assist 11 alumni in their successful pursuit of full-time positions within the city.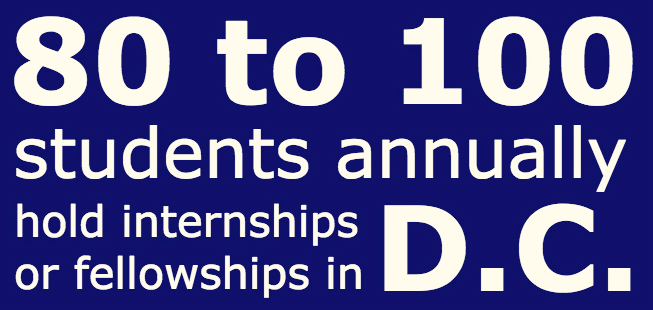 In June the office moved to a new, larger space just blocks from the Capitol building, giving the university a dynamic hub from which to address the problems that policymakers tackle every day.
"We want to assert our national leadership in these key areas," Becerra says. "It's important that the university is a player and propel our brand in D.C. The lessons learned at FIU in Miami could be very telling for the rest of the country."
*  *  *  *  *
In the fall of 2016  Honors College alumna Diana Bermudez '16 completed a fellowship at the U.S. Chamber of Commerce Foundation, where she planned events to promote the organization's education and nonprofit programs and initiatives.
"As a university, we want to be recognized and we have so much to offer. The staff in this office wants us to succeed and make a good name for FIU and ourselves," says Bermudez, who majored in international relations.
Renewed energy has been placed not only on finding internships and jobs for students, but also preparing and equipping them for success once they start them, either in Washington or elsewhere. That process has been pushed forward thanks to alumni living in the D.C. area getting more involved and engaged.
FIU in DC worked with  Student Affairs to identify 20 students from a wide range of disciplines and fly them to D.C. for a  two-day career success workshop in November, the first of a planned series of "fly-ins" during which students experience the nation's capital and get a glimpse of the available opportunities.
The staff organized professional development workshops in the high-tech office space and matched students with alumni and employers working in their areas of  interest. The students sat for mock interviews with alumni and took behind-the-scenes tours of facilities such as the Pentagon, FBI headquarters and Fox News.
"The establishment of a stronger FIU presence in D.C. has already enabled us to expand the global experience we offer, allowing us to give students greater access to internships and jobs," says John Stack,  founding dean of the  Steven J. Green School of International and Public Affairs. "Through a more engaged academic presence, policy-relevant research, experiential learning and internships and immersive experiences with our D.C. partners, we will create even more of the global-minded leaders our nation so desperately needs."

William A. Ramos '85, the director of intergovernmental affairs at the U.S. Department of Commerce during the Obama administration, became the president of FIU's  alumni network in D.C. in the summer of 2016 and has seen the university's continued growth in Washington through the years.
"We have access to power," says Ramos, who holds a bachelor's degree in social work from FIU. "We have influence in the decisions that are being made here."
In 1989 two-time alumna Ileana Ros-Lehtinen '75, MS '87 became the only FIU  graduate to be elected to the U.S. Congress and today is the most senior Republican woman in the U.S. House of Representatives.
"FIU's goals, interests and legislative agenda dovetail with mine so I feel privileged, honored and humbled to be part of the FIU community here in D.C.," Ros-Lehtinen says. "I'm so happy to have the FIU presence here."
Much of FIU's influence resides in the work of professors and researchers, who travel to Washington roughly 500 times each year, often to speak to government agencies on important topics facing the nation. As one of only 15  universities that have a satellite presence in Washington, FIU provides faculty and other university leaders both practical assistance and a physical space from which to operate.
In September Laura Dinehart, executive director of the  School of Education & Human Development, passed through on her way to  meeting with then-U.S. Secretary of Education John King in support of the  Obama administration's efforts to diversify the country's teacher workforce. Dinehart's work and expertise reflect FIU's own growing profile.
"The nation is moving to a more diverse population," Dinehart says, "and we know that we have to be a model for the rest of the nation. We are in a unique position to do that."
In June Professor Atorod Azizinamini, the head of the university's nationally recognized  Accelerated Bridge Construction research program, made a presentation at the Department of Transportation. Azizinamini has spent  decades investigating ways to meet the nation's critical infrastructure challenges. He delivered his findings to top officials with the goal of  advancing production of safer, environmentally friendly bridges.
Azizinamini used the office as a home base during his visit and found it indispensable.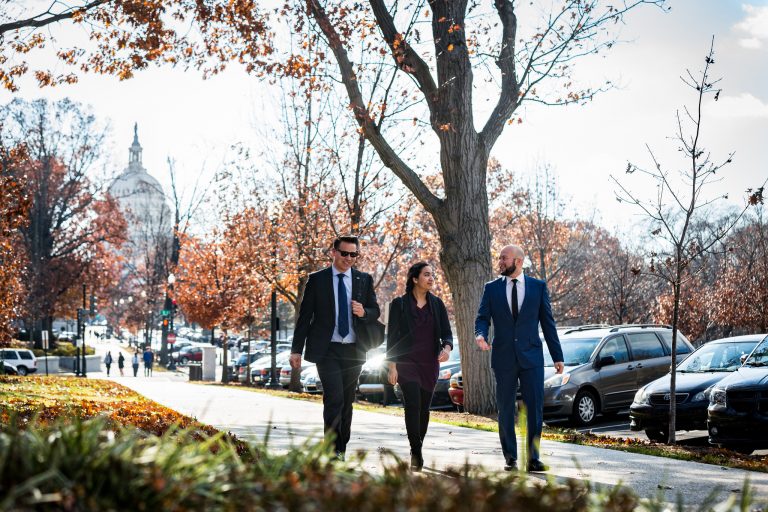 "The staff and space have enhanced our  visibility and our capabilities to be able to relay our message in D.C.," he says.
His high-profile appearance at the U.S. DOT, coupled with a strong grant application, led in December to the agency's awarding of a  $7.5 million grant to FIU to work with the Federal Highway Administration and the American Association of State Highway and Transportation officials.
*  *  *  *  *
The FIU in DC team has been focused on building for the future and synchronizing with FIU President Mark B. Rosenberg's vision for the university while celebrating a breakthrough year in the nation's capital.
"If we are about impact, then our Washington center will underline this passion," Rosenberg says. "We want to be seen as a cutting-edge, state-of-the-art facility that fosters great thinking about the issues and problems impacting humankind, that involves FIU-produced solutions and approaches."  
In just such a case of making a national impact, FIU professors in December used the space for the first time to  offer continuing education to 31 engineering professionals from around the country.
By bringing together engineers, architects and building officials for a two-day course on the structural design of skyscrapers, faculty in the College of Engineering & Computing were able to leverage the university's preeminent research strengths.
And on the biggest stage of all, during the transition from President Barack Obama to President-elect Donald Trump, FIU in DC is working with alumni from across the political spectrum. The office contacted roughly 20 alumni who were outgoing appointees and offered them help in their next pursuits. At the same time, the office worked with about a dozen alumni who served in transition team roles.
With so many graduates already on the new administration's radar, there is a strong likelihood that FIU alumni will be appointed to key positions. Vice President Michelle Palacio and the FIU in DC team gathered the names and information of alumni interested in federal appointments and have helped make introductions and connections that could position them for important roles.
That experience suggests that someday soon FIU will make an unprecedented mark in D.C.
"More and more people are waking up and seeing how FIU can impact this city," Palacio says. "We won't be surprised to see several members of Congress or Cabinet members who are FIU alumni in the future." 
 Click through the map below to tour Washington, D.C., and learn about some of the thousands of Panthers helping to make a name for FIU in the nation's capital.