From the heart: Alumni and students take action in the face of others' despair
Disasters can bring out the best and the worst in people. Members of the FIU community collectively have been a positive force in the wake of devastation. Whether as an extension of their jobs or in personal efforts, they prove that Panthers rise to the most difficult of occasions and do so with pride.
December 10, 2017 at 9:20am
---
Helping the homeland
Hurricane Maria's touchdown in Puerto Rico just two weeks after a pummeling from Hurricane Irma left the island reeling. (Officials called the devastation "apocalyptic.") A total loss of electrical power and downed communication channels made getting out immediate word to friends and family in the United States nearly impossible.
"It's complete desperation," Miami attorney Nicole Ramos, a 2005 FIU Law grad, said of what she felt as she worried about loved ones in her homeland. Almost a week after the destruction, she still had no idea how an elderly aunt and uncle as well as a close friend had fared. "That's the worst part," she said. "I just need to know."
Channeling her worries into a productive outlet, Ramos turned her Coral Gables apartment into a makeshift warehouse as she quickly began soliciting nonperishables from neighbors and checks and Venmo contributions from coworkers and Facebook friends. In addition to the nearly $1,000 in donations she spent at Walmart in the first days after Maria, she also received Amazon deliveries of diapers and toiletries from folks as far away as New York. She took all the supplies to a local collection center that had arranged for shipping.
"I grew up there and seeing the videos and photos of people who are hungry, hot, thirsty—for me, it just hits my heart," said Ramos, who shares a home with her mother and 7-year-old son. "I had to do something."
The concentrated activity served as a temporary distraction from her growing fears. She suffered endless sleepless nights and spent countless hours combing the internet for any news or photos of her relatives' hometown. And she took to social media in a quest to locate her friend. (She would eventually learn that all three, though shaken, had come out fine.) In the midst of her worry, Ramos found hope in the collective good will of those around her.
"What is beautiful about this is that strangers reach out," Ramos said, "and we're all coming together as a community."
School leaders take charge
As Hurricane Irma aimed for South Florida, Bianca Calzadilla '97, MS '00, Ed.S. '03 and John Galardi '02 were each pressed into duty to ready their schools in anticipation of sheltering a combined 3,000 people.
With almost 40 evacuation centers already nearing capacity, Miami-Dade County looked to public school buildings as more people sought refuge from a potential direct hit from the Category 5 storm with winds exceeding 150 miles per hour.
Supported by custodial staff, volunteers, national guardsmen and police, Calzadilla and Galardi took charge of their respective teams and opened their doors.
"It was automatic, we knew what had to happen," said Calzadilla, principal of Shenandoah Middle School in Miami. "There was no question what needed to be done. There was no question we needed to be there."
In Homestead, Galardi's South Dade Middle School sheltered 2,500 evacuees. The first night, they dined on pizza and chicken—the regularly scheduled student lunch.
"This community was hard hit during Hurricane Andrew 25 years ago, and I know that upped the anxiety for this storm," Galardi said. "I didn't want people to be in a scenario where they were in a house or a mobile home that was unsafe."
A thank you for those who bring light
As many as 10 million Floridians suffered the consequences of lost electrical power and an inability to run AC during 90-plus-degree temperatures in the aftermath of Hurricane Irma. Frustrated and uncomfortable, many cursed the darkness. But the temporary hardship led Naomi Valle '02 to an enlightening experience.
A post directed her to the Facebook group "Irma Recovery: Florida Linemen Support," and she began learning about the work of the roughly 30,000-strong army of electrical contractors arriving from as far away as California, Wisconsin and New Hampshire to get the lights and fans running again.
As she connected with workers' families online and spoke with individual crew members in the South Florida streets, she found that daily conditions for the out- of-towners were not much better—and sometimes worse—than for locals. Shifts lasted 16 hours in the blazing sun. Company-provided meals were meager. Laundry was piling up. For many, nights were spent on cots or in trucks. Plus, some workers had come straight from weeks-long stints in Texas after Hurricane Harvey, with a number of them missing personal events such as a planned honeymoon and even a son's wedding.
Valle wanted to honor the workers' sacrifices and the risks they took as part of their jobs, so the stay-at-home mom and former teacher used social media to called upon more than two dozen fellow Panthers as well as family, friends and even high school classmates she hadn't spoken with in 20 years. Strangers and former students also contributed to the cause as did local businesses.
"My phone buzzed non-stop, from early mornings to late nights, with requests and updates," she says. "Laundry service needed for an eight-man crew in North Miami. Boot dryers for a lineman with aching blisters. An Italian dinner for a crew of 25 in Brickell." Valle also arranged for birthday surprises—tipped off by workers' loved ones—as well as handmade "thank you" cards from local schoolchildren that were delivered with home-cooked meals.
"You've given us a completely different outlook on this world," one grateful lineman told Valle, who was motivated by memories of the kindness shown her own family after Hurricane Andrew took everything they owned in 1992. "I can tell you now, after 25 years, that the feeling of immense appreciation lasts a lifetime."
Immokalee residents, battered by Hurricane Irma, line up for aid from a charity drive coordinated by Greek organizations from across the state, including FIU students from Lamda Theta Alpha Latin Sorority and La Unidad Latina Lambda Upsilon Lambda Fraternity.
Hitting the road
Students Anthony Baez and Milhtian "Milci" Cerda each drove to Immokalee, Fla., to represent their Greek organizations at a charity drive in support of Hurricane Irma victims.
Located about 30 miles northeast of Naples in Collier County, where Irma had made landfall, the migrant farming community of Immokalee was hit hard. In the aftermath, many residents were forced to move as crews condemned more than 50 mobile homes destroyed by the storm.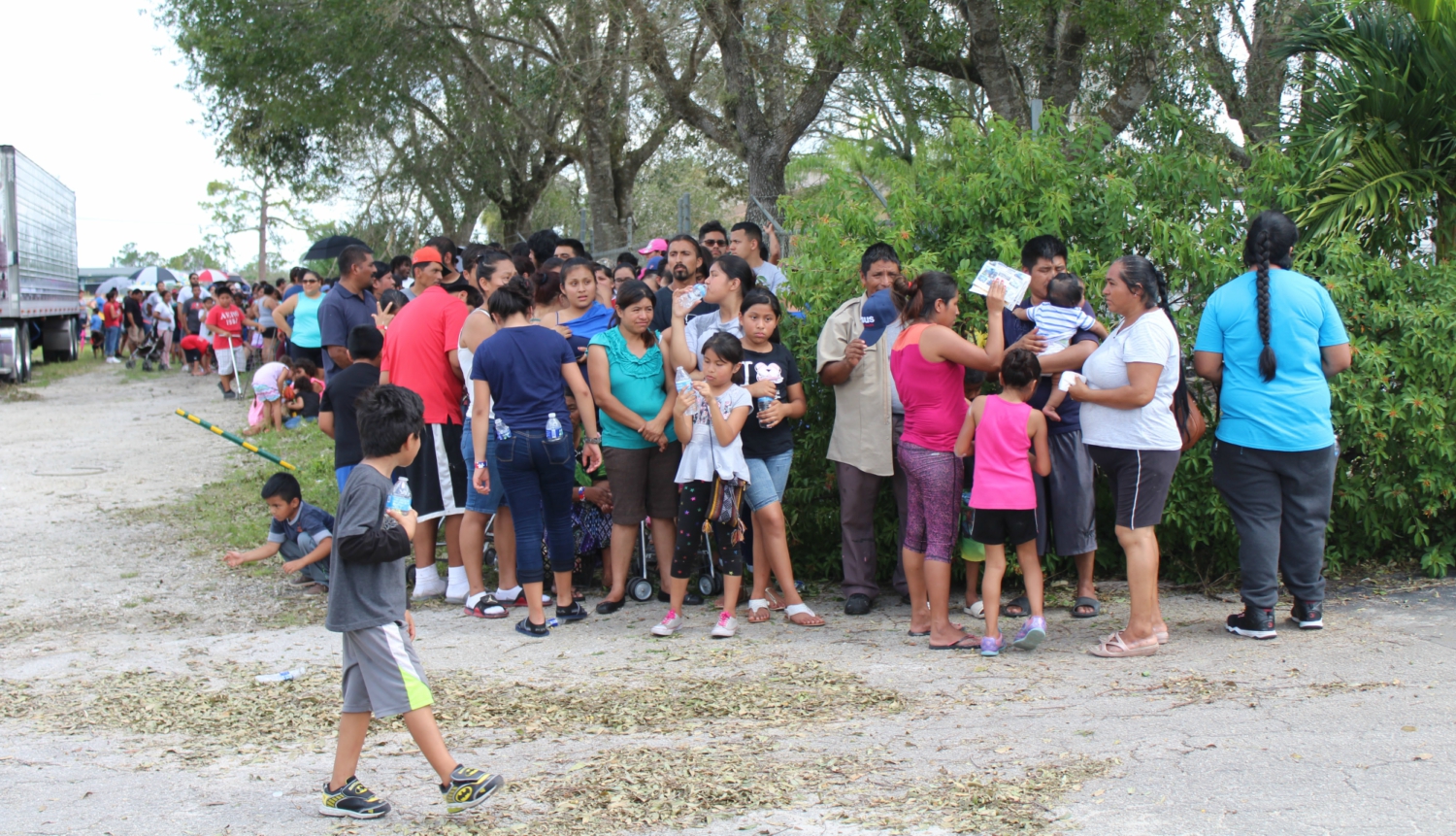 Cerda, president of FIU's chapter of Lambda Theta Alpha Latin Sorority, and Baez, president of FIU's chapter of La Unidad Latina Lambda Upsilon Lambda Fraternity, joined dozens of volunteers from across the state to sort food and clothing at a donation center. They also provided guidance to those completing applications for FEMA assistance.
"I moved here from Dominican Republic and grew up in a poor neighborhood, so I know firsthand how complicated it is not to have anything and not have anyone there to help you," Baez said. "Whenever I can do something that can impact someone's life, I want to do it."
Cerda added: "It was well worth it. We saw how many people were panicked and scared leading up to the hurricane and knowing that we were OK, we just wanted to do our part."
Redirecting efforts
Soon after Hurricane Harvey decimated Houston, Camila Martinez, a sophomore nutrition and dietetics major, prepared for a week-long mission trip to help rebuild ruined homes.
But then Hurricane Irma put an end to the plans.
Her flight and trip canceled, Martinez turned her attention to those impacted by a storm much closer to home. With FIU classes interrupted due to Hurricane Irma, she used the time off to volunteer as a caseworker with the American Red Cross at the Tamiami Park shelter, just a short walk from FIU. She worked 12-hour shifts, conducting interviews with dozens of evacuees, many from Monroe County, to help assess their immediate needs.
"My goal is to be a doctor one day and to take what I've learned and find out how to make my community better," Martinez said. "Many of the evacuees were worried about their homes, their jobs and wondering if they were going to have to leave and start over. I wanted to try and help, even if I was just one person."
But she wasn't just one person. Martinez was one of many students who sprang into action in the wake of the storm, many through their campus organizations such as the Caribbean Students Association, which collected donations, the Miami Medical Team of FIU, which filled more than 60 boxes with nonperishable food and medical supplies, and the Panther Motorsports automotive engineering club, which participated in a local "Cars & Coffee" hurricane relief event. 
By: Joel Delgado '12, MS '17, Alexandra Pecharich and Chrystian Tejedor '04, MBA '15