The success of FIU's women's sports programs this past spring gives FIU Athletics momentum heading into the 2017-2018 season.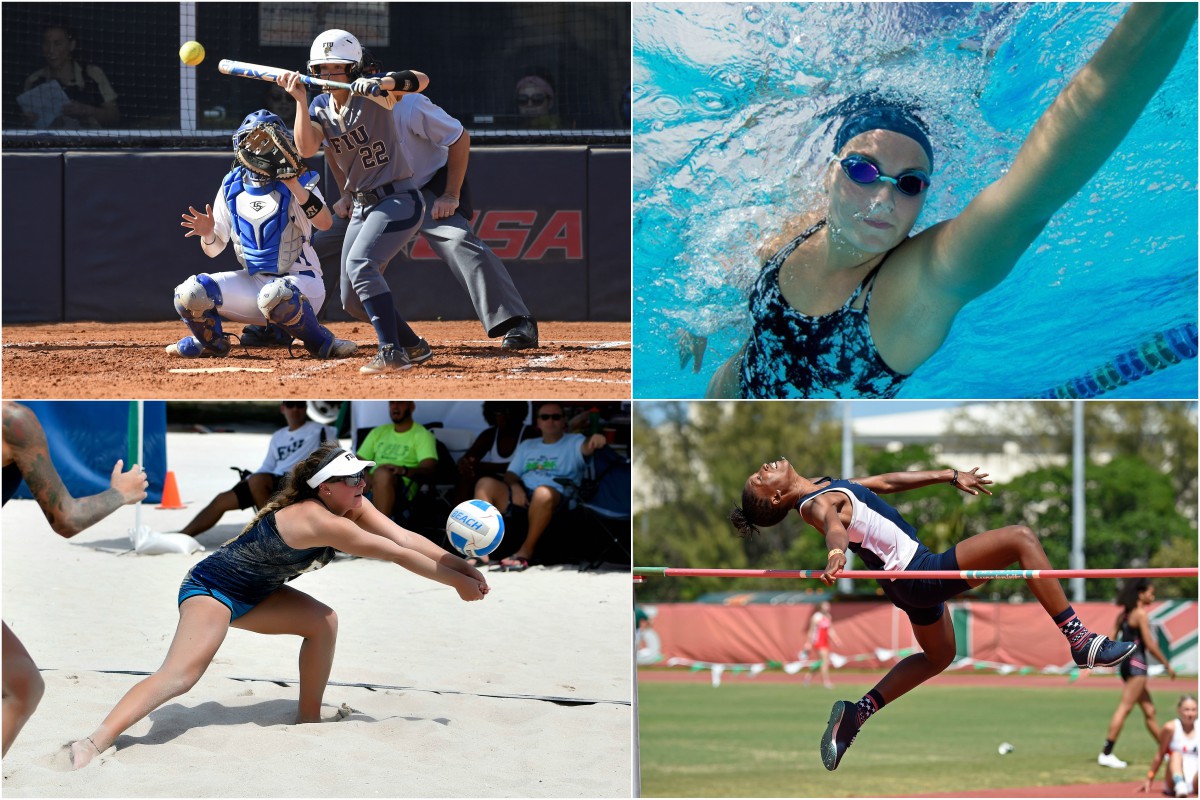 By Joel Delgado '12, MS '17
After falling one game short of winning the Conference USA title in May, the FIU softball team returned to Miami with its postseason fate out of its hands. It was now in the hands of the NCAA Division I Softball Committee.
One day after their return, the players took over a local sports bar and grill, eyes glued to the television screens, which would reveal in moments if they were going to the NCAA Regionals or staying home for the rest of the summer.
The air was thick with nervousness and excitement.
The question weighing on their minds:  Would a program-record 45 wins in 2017 be enough to send FIU to the NCAA Tournament for the third time in history?
Turns out it was.
As the television commentators listed FIU among the teams headed for the Gainesville Regional, the student-athletes went from a state of nervous excitement to pure jubilation. A goal that had been set years before was finally realized.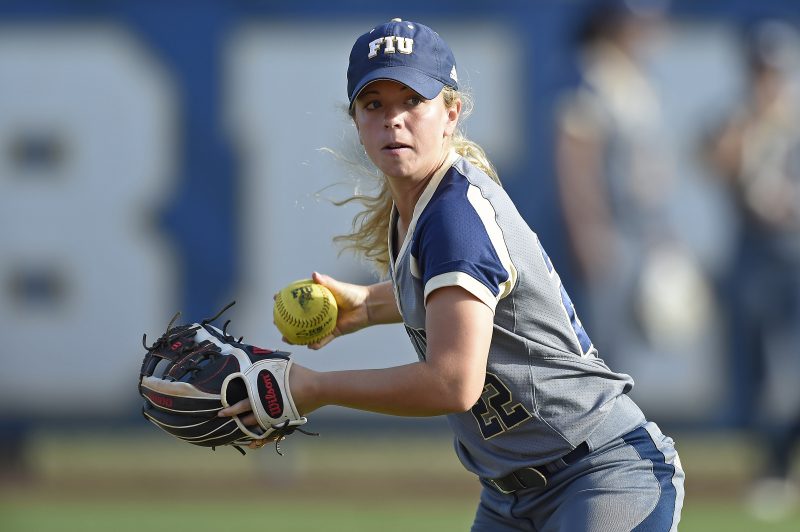 Although the Panthers did not make it out of the Gainesville Regional, beating FAMU but losing to Oklahoma State twice in the double-elimination tournament, it will never dim the memory of that night in the Hole in the Wall tavern in Kendall.
"In that moment, it felt we finally did everything we said we would do," said Sammi Green, a senior infielder. "I felt confident that we could beat anybody we played. That's how much faith I have in this team. We're strong enough to do anything we set our minds to."
It was a breakout season for Green – both on the field and in the classroom. A utility infielder with only a handful of starts throughout her collegiate career, she carved out a niche for herself her senior year at third base, setting career highs in games started (28), hits (23) and runs batted in (13) while hitting .261.
Green, a Georgia native, graduated cum laude with a physics degree in May. She was the only person accepted this year into Vanderbilt University's Professional Doctorate in Medical Physics program. She will work in the diagnostic track with plans to eventually become a medical physicist at a hospital.
"My first year here, I saw the field maybe four times total. It was a struggle, but it made me stronger," Green says. "Having to deal with that, trying to succeed in school and find out who I was and what I wanted to do with my life, all in four years, it wasn't easy."
A BANNER YEAR ON (AND OFF) THE FIELD
The softball team's trip to the NCAA regionals capped a wildly successful 2016-2017 athletic calendar for many of FIU's women's sports programs:
The swimming and diving team claimed a third consecutive conference championship and sent a school-record five Panthers to swim at the NCAA Championships.
The women's tennis team made it all the way to the conference championship final while Andrea Lazaro was named Conference USA Player of the Year, earning a trip to the NCAA Division I Women's Tennis Championship tournament.
The No. 10-ranked women's beach volleyball squad made it to the Coastal Collegiate Sports Association (CCSA) Beach Volleyball Championship final for the first time in program history.
And in track and field, Clarissa Cutliff competed in the NCAA Championships and finished 12th

 

overall in the high jump.
The success of these women student-athletes in the classroom has been just as impressive.
The release of the NCAA's 13th-annual Academic Progress Rate (APR) in May also highlighted the strong academic record of FIU women's sports programs. The APR uses a series of formulas related to student-athlete retention and eligibility to measure the academic performances of all participants who receive grants-in-aid on every team at every NCAA Division I college and university.
Women's golf and women's cross country were recognized by the NCAA for registering a perfect multi-year score of 1000, ranking in the top 10 percent of their sport nationally. It marked the third-straight year women's golf was recognized for its academic success.
FIU's student-athletes – both men and women – posted the highest FIU Athletics spring semester grade point average on record (3.22), marking the seventh-straight semester in which FIU has posted an aggregate GPA of 3.0 or better.
"As student-athletes, we want to win. We want good results not just on the field but in the classroom as well," says FIU tennis sophomore Marina Wexler, a computer engineering major.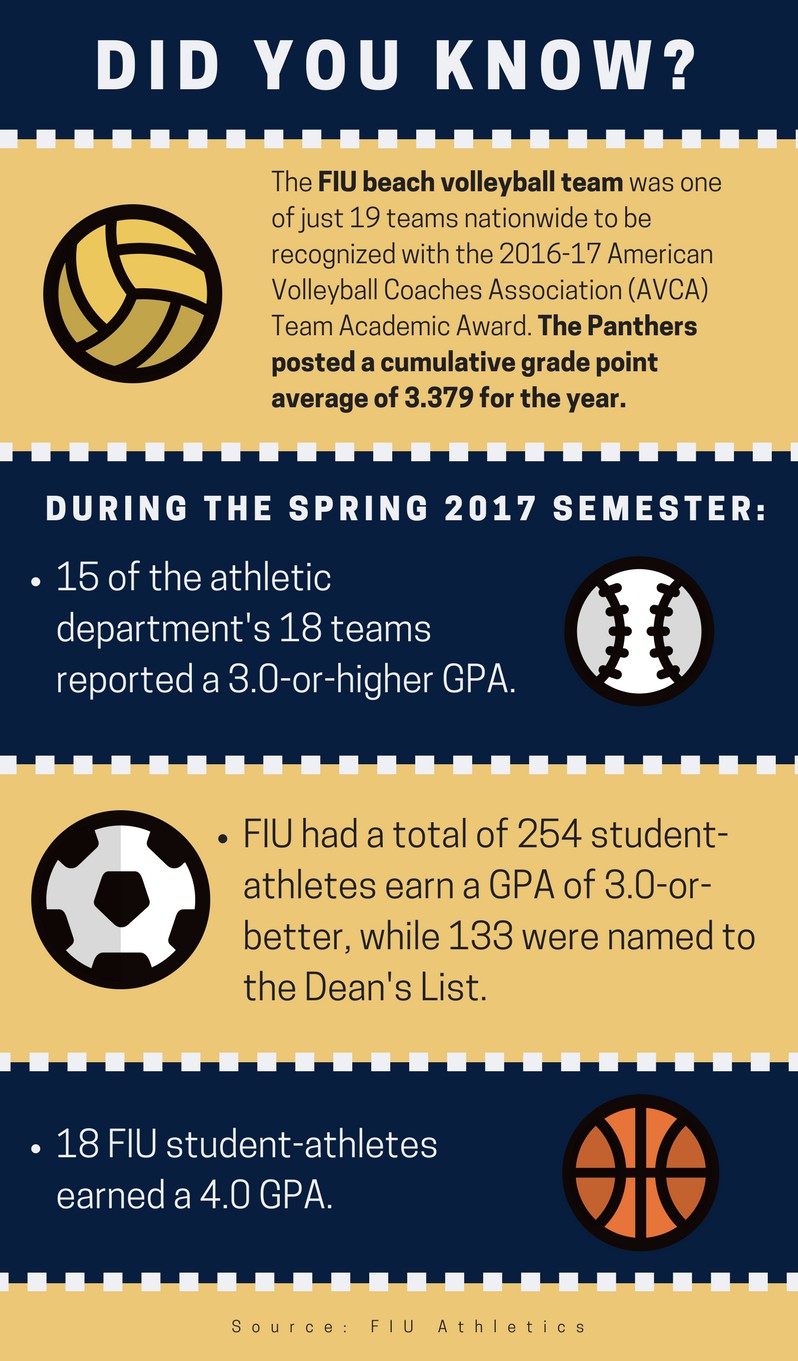 TRANSFERRING SUCCESS
Success in the classroom has transferred to the playing field. FIU Tennis Head Coach Katarina Petrovic considers herself one of the strictest coaches when it comes to academics, requiring her players to report to her directly about exams, assignments, attendance and everything in between.
Her players posted a team GPA of 3.82 during the Spring 2017 semester – the highest in program history – and a trip to the conference finals.
"In sports, the formula is the same on the court as it is in a classroom," Petrovic says. "When you are on the tennis court, it's like you are taking the test. When you are prepared, whether it's taking a test or for a tennis match, you can fully believe in your abilities."
Wexler, who is interested in pursuing a career in aerospace engineering if professional tennis does not work out, attests that discipline – staying on task and maintaining a balanced schedule – has attributed to success in both arenas.
"[Coach Petrovic] tells us that it's not just about what we do on the court, but also what we do outside of the court that will help us be successful in life," Wexler says.
Student-athletes and coaches point to the Student-Athlete Academic Center (SAAC) as a key factor in driving their academic success. The SAAC provides tutoring, academic counseling and collaborates with coaches and academic advisors throughout the university.
Working with these student-athletes on a daily basis, SACC staff are not surprised to see the level of success FIU's women's sports programs have enjoyed in recent years, not just in Conference USA but at the national level as well.
"These ladies grind every day to improve their craft – no matter if it is engineering or accounting – and then transfer that same energy to the competitive arena. They are laser focused and bring an intensity and maturity that you do not often find in 18- to 21-year-olds," says SAAC Director Wesley Maas.
He adds: "Our student-athletes are wonderful ambassadors for FIU. You have students from all across the globe with different nationalities and socioeconomic backgrounds competing for our FIU. They do so with integrity and with the best interest of their peers at heart."  ♦