StartUP FIU creates innovation ecosystem to rev the engine of economic growth
March 21, 2017 at 12:00am
---
Jason Dettbarn, 39, stands in front of about two dozen other equally enterprising individuals and shares details about his early-stage company. In 2014, the two-time FIU alumnus founded a firm that provides a cloud-based platform to organizations in need of IT management for their Mac computers, and it's attracting customers worldwide. With slides running behind him, he practices a short speech that he hopes to deliver soon to potential investors. A few minutes later, he clicks on a video.
Next up, Helene Wilson, 35, takes the floor to discuss her artisanal ice cream. In 2016, she walked away from a legal career after people went crazy for the small-batch treats she started crafting for herself in law school. Today she sells to a growing group of fans as well as the general public through a third-party sweets shop.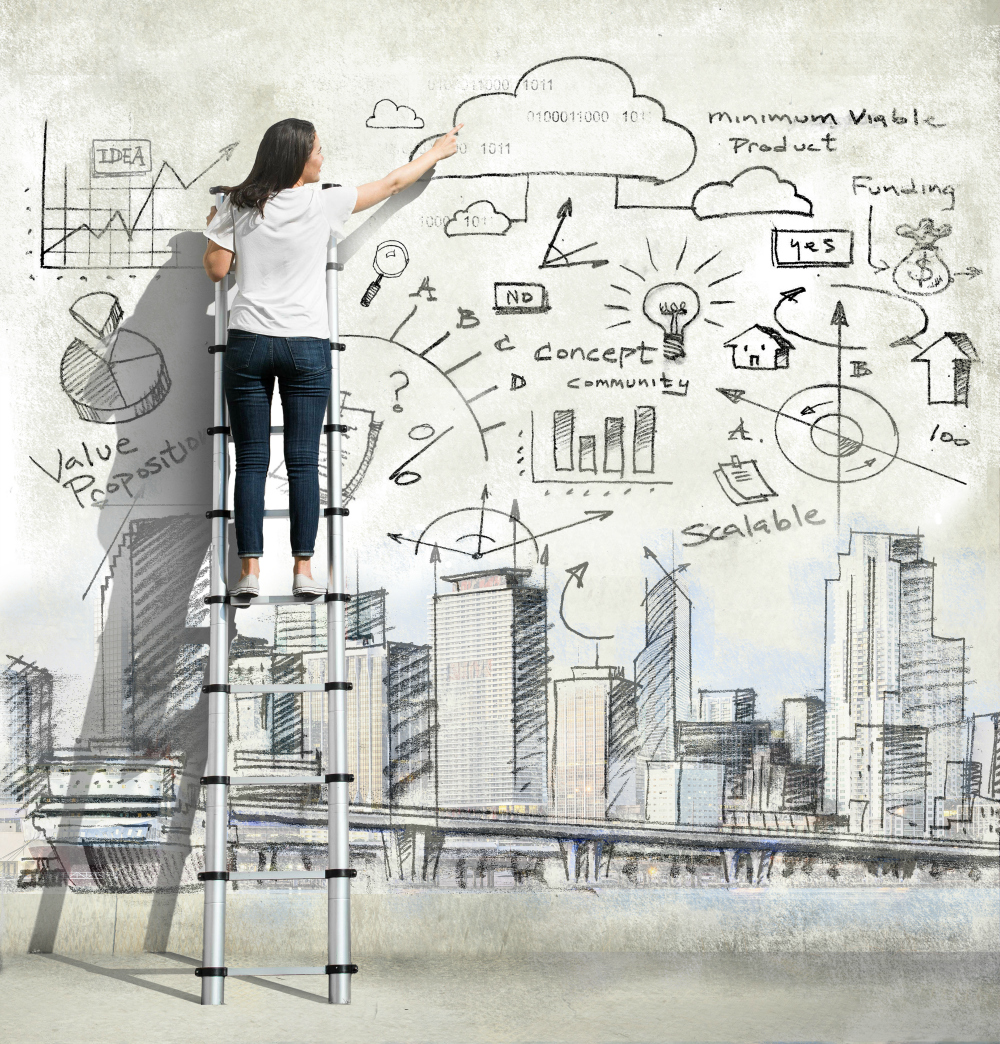 After each presentation, the others in the room—who themselves will shortly go before the group—ask questions and offer observations. Dettbarn and Wilson consider their peers' comments and then wait to hear from Robert Hacker. The business strategist and financial consultant once built the second largest retail company in Asia. To those assembled, his opinion carries the kind of weight that would-be superstars ascribe to Simon Cowell's judgments.
"You could have just showed your video," Hacker tells Dettbarn. "[Your talk] did not add anything, which means all those words were wasted." To Wilson, he says with a mix of exasperation and urgency, "I don't see you separating from [the competition]. You have the ability to do that. You just have to figure out how." He suggests she focus on her products' premium ingredients and exotic flavors as she works toward establishing a national brand.
(For the record: Hacker's feedback elicits no frowns or tears but, rather, is accepted as valuable advice from a seasoned expert.)
The scene comes out of an innovative new business incubator called  StartUP FIU. It aims to put the resources of a public research university—experts, instruction, facilities and connections to funding sources—behind entrepreneurs with the drive and the will to go the distance.
"We provide support for ideas, inventions and early-stage startup companies that can scale globally," says Emily Gresham, an assistant vice president in the  Division of Research and Economic Development and the co-founder, with Hacker, of StartUP. "We're here to serve our community."
FIU President Mark B. Rosenberg and Provost Kenneth G. Furton have gone so far as to make the fostering of new businesses, and the complementary goal of bringing professors' research to market, part of the university's strategic plan. These endeavors feed a lofty mission: to impact the South Florida economy at the highest level.
Entrepreneurship as an equalizer
FIU already has a well-regarded small-business development center, which annually helps more than 1,000 companies overcome specific problems and identify the steps to expand. StartUP, on the other hand, is about entrepreneurship. It supports activity with the potential for exponential growth. In other words, game changers.
Hacker gives the examples of Seattle and Austin, Texas, to demonstrate how cities can be invigorated by a single transformational company. The two saw their fortunes rise mostly on the coattails of two startups. Seattle's Microsoft and Austin's Dell each served as "a magnet for really intelligent people. The ones that wanted to be entrepreneurs trained [at the companies] and then they spun out," Hacker says. Consequently, that clustering of talent and new companies, "created a system, an environment, a community for entrepreneurship."
FIU hopes to jumpstart a similar cascade effect. That the university has taken up the effort is promising, says Jaret L. Davis,  who  chairs the Miami-Dade economic development organization known as The Beacon Council.
"Every single place where there is a top innovation hub, there is a world-class research institution," Davis says. "So to have a world-class research institution like FIU here, they're providing the seeds of innovation." (FIU's research activity places it among the top 2.5 percent of higher education institutions in the United States.)
Davis gives the example of Stanford University and its relationship with Palo Alto, California, which expects job growth of more than 40 percent in the next decade and serves as the economic focal point of Silicon Valley. Likewise, he cites Duke and the University of North Carolina at Chapel Hill as drivers for the highly successful Research Triangle Park, which attracts IT firms from startups to multinationals.
"A properly structured innovation ecosystem enables anyone to realize their dreams without limit," Davis says. "It's a liberator. It makes it so that the average Joe can take an idea, take a dream and see it come to fruition. It's wonderful that StartUP FIU is working with people to help them navigate the waters of innovation."
These days, harsh reality demands focused encouragement in the interest of improving economic stability and resiliency in the region. "The prosperity gap is widening," Gresham says of South Florida, where the chasm between the rich and the poor is among the nation's widest. "We know that talent is equally dispersed and opportunity is not," she continues. "Sometimes we have to create opportunity."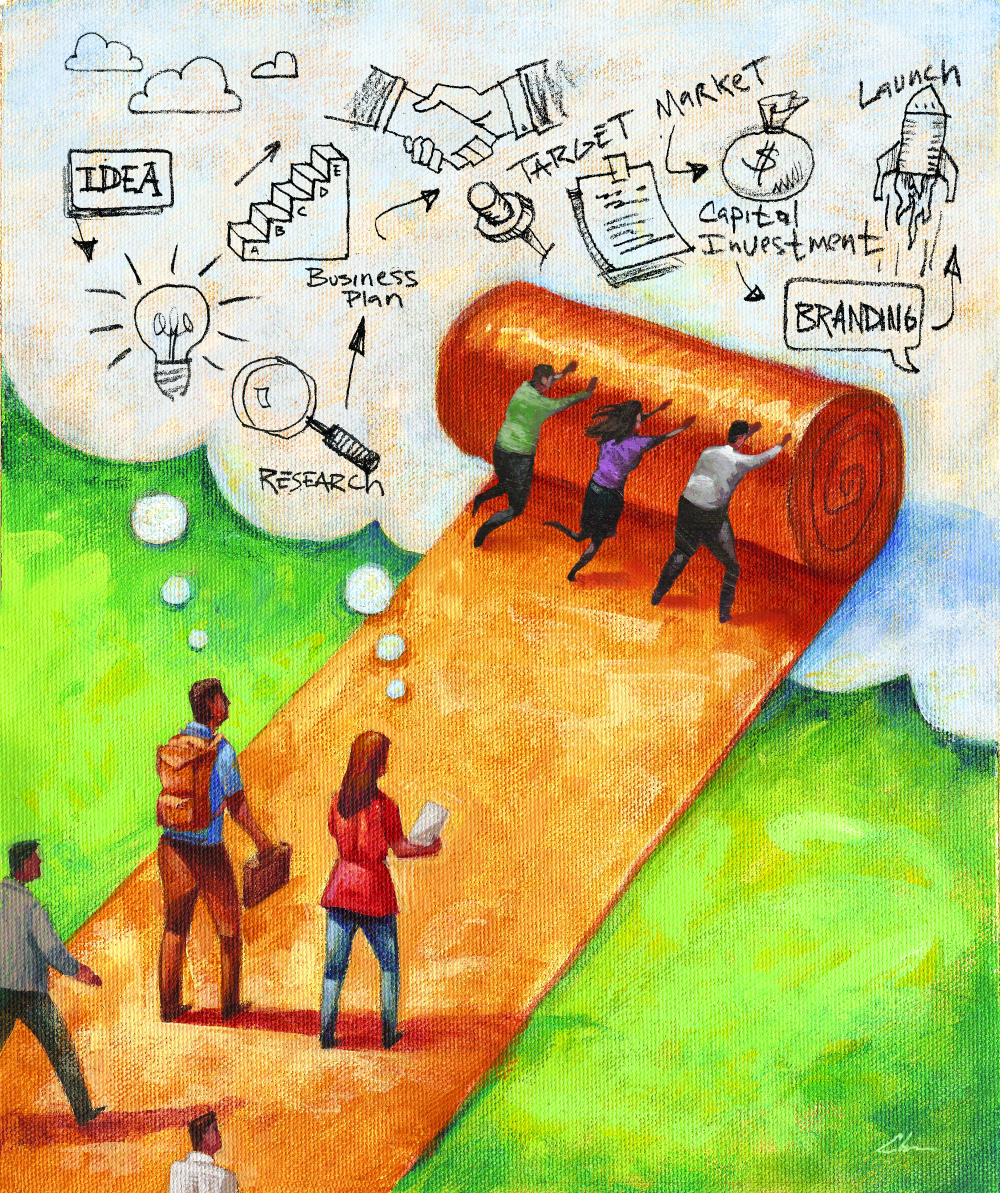 A ready pool of talent
As has been well documented, immigrants to the United States are more than twice as likely as native-born citizens to start companies. South Florida's population has the largest percent of immigrants within the 100 largest U.S. metropolitan areas.
Slightly more than half of Miami-Dade County residents are foreign born. The area is already a recognized leader in entrepreneurial activity, with a 2014 report ranking it second among 40 big markets.
Hacker sees a clear divide between the kinds of companies that provide a basic living for an individual or a family and the kinds of businesses that will ultimately attract investors and transform a city. "The problem is that someone here looks at his neighbor, and his neighbor has a  cafecitoplace. He doesn't look at his neighbor and see someone who's trying to send a rocket to the moon or develop a driverless car," Hacker says. "The issue we have here is that people don't think big enough."
The reason? For all its startup enthusiasm, Greater Miami ranks 39th in access to capital. That alone poses a huge barrier to anyone with a larger vision. FIU hopes to change that reality by catalyzing local talent—which Hacker, Gresham and others see in abundance—and putting it directly in front of the folks with the money.
A place to think big
StartUP FIU formally began in the fall of 2016. Nineteen companies—representing    students, alumni and local residents with no affiliation to the university—were selected from more than 160 that applied. Together, company founders began a 14-week program, at no charge, designed to guide them to success.
They attended workshops on campus on topics such as leadership, networking and storytelling—the latter to help them personalize and perfect their investor pitches. They participated in weekly "deliverable" sessions during which teams address—methodically and, often, through extensive research—aspects such as understanding their specific markets and knowing the competition. And they received advice from an assigned mentor in addition to direction from Gresham and Hacker and other StartUP personnel, as well as introductions to movers in the community. In December, selected teams had the chance to seek financial backing by making presentations before a panel of venture capitalists à la "Shark Tank."
The first cohort mirrored the diversity of South Florida, with almost half of designated company leaders born outside of the United States. More than a quarter of the companies are helmed by women and nearly 70 percent by someone under the age of 30.
The businesses also represent a range of industries and serve a wide variety of needs. Among the first cohort: a virtual reality physical therapy system; a cloud-based eye-disease screening system; an e-commerce marketplace for aircraft and engine parts; an online platform that serves the needs of e-sports competitors; a "virtual college counselor" mobile app; and an organic banana-juice distributor.
"It's been really helpful to hear from older people in the field that tell us this is the process of becoming a business," says Ali Qureshi, 30, CEO of Delta Design. The 2010 alumnus followed up his undergraduate FIU degree in architecture with a master's degree from MIT. A few years ago he quit a job in his chosen field to join his brother, who is a current FIU marketing student, and another FIU alumnus to start the company. Currently they are focused on commercializing a 3D-printed prosthetic leg that could offer a low-cost option to amputees around the world.
---
Read more:  Florida SBDC at FIU helps established businesses level up
---
Focusing on individual facets of the business through a rigorous, disciplined approach kept them on track, Qureshi says. While the team possesses the needed design and engineering skills, their collective business skills were lacking.
"Before [StartUP], our methodology was more like shots in the dark. We didn't really have a plan," he says. "I feel like now we're kind of restructuring ourselves and understanding that we have to think about this. If you want to get to a certain level, you have to do the proper steps."
The team also benefited from existing university networks. Hacker connected Delta with Professor Wei-Chiang Lin of FIU's biomedical engineering department and steered the group to a local microfinance company that could work with needy clients to help them purchase the prosthetics.
Andrea Saladrigas, 21, currently an FIU marketing student, entered the program with her father. Both already had successful businesses, he as a Southwest Florida-based beekeeper who rents out hives to farmers around the country, she as the purveyor of her own brand of local honey. They brought to the incubator a socially driven enterprise that aims to empower low-income women and others as backyard beekeepers whom the pair would outfit with hives at no charge and then pay an income through honey sales.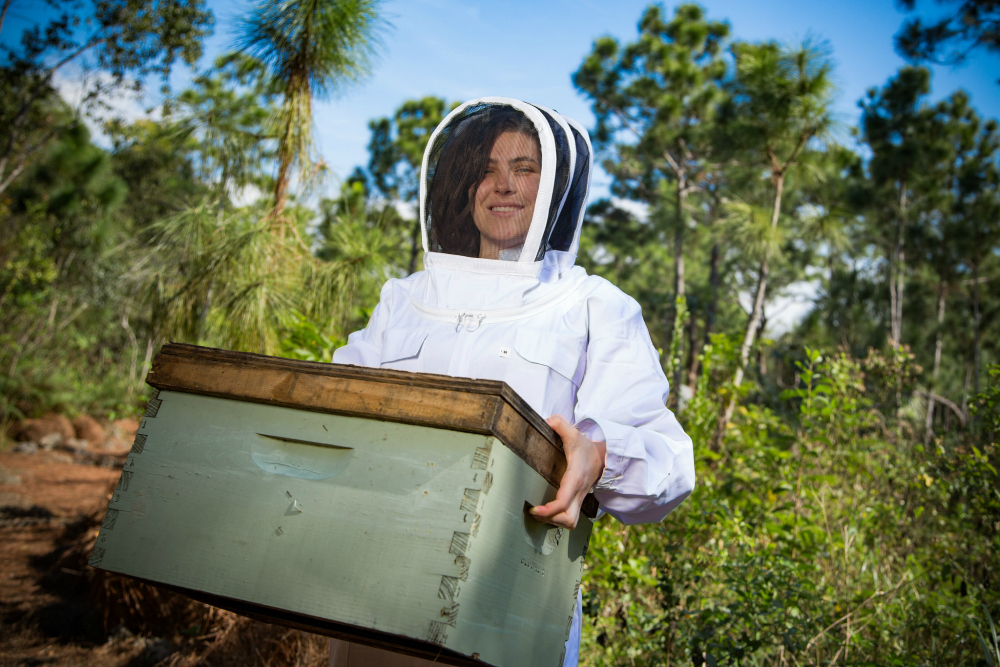 "What I found amazing about [StartUP] is that they're giving us the framework, where to start," Saladrigas says. "They're teaching us how to do a scientific experiment. We literally start with a hypothesis and you finish up with a full-grown idea."
Hacker is bullish on Saladrigas' project, which he acknowledges as ambitious. (The goal is to onboard thousands of local beekeepers within five years.) Also in her corner: a handpicked mentor, FIU alumna Misha Kuryla-Gomez MIB '04. The founder and owner of Misha's Cupcakes has a chain of successful bakeries in South Florida and additional product distribution through more than a dozen other local retailers.
"I've been so impressed," Kurlya-Gomez says of her mentee's drive, and of the idea of the company as a viable business with a social impact. Kurlya-Gomez and Saladrigas agree that the older woman's most important contribution to the startup has been her emphasis on operational issues, something that early-stage founders sometimes gloss over in their rush to get up and running.
Kuryla-Gomez can only sigh when she considers how StartUP FIU might have helped her avoid "so many mistakes and so many obstacles" when she was establishing  her company in 2005.
"This is going to sound terrible," she says, "but if I could have traded my master's in international business for assistance like this kind—with a mentor, with a Bob Hacker, with the program—I would. It would have been good for me."
Perfect timing
Despite coming late to the party, South Florida's embryonic startup ecosystem could well soar in the near future, say those in the know. Support efforts have reached critical mass as commercial organizations, other academic institutions and nonprofits increasingly have committed resources to guiding new and boosting existing entrepreneurs in the region. Adding the power of a major research university to the mix strengthens this work across the board.
And while risk taking is "normal" in places such as the West Coast, New York and Boston, explains Mark Crofton, the Miami metropolitan area has a few advantages. The global vice president for software company SAP, which has offices in Miami, Crofton sees the local startup community's relatively small size and newcomer status as positives.
"I find a lot more cooperation than competition right now at this stage of our evolution," Crofton says. For example, "If you go out to Silicon Valley, if you want to get some time with somebody, unless you know somebody who knows somebody, it might be hard." In South Florida, on the other hand, Crofton has seen firsthand an interest in helping others build something new right at home.
"It's a small enough community [that] you can pick up the phone, call people and say this is what I'm trying to do and I want to do it in Miami. As an entrepreneurial center, we're still a little bit of an underdog," says the Florida native. "When you're an underdog, people are more willing to work together, and I think that's a huge advantage right now."
The willingness of local businesspeople to serve as mentors and guest speakers as for StartUP—Crofton himself has come to campus to address program participants as a group—reflects that general openness to lending a hand.
Gresham finds another advantage in South Florida's relatively recent arrival on the innovation scene. In an era that many recognize as "the fourth industrial revolution"—characterized by a fusion of technologies that is blurring the lines between the physical, digital and biological spheres—Miami could well have the upper hand over older, more established cities when it comes to addressing contemporary concerns.
"Urbanization is going to be the problem of our times: sustainable agriculture, transportation, affordable housing, health, education," Gresham says. "Miami is going through changes that every big city is going through. We should be thought leaders."
As an emerging 21st century city, Miami has an international population with a global perspective that lends itself to disrupting the established way of doing things. It's that spirit and energy that FIU hopes to capitalize on as it champions a new generation of entrepreneurs.   ♦
---
Think you've got what it takes to be an entrepreneur?
Then StartUP FIU might be your way forward.
The incubator has plans to expand in 2017, with no fewer than four fully operational programs expected to be up and running within the year. Students, alumni, faculty and local residents with no university affiliation are all invited to apply. Participants pay nothing for the experience nor does FIU take company equity or otherwise expect financial gain. (Company founders do agree to report on their progress for at least three years.)
The secret to getting in?
"No secret," says Robert Hacker, StartUP's co-founder and director. In addition to communicating a business concept with the potential to scale up, successful applicants must show a high degree of perseverance and be "coachable." That's it.
Ready to get started?
Decide which program fits your needs and apply at  startup.fiu.edu.
Empower: FIU's flagship accelerator (see main article) is funded with a $1.25
million grant from the State of Florida and based out of a newly renovated 10,000-square-foot collaborative space at the Modesto A. Maidique Campus. It welcomed an initial cohort representing 19 companies in fall of 2016 and a second started in January of 2017.
West End: Funded with state monies, this technology-focused accelerator is based in a commercial building near Tamiami Airport in suburban Kendall. A study by the Metropolitan Center, FIU's economic development think tank, indicates a strong potential to capitalize on the growing population center's clustering of professionals with technology skills.
Food FIU:  Citi Foundation has provided a $500,000 grant to launch an incubator at the Biscayne Bay Campus. In partnership with the Chaplin School of Hospitality and Tourism Management, Food FIU will offer food entrepreneurs access to state-of-the-art commercial kitchen facilities as well as technical expertise from faculty and students to innovate, test concepts and scale their businesses. It is intended to serve low- and moderate-income individuals.
Art + Design:  The Ratcliffe Foundation has provided more than $800,000 to fund an arts incubator in partnership with the College of Communication, Architecture + The Arts. With the goal of turning artists into successful entrepreneurs, the program will offer monthly lectures, legal and accounting support, market research assistance and seed capital. Admission is currently limited to enrolled FIU students.