"Grieving parents fight gun violence." "Gun violence takes bloody toll on inner-city kids." "Shootings of kids on the rise." "Shooting of three teens causes lockdown in nearby schools."
Stories of violence, pain and innocent lives lost headline local and national news daily. These same grim headlines, however, set the opening scene for a community-driven effort to counter violence with theatre.
"The R+J Effect," an adaptation of Shakespeare's "Romeo and Juliet" featuring the talents of ten local high schoolers and four FIU alumni, challenges audience members to think critically about how rash decisions made in the name of honor or passion can change entire communities forever.
The hip-hop-themed production, set in modern day, opens with the death of a child in a drive-by shooting, wracking onlookers with grief over a fast-growing trend of violence in the community. The play then follows the iconic, feuding houses of the Montagues and the Capulets – this time portrayed as African-American and Hispanic families, respectively.
Rap interludes between scenes – adapted from the original prose by the performers with the help of FIU theatre alumnus and upcoming rapper ToBy – foreshadow the tragedy that most viewers know awaits them at the end of the play.
"Because of the constant news, I feel like people have become so numb to this topic of violence that they sometimes brush it off. But merging the issue with theatre is something that will help people connect to it more because they can relate to the familiar 'Romeo and Juliet' story," said Coral Reef High School sophomore Sofia De La Grana, who played Juliet.
Shakespearean language mingles with "Spanglish," slang and pop culture terms like "selfie" throughout the play. The verses were adapted by "R+J" director Phillip Church, with input from the actors, into "parabethan," a blend of modern English with original Elizabethan language that helps make the play more accessible to a young audience.
Though the topic of "translating" Shakespeare into modern English is heavily debated, Church, a theatre professor at FIU, said the idea behind his adaptation is to ensure the anti-violence message is not lost in language that teenagers can have difficulty understanding.
"I think if Shakespeare knew the 21st century and the difficulties we have with communication, he would want his plays to be adapted and moved into a place where young people could really get ahold of them."
Three shows in total, held at Coral Park High School, Miami Senior High School and Seminole Theatre in May 2017, entreated audiences of high school students and their parents to advocate against violence in the community and work together toward a brighter, safer future.
Production meets mentorship
The play was produced by What if Works Inc., an acting company led by Church and manned partly by his standout former students. The company provides community-based, paid acting experience to build the budding actors' resumes. The production represented a collaboration with the Miami-Dade Police Department, from which officers participated directly in the show, Miami-Dade County Public Schools' Together for Children task force, and the Miami-Dade County Department of Cultural Affairs, which funded stipends paid to the alumni.
During rehearsal, which ran from October to May, the FIU actors coached the high schoolers on things like technique, projection and putting emotion into their lines. It was a mutually beneficial opportunity – the alumni gained experience as mentors, and the high schoolers, some of whom had no prior acting experience, were able to build their skills by working with experienced actors.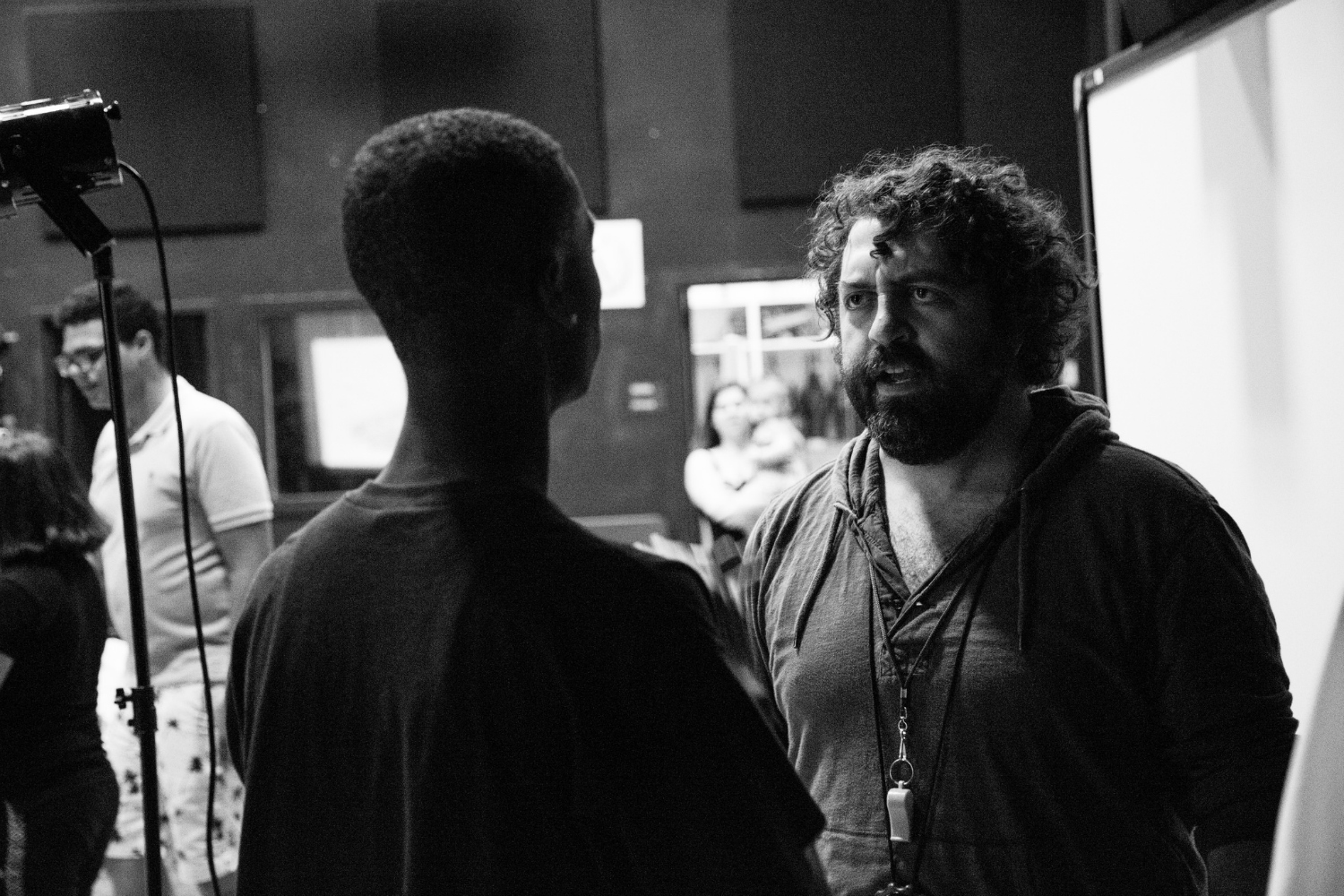 Fine arts alumna Juanita Olivo '16, who played Lady Capulet, served as one of the mentors, a rewarding experience for her as someone who didn't get into acting until she was a junior at FIU.
"I never studied drama or theatre in high school, so this project got me really excited to help inspire young people to pursue theatre. I got to help mold them and train them. I got to be in this position where kids looked to me for guidance and to be able to help build their skills, and it was incredible," Olivo said.
For theatre and English alumna Adele Robinson '17, who played Lady Montague, the opportunity to mentor the high schoolers gave her a first taste of her dream to teach drama.
"Theatre education is really near and dear to my heart, so working with these high school students has been a really cool process," Robinson said. "It was a learning experience for me to work on getting them to focus and develop their skills. It helped me grow in terms of patience, and it was cool to see them grow as well."
Coral Reef High School sophomore Brandon Hastick, who played Romeo, felt the one-on-one interactions with Church and the FIU alumni were invaluable. Having only gotten into acting as a freshman, he was able to hone his technique, which will help him excel in the drama program at Coral Reef.
"We're up-and-coming actors, and in this business you need to learn from people who have already experienced the realm of acting and landed professional roles," Hastick said.
Said Church: "It's very challenging on these young actors, especially for the high schoolers, who have been thrown in the deep end. But they've done very well."
Engaging viewers on social issues
What sets this production apart from other modernized adaptations of "Romeo and Juliet" is that the actors pause four times throughout the show to hold audience discussions on topics like parental authority, emotional impulse and drugs and escapism. The discourse is designed to make viewers, most of whom are young adults, think critically about what they've witnessed.
Once such dialogue takes place while Lady Capulet argues with Juliet about her arranged marriage to Paris. The actors freeze when Lady Capulet grabs Juliet's arm to stop her from turning away, and the audience is asked to talk about times when they've had difficult conversations with their own parents concerning conflicting plans for the children's futures.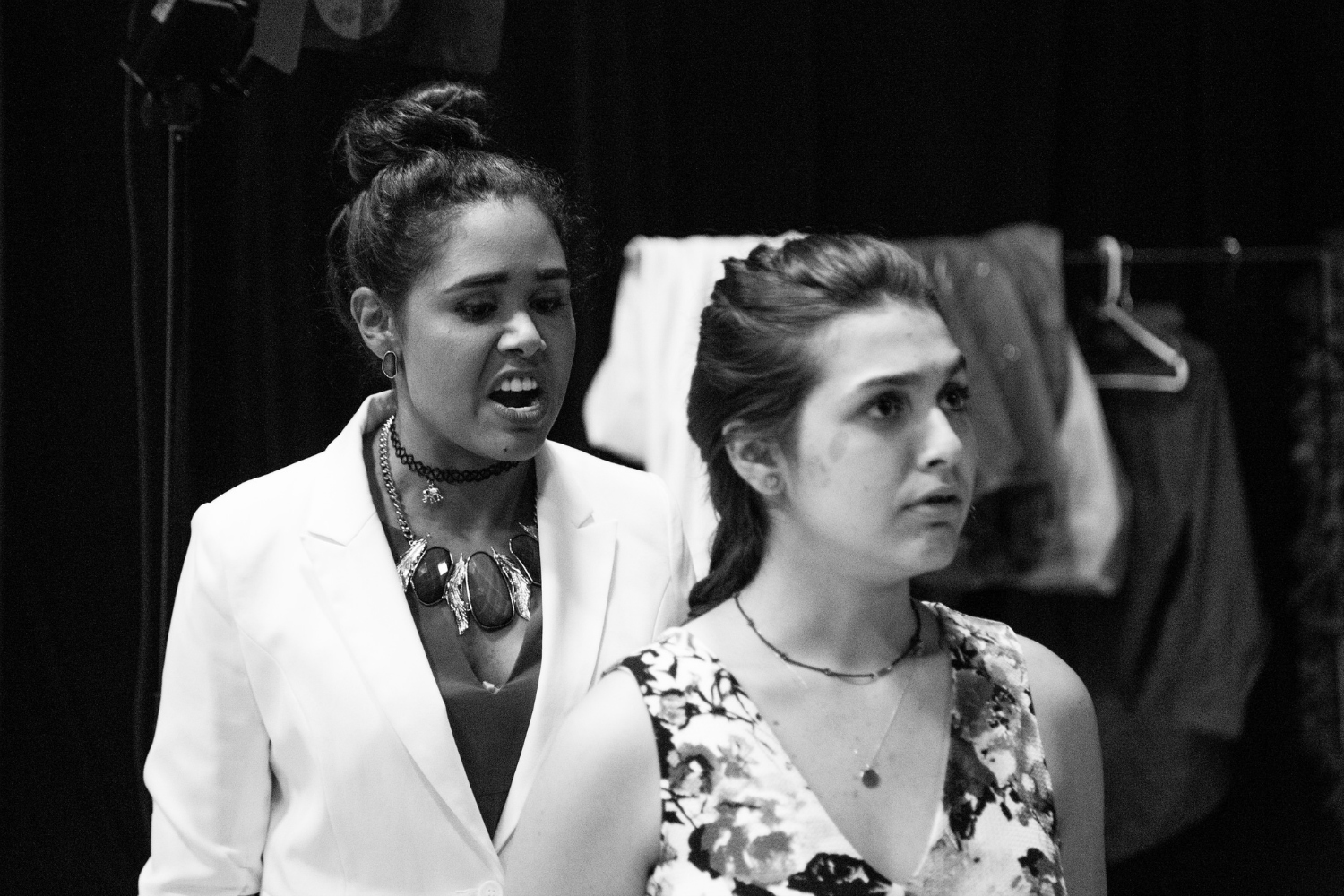 "This discussion could be hard for the audience because the topic of a mother-daughter relationship is something very tender within, for example, the Hispanic community," said Olivo. "It isn't socially acceptable to talk about the gritty details of your relationship with your mother, and I drew on my own life experience and that of my friends to prepare for this scene between me and Juliet."
Other discussions occur after Tybalt kills Mercutia (Mercutio is a girl in this version), leading Romeo to kill Tybalt out of revenge for his friend. The audience is asked to think about how the boys' rash decisions, made based on skewed notions of family honor, ended in pain and loss for both houses.
"The cycle of violence in the play is ongoing. It's not just one person with a hatchet they can't bury. That's the cruel irony of the play. It's an ancient grudge. They want to keep the fight alive even though everyone has forgotten the original reason the hatred existed," Church said.
"How could things have ended differently?" Coach Lawrence, played by performance alumnus Zachary Myers '15, asked the crowd of teenagers. Coach Lawrence is a combination of a modern Friar Lawrence and the Apothecary. He teaches the kids' history class in the play and also happens to be the dealer who supplies Romeo with the drug that kills him in the final act of the play.
"Unfortunately the popular thing is to turn to drugs and violence in vulnerable moments," said one of the Miami-Dade police officers who was on hand during the performance to help facilitate the discussions. "Young people think it's a quick solution to their problems, maybe because they're not talking to the right person or the right mentor who can guide them in a different direction."
"Young people do a lot of things impulsively, without thinking about the repercussions, and that's definitely the overall theme of the play," added Coral Park High School junior Maximilian Guerra, who played Paris, a returning soldier and the Capulets' favored suitor for Juliet.
Outside of rehearsal, the high schoolers visited local town hall meetings on behalf of Together for Children to speak to parents and students about the growing issue of violence in the South Florida community.
"It's a way to get the message across to the people who are going to grow up and be the change," said Guerra. "As a teenager, it's easier to hear something I need to hear from a peer than from an adult just giving me a lecture about it. The play sparks the conversations that need to be had."
In the future, Church hopes to take "The R+J Effect" on the road. He hopes the show will inspire other high school theatre programs to mount similar productions that incorporate dialogue on social issues, creating a domino effect that reaches as many communities as possible.
"This project in Miami is only the beginning."  ♦