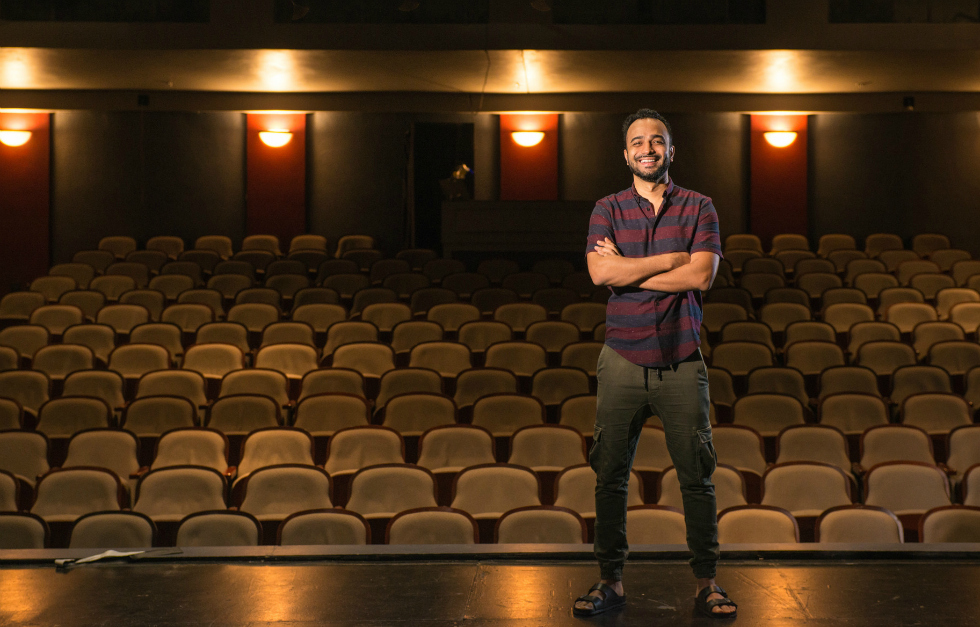 The musical about Gloria and Emilio Estefan, "On Your Feet," debuts locally on Oct. 5 at the Adrienne Arsht Center for the Performing Arts in Miami. It marks something of a homecoming for FIU alumnus Andy Señor, who served on the show's creative team and will be in town for opening night.
When the Broadway musical "On Your Feet" opens on Oct. 5 in Miami, the story of Cuban-Americans Gloria and Emilio Estefan will come to life in the very city in which their rise to superstardom began.
It will also mark another triumph in the career of FIU alumnus Andy Señor '97. A member of the show's original creative team, Señor played a critical behind-the-scenes role in the production.
"They called me the authenticity police. Anyone who's from Miami and sees this says this is the real deal. And that's all my hand," says Señor, an actor and director who worked with writers to fill in details. (One example: "There's a scene where Gloria and Emilio are hustling to get their songs played at all the different clubs. I was like, 'Here are all the different clubs that they went to,'" he says, rattling off the names of now-shuttered meccas of disco.)
Señor's intimate knowledge of the Estefans' trajectory is real. "My dad was Gloria's parents' neighbor in Cuba," he explains. "When Gloria's mom's water broke, my dad was the one who helped usher her to the car to get her to the hospital."
That closeness between the families did not end on the island. In the 1960s, when hundreds of thousands fled its repressive communist regime, the relationship continued in Sweetwater, where the couple often visited the Señor house. "They were always there," Señor recalls. "I spent my whole childhood with Gloria and Emilio."
"Battle of the Glorias"
Those ties have had an important influence on Señor.
A few years ago, before a thaw in relations between the U.S. and Cuba, he received an offer to direct a musical in Havana. In weighing a decision—admittedly tough for a child of Cuban immigrants—he sought out the two Glorias in his life.
His mother, the first Gloria, wanted no part of it. "She was completely against me going," recalls the son. Not trusting of leaders in her homeland and remembering the collective pain of her people, "She didn't want me working with the Cuban government. She was afraid of what would happen to me, knowing that I'm really outspoken."
Making the argument in favor of the trip was the other Gloria, the international recording star who shared a completely different perspective, one that spoke to the power of self-expression.
"Baby, you gotta go," the singer told him. "This is for the artists."
His way or the highway
Avowedly apolitical but eager to foster cultural exchange, Señor took Estefan's advice and threw himself into the project. (Private entertainment company Nederlander funded the production—the first fully staged Broadway musical on the island in 50 years—and Señor brought in other professionals.)
Early on he made clear to officials at the Cuban Ministry of Culture that he would be doing things on his terms. (One example: He insisted that auditions be open to everyone and not just those "stamped" as actors.) "I was like, 'Listen, you want Broadway? You want this to work out?'" he told them. "'Then it has to be this way.' There were a lot of rules that were changed for me."
And he delivered. In late 2014, a three-month run of the Broadway hit "Rent," in Spanish, debuted with a cast of 23 locals.
"It's the hardest thing I ever did," Señor says. The actors he directed lacked any helpful knowledge of American culture—the pop-rock opera, based on the Italian classic "La Boehme," is set in Manhattan's gritty East Village—and they had no background in performing musical theater. "It's not like they have YouTube or the internet," he says. "They didn't have any of that stuff for a reference point."
Dealing with deficits in knowledge and experience, however, seemed easy when compared to handling players' unexpected absences during rehearsals. "Even though they were excited, there was a sense of indifference as well," Señor says. "There's a certain discipline that's necessary," he explains of what it takes to achieve successful staging, "and they didn't have that training. They didn't have that discipline." For example, performers would often take odd jobs during scheduled practice time to earn a few bucks to feed their families.
"How do you argue with that?" Señor asks. "They come from a place of survival. I kept on saying to them, 'Listen, we're out to create something extraordinary. The theater is extraordinary.' They just weren't present to the opportunity."
Five decades of communism had taken its toll on those Señor brought together: excited enough to participate in the experiment but, ultimately, unsure of where it might lead or what impact it might have in a country where meager rations and lack of employment are the norm.
And yet, it came together. The long-awaited production saw its curtain rise nightly to sold-out crowds in the Centro Cultural Bertolt Brecht. Tickets cost the equivalent of 50 cents.
Uniquely qualified
No question Señor had the street cred to pull it off. Fluent in Spanish, attuned since birth to the repression and want under which most Cubans live, he had unique insight and sensitivity. Equally important to his success: the launching pad that FIU gave him years earlier.
In the early 1990s, Señor and several friends from Coral Park High School, just down the block from FIU's southwest campus—including the actor Danny Pino (of TV's "Cold Case" and "Law & Order: Special Victims Unit")—together found their way to the theater department at FIU.
"They brought with them this element that you can really only develop if you're living in the same neighborhood and you're actually connected through the same passion and love of something," says Phillip Church, a longtime theater professor who worked closely with Señor and the others when they studied at FIU. He believes that back then—at a time when the Hispanic-American voice was still just rising and had yet to establish itself as the cultural force it is today—the actors found strength in feeding off their collective talent.
And they took advantage of every opportunity the university offered. Señor says, "One of the best things that I did that helped my career was being a peer advisor and fraternity and orientation leader." Those experiences taught him "how to be with all sorts of people, how to lead."
Also instrumental to his development as an actor: an FIU study abroad to London during which he saw more than a dozen shows. Waiting at the back doors of West End theaters to beg autographs and ask questions of professional actors convinced him to get serious about his craft and his future. A semester shy of graduation, in the fall of 1996—during which he and Pino starred in "Fiddler on the Roof," the first performance in FIU's newly completed Wertheim Performing Arts Center—he flew to California for a graduate school audition. There he was spotted by a director and soon after cast as Angel in the Los Angeles premier of "Rent," a pivotal role that he would reprise on stages in Miami, London and Asia as well as on Broadway.
Other parts followed over the years before Señor had something of an epiphany. "I was doing a Shakespeare play at the public theater in New York, and I was standing there," he says, remembering how he began to question himself. "What am I doing here? Why am I doing this right now? There's so much more for me to use my creativity.'"
A bridge                                                                 
So for his next act, Señor has engaged in activities that, as he puts it, "serve my community." That includes sitting on the board of Viva Broadway, an organization that nurtures Hispanic audiences, and serving as artistic director of the District Stage Company in Miami. He is also currently in the editing phase of a documentary film about his work in Cuba.
"That's my thing, staying grounded and staying connected," he says of what he finds professionally meaningful.
"I get crazy busy. That's why I love this house," he adds, pointing across the street from FIU's Modesto A. Maidique Campus, toward his refuge, the home where he grew up and where his mom still lives. Even now, Señor rides his bike through campus when he returns to visit her, and he often shoots over to the Cuban memorial, on land adjacent to campus, for quiet time to think.
The Cuba experience still looms large for Señor, who plans to do another show there. "I'm clear that, culturally, I'm a bridge of sorts," he says of his newfound bond with the island. "I'm connected there, and I never expected that."
The connection was strengthened further when, in July of 2015, the U.S. government invited him to sing the American anthem at the first flag raising at the newly reopened U.S. embassy in Cuba (not to be confused with the official opening ceremony a month later, at which another Cuban-American FIU alumnus, Richard Blanco, delivered an original poem). Señor's voice rang out on the historic occasion.
And among those assembled, his mom stood by proudly.  ♦