Why not us? Butch Davis returns to the college football sidelines with a mission to put FIU on the map
---
When FIU hired Butch Davis last November to take the helm of its football program, the move sent a buzz through the college football landscape.
The 65-year-old was one of the hottest coaching commodities in the country when he led the University of Miami football program in the late 1990s into 2000.
Now, after six years away from the sidelines — he spent the last two as an analyst for ESPN — Davis is taking over an FIU football program that has gone through a number of fits and starts.
"It's great to be back on the field," Davis said during the first week of spring practices. "I love being around the players, I love watching practices and I love seeing them get better and better every day."
Blue & gold connection
Davis had a connection to FIU in his old friend and colleague Pete Garcia, executive director of sports and entertainment for FIU Athletics. The two knew each other from their days together at the University of Miami and the Cleveland Browns.
Having just let go of the head football coach mid-season, Garcia in the fall of 2016 was looking for a permanent replacement and gave Davis a call. 
By then the program had had its share of struggles throughout a 15-year history. Outside of two bowl game appearances in 2010 and 2011 during the T.Y. Hilton and Mario Cristobal era, the program could not break through and had suffered five straight losing seasons. Would Davis be interested?
"I'd always wondered if FIU wasn't a potential diamond in the rough," Davis admits today, "an untapped potential because of its tremendous location that is close to a lot of athletes," he says of the state of Florida's prowess as a leader in turning out high school football talent. "But there's a lot more to it," he continues. "I wanted to know about the vision for the school and what [school leaders] want out of the football program."
Davis took a tour of campus and learned more about the university in meetings with President Mark B. Rosenberg — "He's a good recruiter," Davis says of Rosenberg, who "convinced me that this was a great opportunity" — as well as members of the FIU Board of Trustees. Before long, he agreed to become FIU's fifth head football coach.
Rebuilding
There has been no time to waste for Davis since taking the job. From building a coaching staff to assembling his first recruiting class, he hit the ground running.
Walk into the coach's offices and you will find a large dry-erase board loaded with 48 projects — a few completed, others ongoing and some still pending — on Davis' to-do list.
"It's been pedal to the metal from day one," says Davis, who had to build his first recruiting class in approximately six weeks. "Little by little, trying to erase the projects on the board. There's no shortage of things we need to get done."
The team's first week of spring practices in March were held at the FIU Soccer Stadium while a state-of-art playing surface was being installed at FIU's football field at the updated and recently renamed Riccardo Silva Stadium. New football practice fields have since been constructed on campus.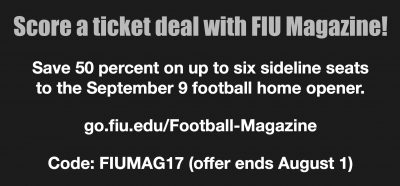 In the few months Davis has been on board, the program has added a nutritionist, established a new dining hall for the players, hired a sports psychologist and made renovations to the strength and conditioning room.
And that's just the start.
"We see that the university cares and wants to help us win," senior quarterback Alex McGough says. "We know we're not alone and that the school is behind us."
The changes go even further.
Davis is bringing to campus guests to speak with his student-athletes about a wide range of topics. One of the first was sportscaster Rachel Baribeau, who addressed success and leadership and led a discussion about sexual violence on college campuses around the country.
"You have to put people in front of the [athletes] that help change the culture, the expectations and the environment of the program," Davis says. "Part of my responsibility is to help educate and provide information to help our players become knowledgeable about that and sensitive to those topics."
On the field, the players feel the atmosphere changing as well.
"There's just a lot of great energy when we come out to practice every day and we've all grown closer together as a team," says senior defensive end Newton Salisbury. "You can really feel it."
Wide receiver Julian Williams, a redshirt junior, adds: "[Coach Davis] came in right away and promised us X, Y and Z, and we went to work. He has kept his word. Coach Davis makes sure that we are coming together and care about each other, love each other and build things up together."
Davis' goals extend far beyond winning football games on Saturdays. He wants to make sure his student-athletes leave FIU with a degree and are prepared for life off the field.
"I have spent a significant amount of time coaching in football and one thing I know for slam-dunk certain is that football is not a career," Davis says. "I want to have a team that is highly respected in the community, [so that] when someone says 'I am a football player at FIU' they know what kind of person and what kind of qualities come with that."
Perfect for the job
The totality of Davis' career has prepared him for the challenge of rebuilding FIU's football program. He's been part of rebuilding college teams — not once, but twice.
Few coaches have more experience or have had more success in recruiting student-athletes in Miami than Davis. He arrived in the city in 1984 as a defensive line coach for the University of Miami and served in that role for five seasons under famed coach Jimmy Johnson.
In 1989 Davis followed Johnson to the Dallas Cowboys, where he served as defensive line coach and later defensive coordinator during back-to-back Super Bowl wins. In 1995 Davis returned to UM as head coach. He inherited a Hurricanes program marred by several violations of NCAA rules during his predecessor's tenure. In the midst of sanctions, probations and loss of scholarships, Davis found himself tasked with leading UM through a painful rebuilding.
Davis helped change the culture of the program and amassed a 51-20 record over six seasons, including an 11-1 record and a Sugar Bowl victory in his final season at Miami. In 2001, the year after he left to become the head coach of the Cleveland Browns, the Hurricanes won the national championship with many of the players he had recruited.
"Almost everything that has positively happened in my coaching career is rooted in lessons I've learned as an assistant coach and as head coach at the University of Miami," Davis says.
Those lessons come from coaching against some of the highest profile programs in the country, from Florida and Florida State to Notre Dame and Penn State, and learning how to recruit in a diverse major metropolitan area.
He returned to college football in 2006, this time with the University of North Carolina. Davis took over a program that had had only one winning season in its past six. After a slow start, he led the Tar Heels to three consecutive eight-win seasons and three bowl game appearances.
But his tenure ended in a shroud of controversy. Davis was fired in 2011 with the UNC football program embroiled in two investigations involving improper benefits for players and academic misconduct.
Davis was completely cleared of any involvement in the scandals, but the damage was done and for years a head coaching job in college football eluded him. Until now.
Why not FIU?
As Davis weighed the FIU job, he asked himself, "Why? Why take it?" As he considered the offer, the list of reasons in favor began to grow: access to local talent; a beautiful campus with a stadium on site; an impressive, wide range of academic programs that would give potential recruits plenty of options and appeal to parents; a large alumni base within a two-county area that promised the possibility of, one day, large crowds in the stands.
He began to look at other programs that have accomplished great things on the field with budgetary resources no larger than FIU's: Western Michigan, Northern Illinois, Boise State, UCF and USF.
Inspired, he started asking the question that he has posed publicly ever since:  "Why not us?"
Davis hopes, starting now in his first year, that FIU football annually will be fighting for bowl eligibility and, eventually, perennially in the hunt for conference championships late in the season.
At that point, it becomes about looking to the next hurdle: breaking into the Top 25 the way many of the aforementioned programs have done.
"I want our players to buy into the idea that there should not be a ceiling," Davis says. "In the months I've been here, I've yet to find a reason why not us."