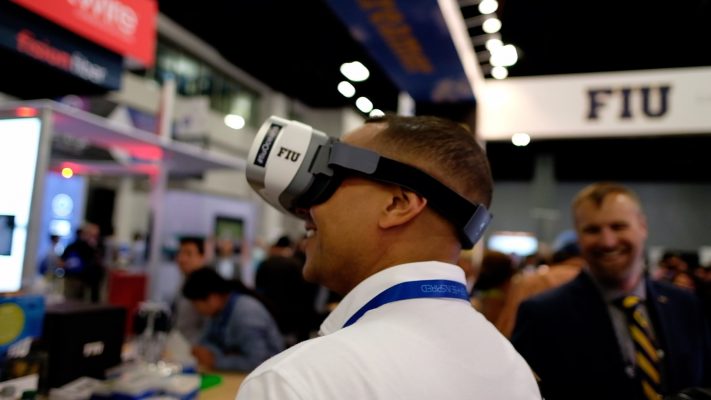 FIU came on like gangbusters this week at  eMerge Americas, the international tech conference that annually gathers thousands of movers and shakers to Miami Beach. A major presence at the event for the fifth year in a row, the university showcased research coming out of its labs and highlighted local entrepreneurs whose innovations have gotten a boost from its campus business accelerator.
Among the attractions drawing attendees to FIU's exhibit space: robotic vehicles developed to clean up nuclear waste sites; a virtual reality experience that had headset-wearing viewers swimming with hammerhead sharks; a computer simulation that takes visitors on a stroll through campus; demonstrations of a quick and easy cocaine drug test developed by university chemists; a College of Business faculty-driven technology consulting group that specializes in data analytics; and much more. The founders of four young companies who have each gone through the intensive 15-week  StartUP FIU program also commanded attention as they detailed promising inventions.
Visitors had a blast.
"We decided it would be amazing for us to actually come here," said Belen high school student Martin Frallicciardi. He and about 10 of his buddies convinced their business teacher to bring them to the conference, and the group eagerly made its rounds through FIU's booth. There they spoke with university faculty and tried their hand at a variety of stations.
"What [FIU] captured the most was being able to interact," Frallicciardi said. He and the others appreciated in particular the opportunity to control the movement of robots designed to assist with the environmental cleanup of contaminated sites associated with nuclear weapons production and nuclear energy research.
A group of younger schoolchildren stopped by to try on virtual reality headsets that took them into the ocean deep. College of Arts, Sciences & Education Dean Mike Heithaus, a marine biologist who himself has conducted underwater research, talked about the impact of the 3D experience for people of all ages, whom he hoped would be inspired.
"Getting immersed in something is so much different than just watching it on a screen or hearing about it. This is a way to bring the field to people. It lets us reach this huge audience." said Heithaus, who at one point donned a headset and called the experience "pretty darn impressive, how similar it is" to the real thing.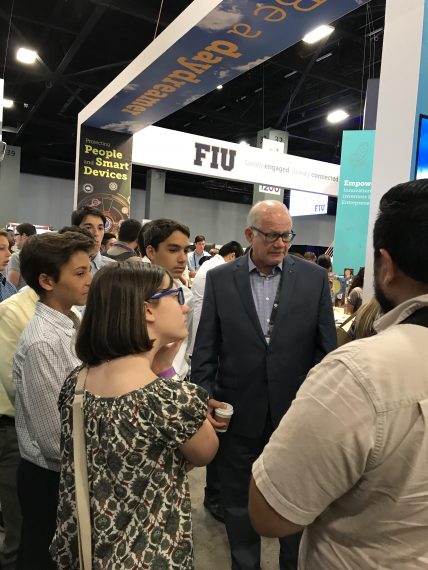 Speaking of sharks, also present were four entrepreneurs who participated this spring in StartUP FIU. They will be making pitches, a la  Shark Tank, on  May 1 to a group of investors invited to MMC for formal presentations. FIU's business accelerator has provided comprehensive workshops and mentoring to help jumpstart the companies, each of which is based on an exciting new technology.
"They've been working on developing their business plan and refining it for weeks and weeks, and now it's really their first chance to talk to the public about it," said StartUP FIU Director Kate Sachman of those seeking crucial investment funding. "This is a rehearsal for next week, for pitch day, even though it's less structured. It's a way of testing how they're communicating even as they're refining their pitch."
Anabetsy Rivero showed off her artificial intelligence-based computer program. She will be asking investors for no less than $1 million to fund Metastatic AI, which aims to provide doctors and patients with breast cancer diagnoses that are more than 99 percent accurate. Currently, a third of women who undergo treatment as the result of inconclusive tests are found later to have been misdiagnosed.
Attendee Thomas Foster stopped to talk with Rivero, whom he had met previously. "It's just amazing," he said of her product. "I could see a lot of doctors adopting it once it's approved by the FDA."
The businessman saw the technology as much more than a viable moneymaker. "I personally know a few women that got misdiagnosed, where they had a double mastectomy and they had to have reconstructive surgery," Foster said. "They were happy they didn't have cancer but [imagine] going through the whole entire thing. [This] will help revolutionize breast cancer detection and diagnosis."
Damian Estrada took visitors through the software offered by his company, Mandatum. Run alongside Amazon, it provides consumers with the ability to name their own price for goods and could be a game-changer by saving online buyers both time and money.
Businessman Luis H. Escobar met with Estrada for the first time about working with him to use the technology for a group of stores in Colombia. He called Estrada's idea "something new, something different and something that the people are looking for" and made plans to continue their conversation at a later time.
FIU's presence at the conference extended well beyond its physical space. President Mark B. Rosenberg participated in a panel discussion with Carlos Penzini, a senior vice president at Magic Leap, and Salim Ismail, founder of ExO Foundation and general partner at Rokk3r Fuel. The panel discussed revolutionary changes impacting the way companies hire and how universities are preparing students for the future of work.
"We need to embrace the language of convergence," said Rosenberg in response to a comment by Ismail about master's degrees being out of date as soon as they are earned. "The world is moving from degree-based to competency-based education. We will continue to offer degrees for traditional learners but the university has to find a way to talk to adult learners."
Another panel focused on the growing demand for professionals in the field of cybersecurity, an area to which  FIU has committed resources in research, education and outreach.
"Surveys indicate that the cybersecurity workforce needs a much deeper understanding of the policy landscape as well as the social, economic and geopolitical contexts in which security and technology converge,'' said Brian Fonseca, director of the Jack D. Gordon Institute for Public Policy in the Steven J. Green School of International and Public Affairs. "It's critical that we align our curricula to meet industry needs."
In addition to listening to such panel discussions, FIU faculty and students canvassed the hall, which was packed with exhibitors. Jason Marchalonis, who graduates next week with an advanced degree in management information systems, came away with valuable information. "We've had great opportunities to connect with entrepreneurs and startups to get feedback and insights. We were able to identify collaborations that we can start in the early stages."
College of Business Professor Nancy Richmond used the conference as a way to help her students down the road and to bring to campus individuals who can teach young people about the latest in the business world. "My objective has been to network, talk to employers about internships, job opportunities, connect students with these companies. I have business cards from Chatbox, Uber, WeWork. I connected with potential speakers for classes and events at FIU."