FIU becomes Knight of the Rural Development Merit Order of Burkina Faso
January 29, 2018 at 12:00am
---
The Grand Chancery Order of the Office of the President of Burkina Faso has recognized FIU as a Knight of the Rural Development Merit Order.
The honor was recently presented to Lakhdar Boukerrou, a research associate professor in the Department of Earth and Environment who oversaw the  USAID West Africa-Water, Sanitation and Hygiene (USAID WA-WASH) Program in Burkina Faso. For the past six years, he and his team worked to improve water and sanitation conditions in several rural communities throughout West Africa. The USAID WA-WASH program is part of a larger portfolio of international water programs in the  FIU Institute of Water and Environment that seeks to improve water management services for vulnerable populations.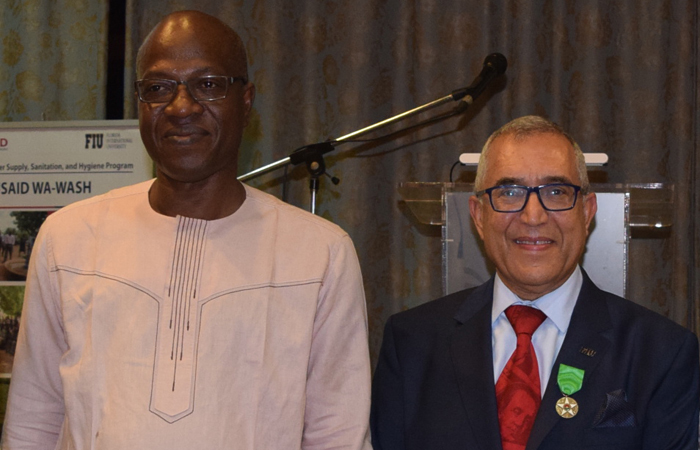 In Burkina Faso, the FIU program constructed 4,922 household latrines for sanitation, installed 2,303 hand-washing stations for hygiene, helped 139 women gain access to plots for gardening, and trained more than 1,100 people on best agricultural practices for the promotion of food security. Hundreds of drinking water sources were improved in Burkina Faso, Niger and Ghana, impacting more than 65,000 people.
"This award recognizes all of the hard work and effort that the team has been doing — all of the accomplishments that we have made in access to clean drinking water, improved sanitation and hygiene, adaptation to climate change, and institutional and human capacity building," Boukerrou said. "FIU has become a household name for WASH in the region."
According to the  World Health Organization, more than 300 million people in sub-Saharan Africa live without access to clean drinking water. More than 4 billion people worldwide lack access to proper sanitation, according to data provided by  USAID.
"WA-WASH had an incredible impact on the communities where it intervened," said Shawn Wozniak, agriculture officer and acting country representative for USAID/Burkina Faso. "Some communities went so far as to not only take on good WASH practices, but even became open defecation-free communities, a rare standing in Burkina Faso. Related to this, it was USAID WA-WASH's sharing best practices that led USAID, UNICEF and others to push for non-subsidized community-led total sanitation, increasing the sustainability of WASH investments.
Through USAID WA-WASH, FIU provided 72 scholarships to students in the region and developed a scholarship program that will continue, even though the WA-WASH officially concluded at the end of 2017. During its six years of operation, more than 250 students interned with the program and alumni of the program have gone on to create their own companies and work in established local, national and international organizations.
"We still have partnerships with Aube Nouvelle University, the African Water Association and other organizations, and are hoping to continue to be there for these communities," Boukerrou said. "Developing the institutional and human capacity is critical to the economic development of the countries in the region."