As South Florida – and the nation – continues to grapple with heartbreak in the aftermath of a high school shooting that left 17 dead in Broward County, FIU gathered to mourn.
More than 250 students and employees participated in a brief service that provided no answers in the wake of a senseless act but offered comfort and a few suggestions to help individuals move forward after the kind of tragedy that is becoming all too common.
"We must be a community that speaks up and speaks out against violence," said Vice President for Student Affairs Larry Lunsford. "We must end this madness."
A lone shooter killed 14 students and three adults at Marjory Stoneman Douglas High School on Valentine's Day in nearby Parkland, Florida. A number of current FIU students are graduates of the high school or have friends there.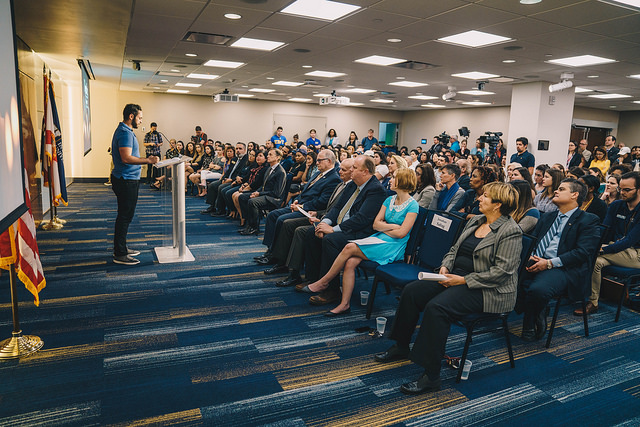 Psychology major Nicola Elder attended the service in remembrance of her 14-year-old friend Jamie Guttenberg, whose funeral was held on Sunday. "Losing her was like losing a sister," said Elder, who had pinned an orange ribbon to her backpack. The color was said to be Guttenberg's favorite, and students both in South Florida and nationally have taken to displaying it as a sign of solidarity and support for the school. Today, high school students throughout South Florida wore orange clothing, and some walked out of classrooms for 17 minutes to honor the memory of those who perished.
Like many, theater major Tatiana Mihaita felt the shock of a blow that hit so close to home. "The high school I graduated [from] is in that district, and I've always been very involved with my community," she said. "So when something happens, it affects me greatly."
MFA candidate Anna Goraczko had no immediate connection to the school but felt compelled to attend. "I don't know what I was expecting here today, but I just knew I wanted to be in a place where everyone was taking a moment to reflect on the tragedy," she said. "Even if I didn't know any of the victims personally, they are still our brothers and sisters. I wanted to pay my respects to everyone who lost their lives."
Steve Lantz, a local pastor, spoke to the group and encouraged people to decide how they might take action as a way of channeling their emotions. He cited the example of Marjory Stoneman Douglas High School students, a number of whom have raised their voices for greater gun control. A busload drove to Tallahassee this week to encourage legislators to take up the cause.
After the service, Lantz suggested meaningful dialogue as one way to facilitate positive change. "Listening to people with opposing views I think is real important. And it doesn't mean our minds are going to be changed, but let's at least have the most informed opinion.
"Do like Socrates, learn how to ask questions. That's what I would like to see politicians, on both sides, try to do. Rather than take a stand, 'I have the answer,' how about, 'I have a question.' Let's ask questions together. I've found that when people gather together and challenge themselves to ask really good questions, the answers sometimes just reveal themselves through the art of asking questions."
Lantz also suggested contacting representatives to make one's opinion known and giving blood as another tangible action that can be taken. Local blood services have requested donations to replenish what was used following the massacre, which has left several people still in the hospital.
---
Read: Psychological first aid: coping with a tragedy
---
Kathryn Kominars, associate director of the Counseling and Psychological Services Center, reminded students in particular to utilize available campus resources. "There is no shame in reaching out for help," she said. She also made the case for looking out for anyone who might be having a hard time. "We can encourage others to seek help if that is needed and vouch for help-seeking as a normal and wise thing to do when anyone is overwhelmed or sidetracked." Employees can also find campus services to help them cope.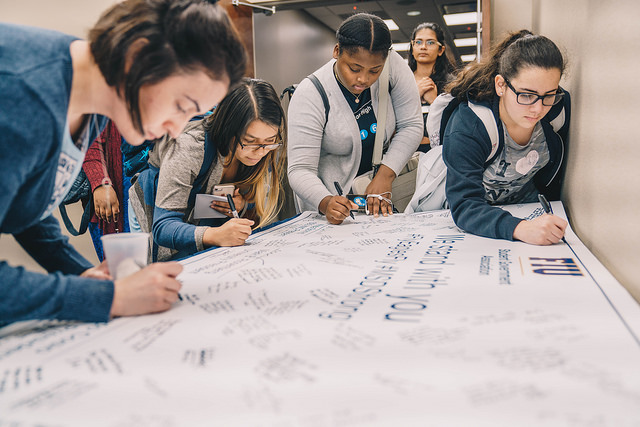 Earlier in the week, a memo sent to the university community reminded everyone to remain conscious of others' behaviors and to inform authorities when encountering someone who may be at risk of harming themselves or others, or who may pose a threat to the safety and well-being of the campus community. Students, faculty and staff can make reports anonymously if they are concerned about someone who exhibits unusual or violent behavior or makes threatening statements.
President Mark B. Rosenberg further promoted taking positive steps. "Each and every one of us can saddle our sadness to the even more pressing task to make our world a better place," he said. "Some of you will galvanize to vote this time around. Some of you can do this by digging deeper into mental health challenges. Some of you can help us to make this campus a safer place. We are not powerless. Our sadness can be translated into action."