New nursing apprenticeships promote rural primary care
---
The  Nicole Wertheim College of Nursing & Health Sciences has awarded $100,000 in traineeship grants to five FIU nurse practitioner graduate students to participate in the pilot of the Advanced Nursing Education Workforce (ANEW) program.
ANEW is a two-year nursing education initiative funded by the U.S. Human Resources & Services Administration for $1.39 million, specifically to prepare advanced practice nurses to provide primary care in rural and underserved areas through academic and clinical training.
"Many of today's 60 million rural Americans are uninsured, at risk for increased health risk behaviors, and live in poverty at even higher levels than what we see in our big cities," remarked Tami Thomas, associate dean of research for the college and ANEW grant project director.
Thomas added that geographic isolation further exacerbates the primary care gap for rural communities. "ANEW addresses this inequity by familiarizing nurse practitioners with the challenges and opportunities of working in rural health care settings and preparing them to work to the fullest scope of their abilities."
The health departments of Glades and Hendry counties near Florida's Lake Okeechobee are partners in the project, providing the five clinical sites and onsite instructional supervisors to guide the trainees during the three-to-six-month training program. FIU Nursing faculty will supplement the training by using telehealth systems to help ANEW trainees deliver care at the clinics.
According to Thomas, the selection process was highly competitive, with only the top 30 percent of applicants selected for interviews. The first cohort of ANEW trainees are all graduate nursing students from FIU's Family Nurse Practitioner track.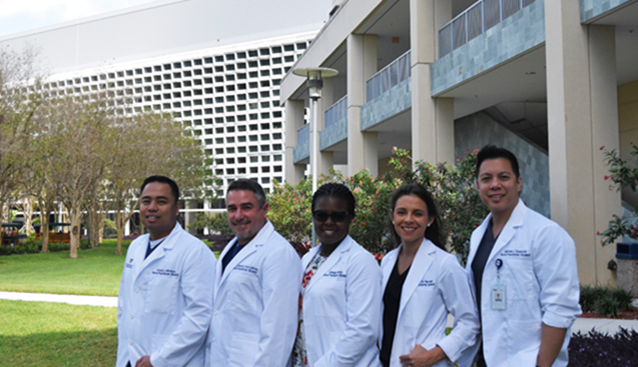 Arnold Altiveros, R.N. –Altiveros is a student in the college's Foreign-Educated Physician to BSN/MSN program, and currently works as a Telemetry/ICMU nurse at Memorial Regional Hospital in Hollywood, Florida. His medical degree training in general surgery from the Philippines heavily included providing health care services in the country's most rural and desolate areas, where resources were limited.
Luis Cuza, R.N. – Cuza is a student in the Foreign-Educated Physician to BSN/MSN program and a working nurse at Memorial Regional West in Pembroke Pines. For many years, Cuza was a general physician and dermatologist in Cuba and Venezuela. His unique relationship to serving rural communities includes traveling on horseback to reach those living in mountains or other inaccessible areas.
Danielle Steele, R.N. –Steele has volunteered her health care training providing care to underserved populations in Florida and Georgia. She most recently volunteered with the United States Public Health Service Corps to assist with Hurricane Irma. She is a mentor for Big Brothers Big Sisters, works as an ICU nurse at Memorial Regional Hospital in Hollywood, and is a member of the American Association of Critical Care Nurses.
Angelina St. Germain, R.N. – Germain is a native rural Floridian from the agricultural community of Redland. She brings extensive experience serving rural populations while working at Homestead Hospital, along with a widespread knowledge of telemedicine. Angelina's interests include vaccine adherence, women's health and diabetes self-care management. 

Mitchell Guanzon, R.N. –Guanzon is a Telemetry/ICMU nurse at Memorial Regional Hospital in Hollywood and the third ANEW trainee selected from FIU's Foreign-Educated Physician to BSN/MSN program. He was a fourth-year medical student in Manila, Philippines, where he spent four-week rotations in very rural communities as the sole health care provider. Guanzon's academic background also includes time as a research associate at Case Western University in Cleveland, Ohio.
Each trainee will receive up to $20,000 to cover tuition, living and housing expenses and textbooks. The clinical rotation begins summer 2018 at one of the five locations below, where they are expected to see up to 12 patients daily:
Hendry Regional Convenient Care Center (Labelle, Fla.)
Hendry Regional Medical Center (Clewiston, Fla.)
Hendry County Health Department – Clewiston Clinic (Clewiston, Fla.)
Labelle Clinic (Labelle, Fla.)
Glades County Health Department – Moore Haven Clinic (Moore Haven, Fla.)