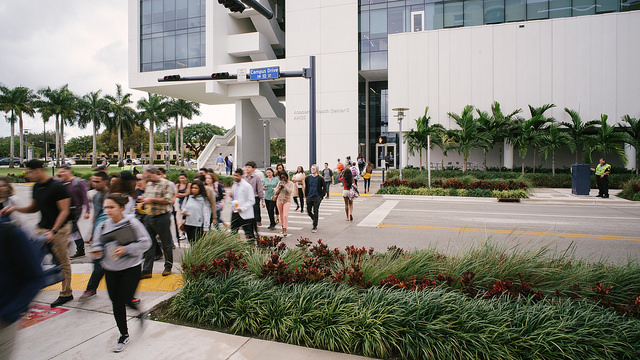 With a growing number of FIU students walking to campus from Sweetwater and Westchester, the FIU Police Department has secured a grant for a program to improve their safety by helping them become better educated and more alert pedestrians.
During the 10-week program, which begins this Friday, Feb. 9, 2018, FIU police officers will monitor the busiest intersections surrounding the university's MMC campus:
Southwest 109th Avenue and Eighth Street
Southwest 107th Avenue and Eighth Street
Southwest 107th Avenue and 16th Street
The program has an educational component which will be reinforced and upheld by FIU police. Officers will start with an information campaign by handing out pamphlets in English, Spanish and Creole with traffic safety information. After three weeks, the officers will begin handing out warnings to pedestrians and bicyclists for violations, such as disobeying traffic signals, not using sidewalks, jaywalking and failing to yield. During the last three weeks of the program, FIU officers will issue citations for those violations.
"At FIU we are always working on better ways to keep our students safe," said FIU Chief of Police Alexander D. Casas, who has been working on securing the funding for the program since last year. "Many of our students cross one or more intersections to get to campus each day and we want to make sure they are equally alert when they're walking as when they're driving."
The initiative is funded by the Florida Department of Transportation through a grant with the University of South Florida's Center for Urban Transportation Research.