Focus on innovation: Restoring independence to hand amputees
April 11, 2018 at 10:57am
---
Upper-extremity amputees may soon be using a prosthesis that is directly connected to their nervous system, thanks to new technology developed by Ranu Jung. She is the Wallace H. Coulter Eminent Scholar and the chair of the  Department of Biomedical Engineering within the  College of Engineering & Computing.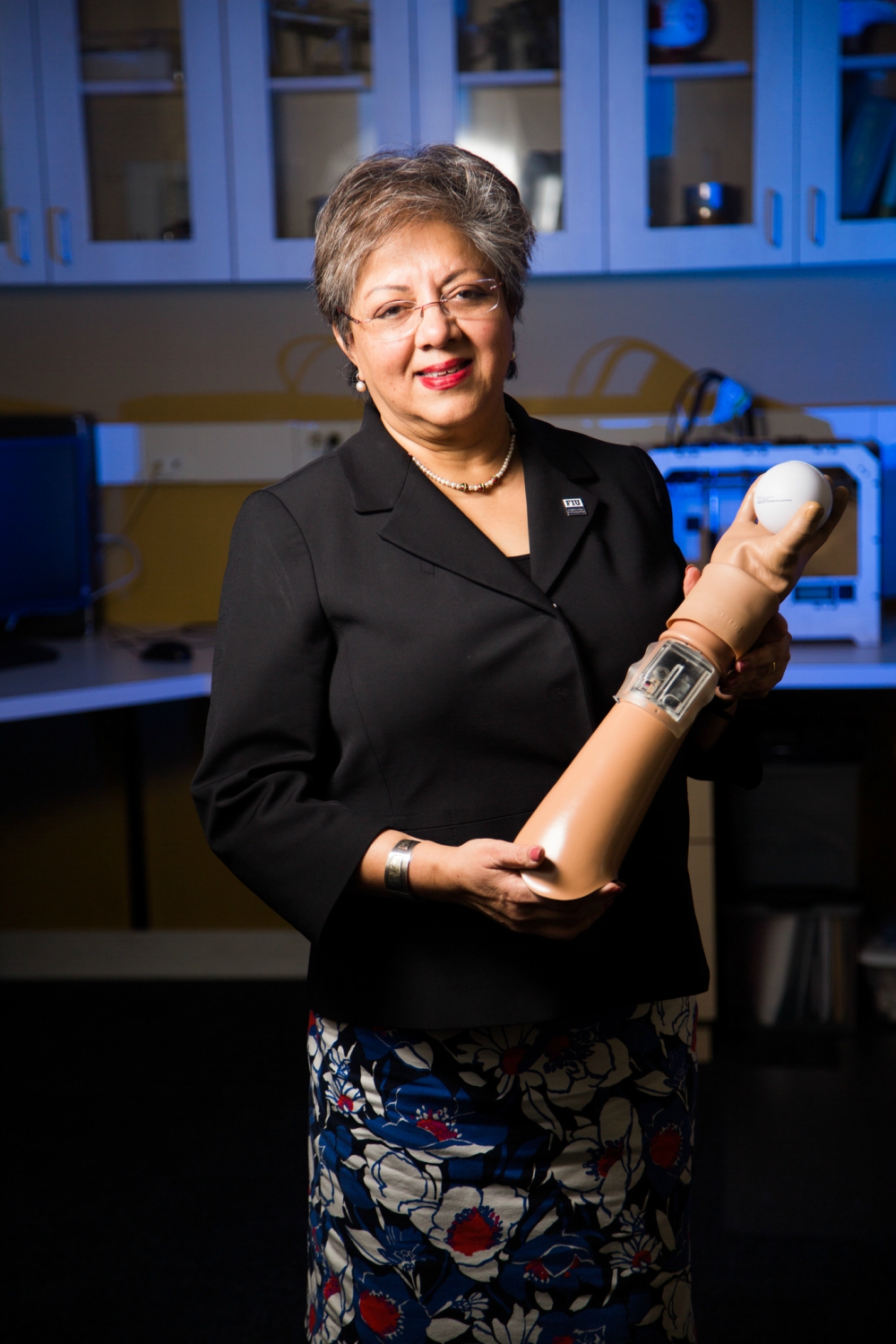 Jung holds six patents related to the development of neural-enabled prosthetic hand systems; some of these could enable direct neural control of a prosthesis and others are for restoring sensation. In recognition of these and other innovations, Jung was recently named fellow of the National Academy of Inventors.
Her team has developed the first fully implantable, wirelessly controlled device that can directly stimulate nerves to restore sensation to amputees. They have also developed computer algorithms to interpret recorded nerve signals for controlling a prosthesis. The technology will allow people who have lost an arm to be one step closer to successfully picking up everyday objects such as a cookie or an egg.
Prostheses currently on the market don't allow amputees to easily manipulate delicate and small objects "because they can't feel them," Jung explained. In contrast, her system for sensory stimulation — which has the potential to interface with several advanced prosthetic hands that are being developed — "is intended to restore the sense of touch, which would allow users to precisely differentiate the size and fragility of various objects."
How this works
When an individual thinks about reaching for an item, the motor areas of his or her brain produce signals that traverse through the spinal cord to the peripheral nerves that control the arm and hand movements. Some of Jung's patents are for decoding these signals. In an amputee, the decoded signals could direct the prosthetic hand to open and subsequently grip the object. As the hand performs these activities, sensors on the prosthesis provide information about hand opening and grip force. The implanted stimulation device can deliver small electrical pulses along thin wires that have been embedded within nerve bundles in the arm to provide tactile sensation.
The FDA has granted an investigational device exemption for the first-in-human trial of the sensory feedback device. Trial participants will be able to use it outside of a laboratory setting on a daily basis. If the current trial is successful, Jung and her team plan to continue testing through larger studies and eventually seek such approval for commercial distribution.
"The sensory feedback system reflects an almost decade-long collaborative team effort," Jung said. "For the first time, amputees will be able to use a fully implantable, sensory enabled prosthetic hand system at home for daily activities and researchers will be able to assess the long term clinical impact of its use in real-world environments."