"It can taste like chocolate or like lemonade," she added. "Beer can taste like almost any flavor you can put your mind to and that is fascinating."
Masihdas graduated last spring with her bachelor's from the Chaplin School of Hospitality and Tourism Management in its beverage management track. She now works as an assistant VIP food and beverage manager at a prominent hotel and casino.
The beer, she says, that first stirred her interest in brewing was "La Fin du Monde," a Belgian Triple by Unibroue Brewery in Chambly, Canada.
"A friend took me to a craft beer bar for the very first time and said: 'Alright. We're gonna do something cool. You choose two beers, and I'll choose another two and we'll have a tasting and see what we like,'" she says. "It was beautifully done."
Before, her preference was Bud Light, which was strictly for "entertainment purposes."
So when she was picking her electives as an undergrad two years later, unsure of what path she would take in hospitality, introduction to brewing science caught her attention.
The course — which was taught by professor Barry Gump, the Chaplin School's Eminent Scholar Chair in Beverage Management — transformed Masihdas' budding interest for craft beer into a passion.
"I had a love for beer, but then I could take that one step further and create my own," she says. "I could just take something I love and recreate it. Buying all the ingredients, making it at home and mastering it."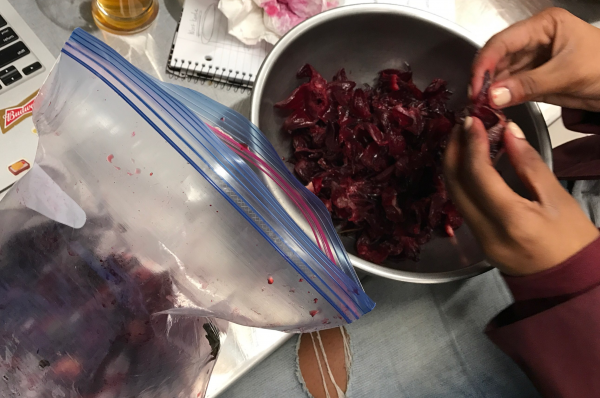 Because of her involvement, Gump asked her if she would like to be a teaching assistant, which she did over several semesters.
As a brewer, she enjoys making experimental batches, such as a beer-wine hybrid she and fellow alumnus Michael Robinson '18 made during an independent study.
The two cloned a Double IPA they fell in love with from J. Wakefield Brewery called "All We Do is Wynwood," brewed with Gewurztraminer grapes.
"It lingered in our minds," Masihdas says. "When we had this opportunity to brew eight beers in 15 weeks for our independent study during our last semester with Dr. Gump, we wanted to try something special."
Masihdas says the beverage courses she took shaped her interests and career. Many of its scholars are involved with B.R.E.W. FIU, a homebrewing club – started by students in 2011 – as well as the annual North Miami Brewfest.
Masihdas says volunteering at Brewfest helped her engage with the local brewing community and later get an internship at Biscayne Bay Brewing Company, owned by FIU alumnus José Mallea '16.
"The culture has introduced me to so many people who I share similar interests with. Now, all I do in the car is listen to craft beer podcasts and that all stems from that community I was surrounded by."
She is excited for this year's festival, which she says will be "bigger and better" than last year's.
"Everything will be expanded from food to music," she says. "I can't wait to see all the changes they are working on."
Professionally, Masihdas looks forward to a "glorious career" and hopes to give back to FIU and the brewing program as it expands.
"It is something many of the brewing alumni that I speak to agree on," Masihdas says. "We all want to do all we can to expand the program for its future students to thrive as well."
The 2018 North Miami Brewfest will take place on Saturday, Nov. 10, at MOCA Plaza. Members of the FIU family receive a discount of 10% off their ticket purchase with the code NoMiBrew10. Tickets are available here.