By Joel Delgado '12, MS '17
FIU softball won't be taking anyone by surprise this season.
The Panthers experienced a breakthrough year in 2017, setting a new school record with 46 wins and earning a trip to the NCAA Regionals for just the third time in program history.
Now FIU is setting out to recreate that same success, not as an underdog, but as one of the favorites to compete for a Conference USA championship. The team knows they have a target on their backs, and they've embraced that fact as they prepare to start a new season.
"It's awesome to have that pressure because it puts a fire under us," pitcher Sallie Shannon said. "It makes you want to work harder and finish the job we started last year."
FIU kicks off the 2018 season at home with the Felsberg Invitational from Feb. 9-11. The Panthers will play six games this weekend, beginning with the season opener against St. John's at 1:30 p.m. at Felsberg Field at the FIU Softball Stadium on Feb. 9.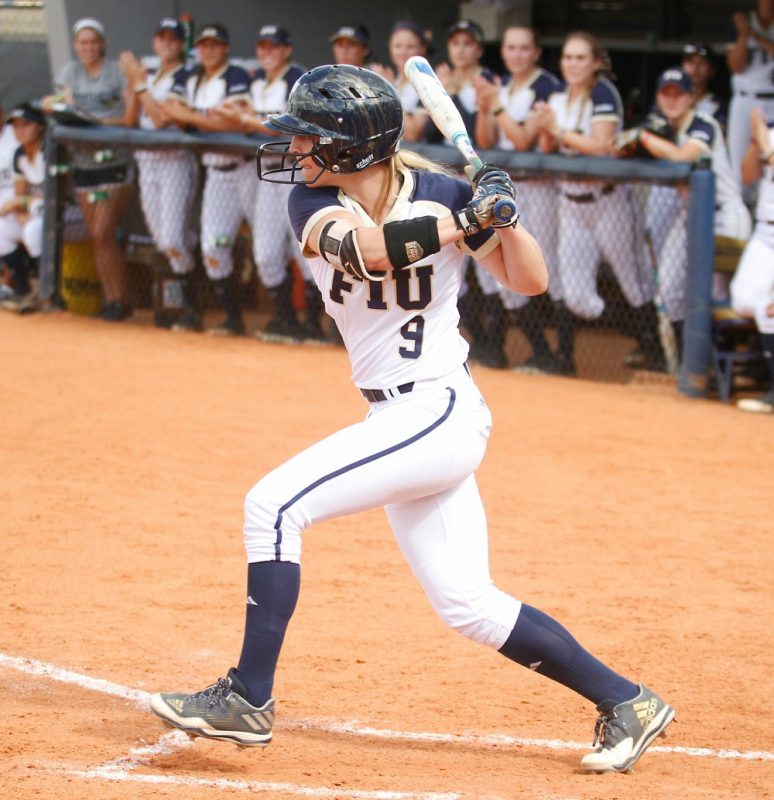 "We feel confident and we're looking forward to a good season," said Head Coach Gator Rebhan, entering his fourth season with FIU. "We're looking forward to going even further than last year. They had the taste of it, and now winning it is important. They feel the pain of how close we were."
But there are several challenges the Panthers must overcome in order to make it back to the NCAA postseason.
The biggest question the team faces is how they are going to replace first baseman Stephanie Teixeira, who graduated last spring. Teixeira was arguably one of the best players in program history, setting all-time school records for career home runs (47), batting average (.405) and runs batted in (190), just to name a few.
Second baseman Ashley Leon, who hit .337 last season, is also gone, leaving the Panthers with some big holes to fill in the infield.
Several players, including some newcomers, are competing to fill both positions and will see playing time throughout the season.
"You don't replace a Tex and you don't replace an Ashley," Rebhan said. "You just hope the ones that do step in and do a good job and we're confident about who we have."
With the most experience of any group on the roster, the outfield could play a key role in replicating the offensive production left behind by Teixeira and Leon.
Junior outfielder Jackie Schoff led the team with a .439 batting average and 25 stolen bases as the Panthers' leadoff hitter and hopes to pick up where she left off.
"I think we're very strong in the outfield," Schoff said. "We want to go past regionals and it's the little things we're doing now in practice that will get us there."
She will be joined by several transfers hoping to give the FIU lineup an offensive boost as well. Last season, Tatyana Forbes (Coastal Carolina) and Natalie Orcutt (Appalachian State) paced their respective teams in multiple offensive categories. Now, they'll hope to do the same at FIU.
On the mound, pitchers Megan Kugelmann (14-4, 2.06 ERA) and Sallie Shannon (18-8, 1.41 ERA) return for the Panthers and will be key in keeping FIU's opponents off the scoreboard in low-scoring games. The Panthers add two freshmen pitchers to the rotation to round out the staff: Kendahl Dunford and Allison Muraskin.
For more information on FIU softball, go to FIUSports.com.