The annual Food Network & Cooking Channel South Beach Wine & Food Festival enters its 17th year of wine, food and philanthropy next month. And Miami's premier gourmet gathering didn't weather 16 years without collecting its fair share of interesting stories – and even some teachable moments.
Festival Managing Director Devin Padgett shared a few of these stories with FIU News:
Debut of a star
Giada De Laurentiis made her debut on the Goya Foods' Grand Tasting Village stage in 2004. The soon-to-be culinary star had just signed on with Food Network and finished the premier season of Everyday Italian.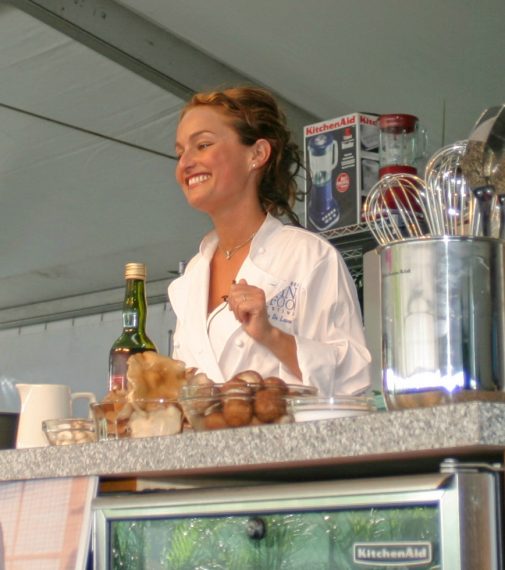 And it was her first live cooking demonstration.
"Her first time in front of a large, live audience took place with us," Padgett said of the significance of what would become a seminal moment for both the now-celebrity and the Festival. He remembers she was so nervous that day, she cut her finger.
But since then, De Laurentiis has become a SOBEWFF® regular, appearing at the star-studded event frequently.
"Now she's like the pro of pros," Padgett said. "She can do demos in her sleep."
This year, De Laurentiis will host Barilla's Italian Bites on the Beach on Thursday, Feb. 22, 2018, and will take the stage with fashion designer Zac Posen at the Goya Foods' Grand Tasting Village on Saturday, Feb. 24, 2018.
When it rains, it pours
On the Festival's fifth anniversary, a rare but formidable February rainstorm destroyed the BubbleQ®, a signature SOBEWFF® barbecue hosted that year by Bobby Flay.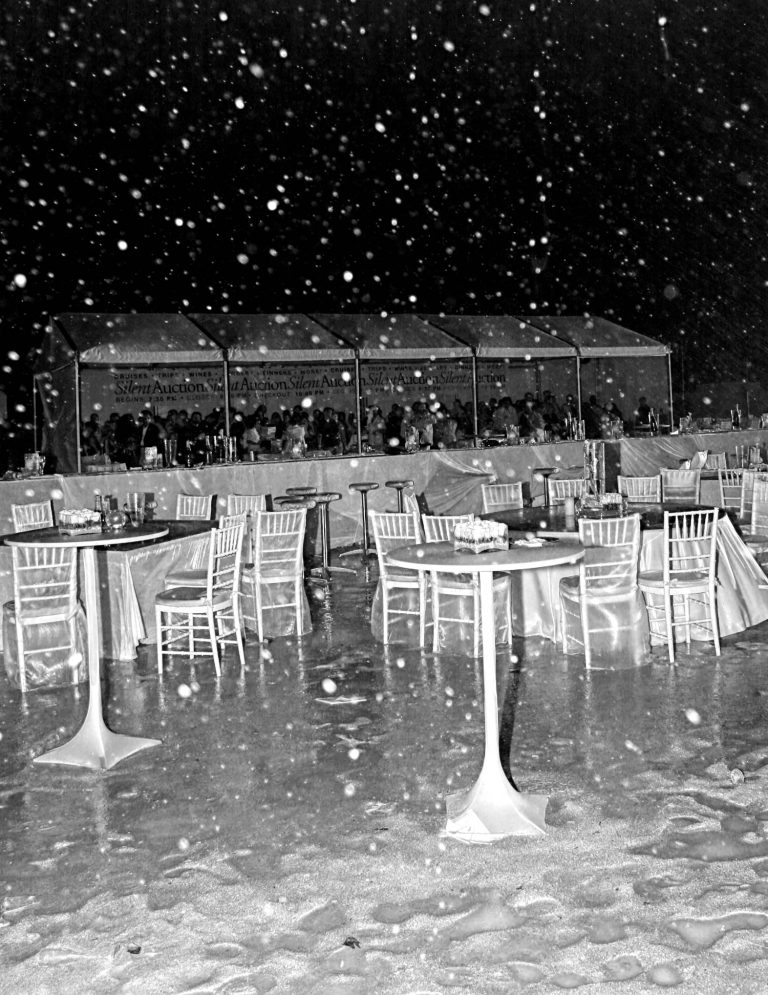 "You could feel the temperature and air change, and three minutes later, it was mass hysteria," Padgett said.
Hundreds of guests ran for shelter under a 20-foot-by-30-foot tent housing the event's auction pieces, some losing their shoes in the sprint. Champagne glasses flew through the air as the Festival team scrambled to cover wiring and electronics and police ushered people off the beach.
"Everything for me turned slow motion for twenty minutes. That's how surreal it was," he said. "It was like a Stephen King novel."
Luckily, no one was hurt, and Padgett said the storm would live on as a teachable moment.
"From that moment forward, we decided to have large, sturdy structures at the venue. Our big tent came next year," he said. "The fact of the matter is it does occasionally storm in South Florida in February. We learned our lesson."
"Welcome to Flavortown"
Last year, Diners, Drive-Ins and Dives star Guy Fieri took the stage with rapper Snoop Dogg. The unique duo turned a culinary demonstration into a dynamic set that Padgett likened to a Rolling Stones concert.
"Snoop was dropping beats, and Guy was making chicken wings," Padgett said, remembering everyone in the crowd was on their feet enjoying themselves. The event also garnered a lot of media attention. "It was high energy."
For Padgett, that defines culinary festival culture: "Food, wine, music and friends – that's a good time. That's [SOBEWFF®]."
Fieri, another SOBEWFF® regular, will return this year to host the Heineken Light Burger Bash presented by Schweid & Sons on Friday, Feb. 23, 2018.
---
Hosted by Southern Glazer's Wine & Spirits and FIU, the Food Network & Cooking Channel South Beach Wine & Food Festival benefits FIU's Chaplin School of Hospitality & Tourism Management. To date, the Festival has raised more than $26 million in support of education and scholarships at the school. 
The Festival also provides valuable career insight and networking opportunities to more than 1,000 students annually who volunteer in areas like event management, logistics, culinary preparation, marketing and more.Click here for more information on volunteer opportunities at SOBEWFF®.
The Festival will take place Feb. 21 – 25, 2018, and will feature internationally renowned talent and leaders of the hospitality industry at uniquely crafted events showcasing world-class wine, spirits, food and fun. 
Click here to learn about discounts available to the FIU family on tickets to Miami's premier gourmet gathering.