As soon as you step foot onto campus, you can spot them on any corner.
Five-hundred and twenty units of equipment, including 58 unique types of vehicles such as vans, trailers, trucks and even airboats. They are the golf carts, police vehicles and life-saving Panther Mover serving students and faculty. FIU's fleet is an integral part of its everyday operations.
But the trustworthy fleet is exemplary not only within the university but the continent as well, ranking 66th out of the 100 Best Fleets in North America, and second among universities, according to its results.
Thirty-eight thousand public fleets were ranked based on their creativity, accountability and resourcefulness, among other criteria. Last year, FIU's fleet ranked at No. 82.
"And next year we'll do better," says Carlos Berriz, the fleet's manager.
"We are always pushing the envelope and always looking at improvements. We never arrive – we are always striving to be better. I know we're going to get better. Whatever shortages we have this year, we will address them."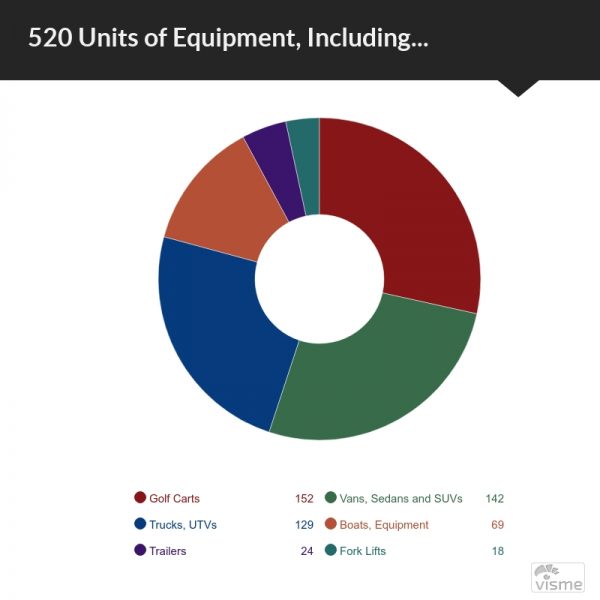 Serving students, faculty and the FIU community
The team behind the fleet prides itself on its reliability and innovation. They know students and faculty across campuses rely on their services and want to serve them beyond what is expected of them.
The team includes Berriz, Martinez, Nancy Cadavid, director of the office of Business Services and Rodolfo "Rudy" Vila, assistant vice president of Business and Finance.
"We were very happy last year to even place," says Cadavid.
"A lot of the fleet within the competition are municipalities that have firetrucks and have thousands of vehicles, buses, everything. It is apples and oranges, and it is a feat in itself considering our operation."
Previously known as vehicle services, the fleet was reestablished in April 2016. The program commits itself to provide first-class services to the FIU community.
They do this by securing and maintaining their vehicles, as well as establishing trust with the other departments on campus reliant on the fleet, such as Public Safety, Facilities Management, Campus Grounds/Maintenance, Athletics and Parking & Transportation.
"My department relies highly on the fleet," says Lissy Pedraza, manager of the Department of Parking and Transportation. "We provide the Panther Mover which transports students and faculty. We also offer transportation to the disabled students, so our fleet is crucial to our parking operations."
"The fact that we made it so high and were one of the few universities there, it's a huge attribute towards FIU and our fleet management," she added.
Pedraza praised the team behind the fleet for their commitment to safety and maintenance.
"They do an amazing job of providing their service so that our operations run smoothly and continue. That comes from the insight of a good fleet management," she said.
Carlos Berriz knows the Panther Mover service is a key component of the FIU experience. "If the fleet was not doing their job, the kids would not be getting to class on time."
The Panther Mover provides transportation to approximately 2,500 passengers a year.
Captain Alberto Alberto Jr., of FIU Police relies on the fleet's police cars for his team's essential procedures.
"Without our police cars, we would not be able to perform our duties of policing. It is a fairly large campus, so we depend on our police cars 100 percent," he said. "The fleet services know that and they are very proactive in maintaining our fleet and ensuring that the vehicles are operational at all times."
Alberto applauded Berriz for his leadership and relationship with the department. "Carlos has really established a great teamwork component with his personnel and our police department and it's because of that communication that we have with them."
"Behind the scenes, nobody really ever sees that. When the police respond, they're the ones out there, but it is with a vehicle that we procured, fixed and maintained for them," said Berriz.
"We do that with every asset in the university whether it's the plumbers, electrician, mail carrier, police. We move it all."
"The vehicles are vital to providing services. The safety of those vehicles is vital, and the reliability of those vehicles is vital too," he added. "Without these vital services, the university would not be able to function properly or efficiently."
Innovative ways to go beyond a fleet's duties
Creativity is one of the main factors the fleet was judged upon. Lube @ FIU provides affordable oil and filter changes to students and staff, as well as complimentary shuttle services to their vehicles before and after maintenance has been completed. These services are unique to the fleet and to universities in general.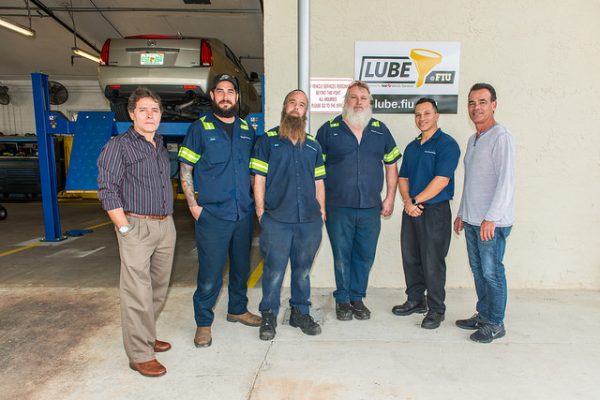 "We're a little city so we need to provide to all of our constituents," said Aime Martinez.
"Other universities and fleet operations, they simply worry about their fleet. This is not even within their scope," says Berriz. "We are also looking at the people within the organization and thinking 'how we can improve their lives?' We took it that step further and it has been very well received."
When it comes to environmental stewardship and energy efficiency, the team is committed to reducing and avoiding waste. "We are very conscious – we make sure all the oil, antifreeze and scrap metal is recycled, the tires and filters are properly disposed of," said Berriz.
"We recycle parts and aim to use as many electric cars as possible. We are also working towards reducing idling (cars being left on while idle) because we want to make sure that we are not creating unnecessary waste."
In the face of emergencies and catastrophes, they go beyond in their preparedness, delivering optimal services amid turmoil.
"As soon as they say 'there is a hurricane coming' we have to make sure to fill the tanks and make sure we are available," said Martinez, in reference to last year's Hurricane Irma.
"There was no gas in Miami. We had to make sure the staff could come back and forth. So we were the only ones pumping gas at 6 am. We're like a little engine that keeps the university running. We're behind the scenes, but it's so critical."
This year's bridge collapse accident was also a moment in which they had to respond immediately. "The fleet was highly relied upon to transport students and the families of the victims away from the accident," said Pedraza.
"We provided all of that transportation, so we needed mechanics on call to make sure our operations were going 24/7. Knowing that we had this challenge, we could not even lose a single cart."
Their future projects, which they hope will help them improve upon their rank for next year's award, include rebranding the look of the fleet, researching and implementing GPS technology, switching the Panther Mover vehicles from conventionally powered to electrically powered, and expanding upon Lube @ FIU's services to students and faculty.
"We are working on decaling and making our fleet look as presentable and professional as possible," said Cadavid. "So if you see an FIU vehicle, you know it is an FIU vehicle."
This desire to expand Lube @ FIU's services arose from feedback and surveys from students and faculty.
"We do listen to the students and have surveys to know what we can improve on," said Rudy Vila. "We are working on an expansion. How it's going to look like, we don't know yet. We are in the early stages," added Berriz.
Despite the fleet's ubiquity, the team is aware of how obscured their work may be. Still, they embrace this inevitable aspect of their work and this award is proof that their efforts are admired nationwide and integral to the university.
"It's kind of like when you hit a switch, you expect the light to always turn on, but you don't really know what goes on behind the scenes to make sure that electricity is always being generated," said Berriz, lightheartedly.
"We are kind of like that. The less you know about us, the better job we are doing."