Theatre students shine at the regional Kennedy Center American College Theater Festival
February 22, 2018 at 12:00am
---
Eleven students took home 15 awards at this year's Region IV Kennedy Center American College Theater Festival (KCACTF). Many of those awards came with cash prizes and scholarships to attend other festivals and events.
A contingent of 50 FIU Theatre students and faculty traveled to Americus, Georgia, earlier this month for KCACTF. During the festival, held on the campus of Georgia Southwestern University, students presented their work to industry professionals, participated in workshops, attended performances and networked with other theatre artists from across the Southeastern United States.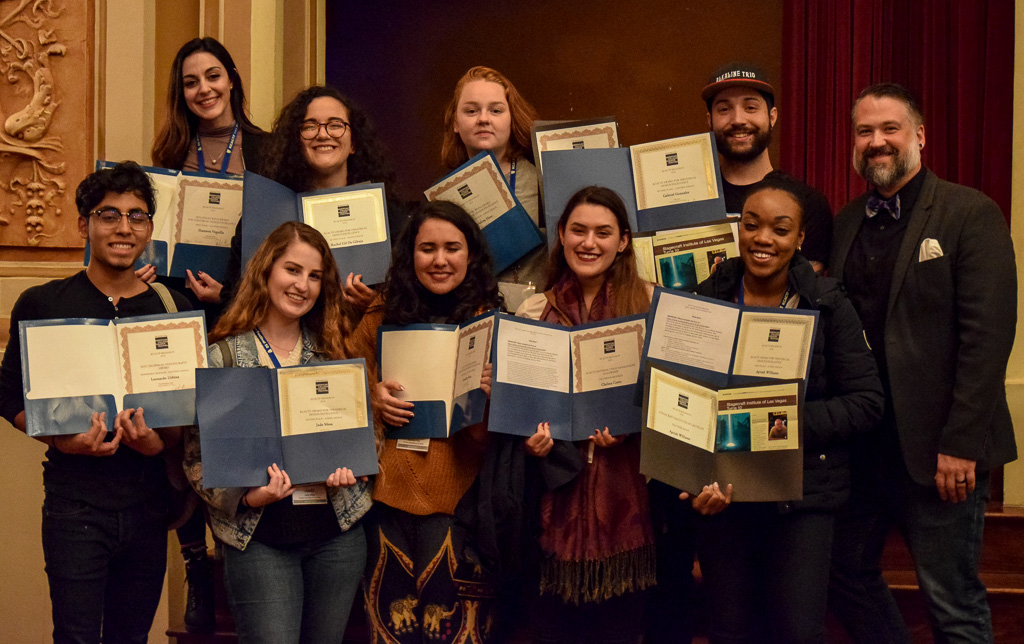 Three students were awarded scholarships to attend the National KCACTF in Washington, D.C. Seniors Chelsea Cosio, Melissa Lopez and Apriah Williams will be attending the festival at the Kennedy Center this April – the most FIU has ever sent to the DC festival.

Chelsea Cosio won the Stage Management Fellowship for her work on last semester's play Ubu Rex. She was selected out of more than 50 participants and after several rounds of interviews. This is the third year in a row that an FIU Theatre student wins this prestigious fellowship; Liana Sierra and Luisa Rodriguez won it the past two years.

Apriah Williams won the KCACTF Award for Theatrical Design Excellence for her scenic design of Ubu Rex.  

Melissa Lopez won the Stage Directors & Choreographers (SDC) Student Directing Fellowship. She was one of three FIU Theatre students, along with Leonard J. Moore II and Reid Suttles, who advanced to the final round. She was selected after several rounds of interviews and feedback on her work.

A fourth student, Pedro Urquia, might also be headed to the national festival. Urquia was selected as the region's finalist for the Institute of Theatre Journalism and Advocacy award. Over the course of the week, he wrote several articles and reviews of the productions he saw at the festival. A panel will review the work of the eight regional finalists and select four to win the all-expenses paid trip to DC.
Three students, Rachel Gil de Gibaja, Gabriel Gonzalez and Apriah Williams won the Don Childs Award for their design collaboration on Ubu Rex. The award comes with scholarships to attend a week-long workshop at the Stagecraft Institute of Las Vegas this summer. Chelsea Cosio and Alexandrea Hess also won scholarships to attend the Institute.

Several other students won awards in the Design and Technology Management categories. Caroline Frias, Jade Mesa, Leonardo Urbina and Shannon Veguilla were all recognized for their excellence in design.

Two students also made it to the semi-final round of the Irene Ryan Scholarship auditions. More than 250 students entered the event this year and Patricia Contreras (with partner Emma Merritt) and Ruki Etti (with partner Leonard J. Moore II) were among the 48 passed on to the semi-finals.

FIU Theatre also presented their production of Ubu Rex during the festival. It was one of six invited productions from around the region. Before attending the festival, students met several times for rehearsals and to practice loading in and loading out the set. All of that preparation paid off with a successful performance that received a standing ovation.

In partnership with the Kennedy Center, KCACTF strives to promote the work of theatre students throughout the country. KCACTF Region IV consists of colleges and universities from Alabama, Georgia, Florida, Kentucky, Mississippi, North Carolina, South Carolina, Tennessee and Southern Virginia.