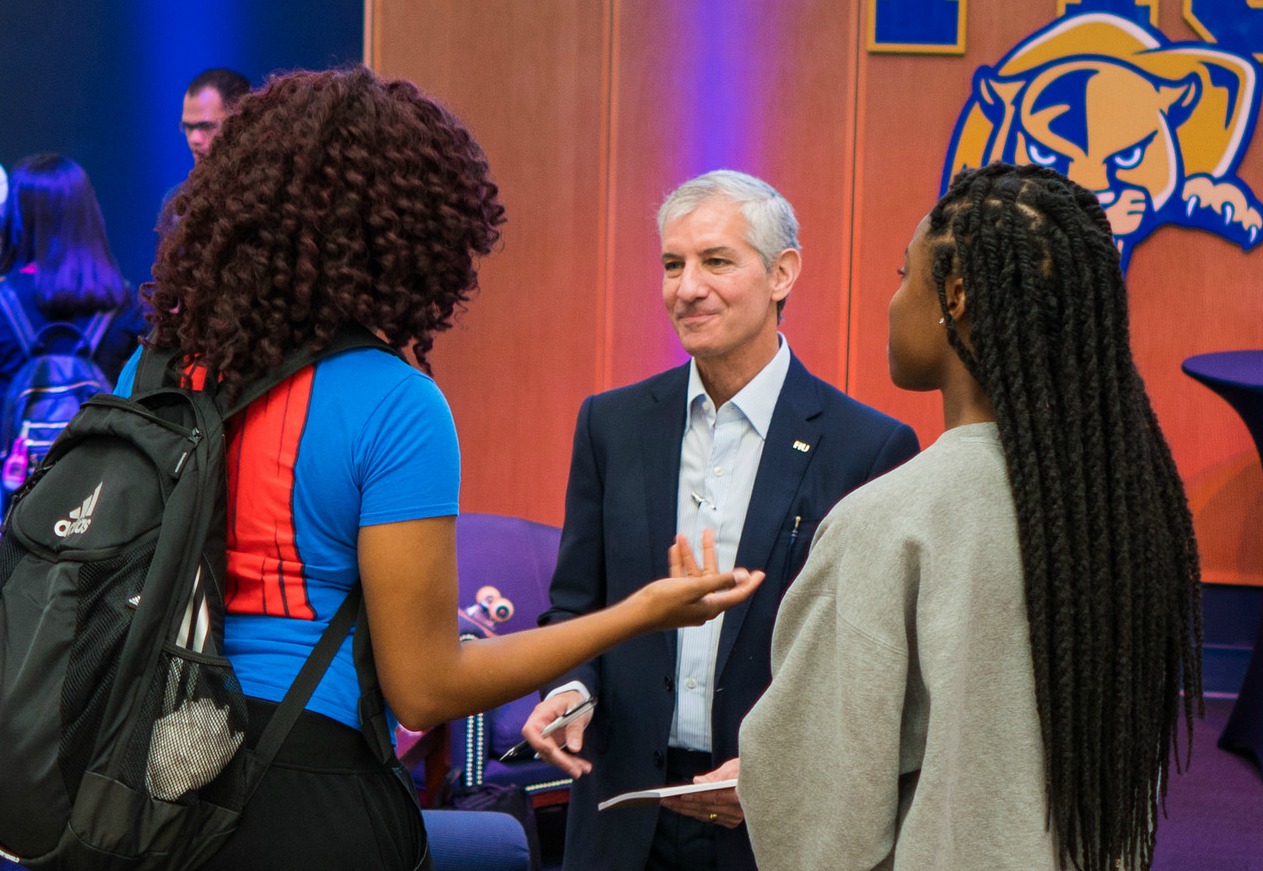 Marc D. Sarnoff, a member of the FIU Board of Trustees, spent Feb. 12 in the Graham Center Pit getting to know Panthers on a more personal level.
A partner at Shutts & Bowen practicing land use and government relations law and a former City of Miami commissioner, Sarnoff brings 30 years of experience representing the South Florida community to the Board of Trustees. The board's role is to develop cost-effective policies and implement and maintain high-quality education programs at FIU.
"My goal at FIU is to give students as good an experience as possible. I don't think I ever knew before what it meant for a university to be the major theater for the employment industry of an entire city," Sarnoff said. "We're becoming a dominant player in Miami's emergence on the world stage."
In the first event of its kind at FIU, Sarnoff met with students to learn firsthand about their experiences at FIU, their comments and suggestions, and about what it means to be a Panther.
"I never went to school here, so I don't know much about the students here. And I think I went to school so long ago – there were still blackboards – I don't know that the concerns of a student when I was going to school are the same as the concerns of a student today," Sarnoff said of why he feels it's important to meet and talk to students in person.
"I think our students are very hard working and they don't take things for granted. It's very nice to see," Sarnoff said.
Sophomore Michael Kawalya, a music education major, said he was excited at the opportunity for his voice to be heard by someone like Sarnoff.
"It's awesome. To see him actually write my thoughts down and take notes was impressive," Kawalya said. A trumpeter who splits his time between Deuxième Maison and the School of Music, he told Sarnoff he felt there isn't enough space available in the two buildings for music classes and practice facilities.
"The more the school grows [in population], the less room we have for classes and practicing," Kawalya said. "It would help if we expanded the School of Music or even just moved classes closer to the school building."
Senior biology majors Brittany Clarke and Sabrina Fontus told Sarnoff they were happy that the library is now open 24 hours a day, five days a week, as they both spend long hours after class studying on campus.
Clarke, who commutes to school and splits her time between BBC and MMC, said that she is happy to have sleep pods at BBC, private enclosures designated for napping on campus. But she wishes there was a safe, secure place like that for a nap at MMC.
"I'm here from day to night studying, and I get tired sometimes," Clarke said. "I wish we could have that on both campuses."
Another student spoke to Sarnoff about her DACA status, expressing concerns about her own future as the future of the Deferred Action for Childhood Arrivals program nationwide remains uncertain.
"[Getting to know the students] helps take these big, abstract issues affecting our population and make them very personal. It makes them tangible," Sarnoff said after meeting her.
"I wish I had done this two years ago," he added. "It's been a beautiful experience."