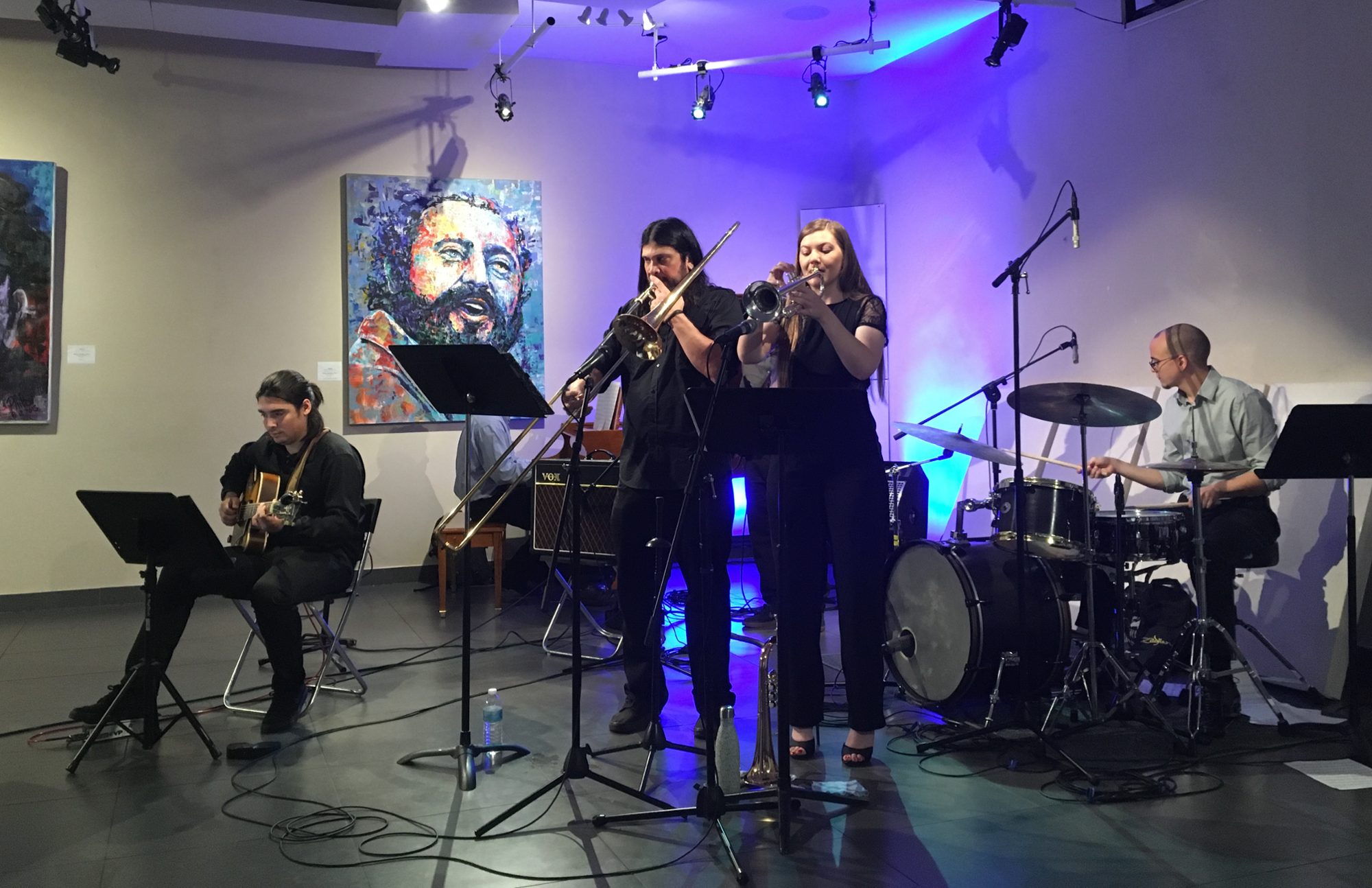 It's a regular Tuesday morning at Miami public jazz station WDNA and Colin Miller, the host of its weekly  FIU Music Hour, is seconds away from going on air:
Good morning,

It's Tuesday. It's 11 a.m. and it's time for the FIU Music Hour on WDNA 88.9 FM — presenting live weekly performances in the WDNA Jazz Gallery featuring students, faculty and alumni from Florida International University's School of Music.
Miller, a junior broadcasting major at FIU, has been hosting the show since May, following in the footsteps of former host Jamie Ousley, professor and coordinator of the  Jazz Performance program.
The student-run show — which aims to promote FIU's musical talent across the board and engage with the local community through WDNA — offers students hands-on experience in radio broadcasting, live performance and music management and production.
Debuting in 2017, the program came to life when distinguished alumnus, jazz critic, WDNA board of trustees secretary and program host  Ed Blanco '78 proposed the idea to his fellow board members at a meeting.
"We are a non-profit, community-based public radio station," says Blanco. "So why not have a public university featured as part of our programming?"
With help from Karen Fuller-Veloz , instructor and associate director of the  School of Music ,the vision came to life. Also the coordinator of the music business program, Fuller-Veloz now produces the FIU Music Hour at WDNA with help from students.
"We are exposing our students to the practical, professional world of what they are studying to be in," says Fuller-Veloz.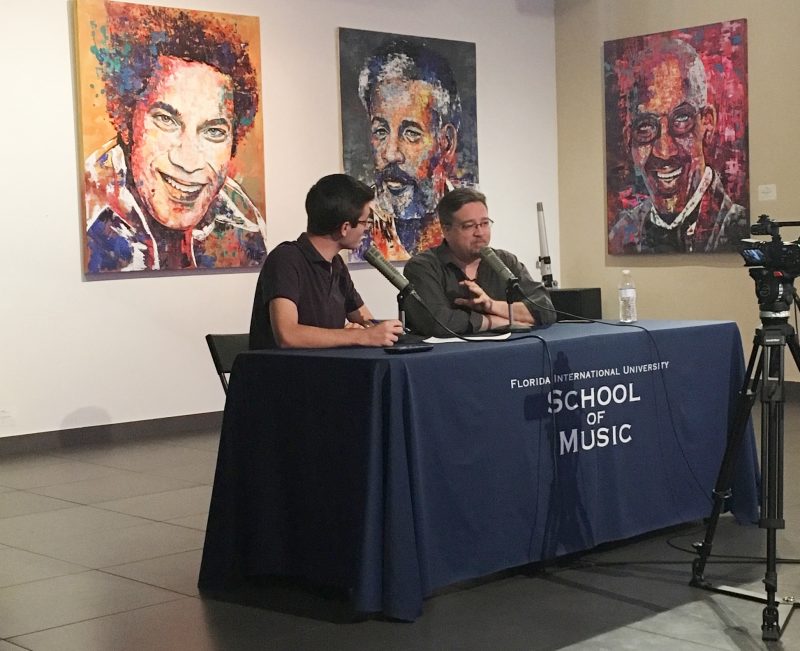 The students are in charge of everything from audio to scripts, running commercials, uploading playlists online, booking musicians and even managing the show's social media accounts.
For music business students, the show serves as a weekly course with Fuller-Veloz. Students from other majors — past ones ranging from information technology to communication arts —  work as interns in whatever they assist with, including sound engineering, marketing, broadcasting or performance.
Fuller-Veloz, Ousley and the interns frequently reach out to current students and ensembles of all genres within the School of Music as well as alumni to have them on the show.
Previous guests have included the Amernet String Quartet as well as notable alumni  Rodolfo Zuniga, Latin Grammy nominee Tony Succar and Argentine singer Roxana Amad.
"We are promoting and showing the world that our FIU music students are out there doing it and are professionals," says Fuller-Veloz.
Each performance is streamed worldwide on its website and later archived for viewers to revisit. Ousley says students can then use these clips to promote themselves and book gigs.
The live setting challenges students, preparing them for the unpredictable world of live performance and strengthening their musicianship.
"It's one thing to play for your fellow students," says Ousley. "But when you are being recorded and broadcast on air across the city, that's a new level of experience so they really push themselves to be at their greatest."
For host Colin Miller, the show has helped him get a head start into the exciting world of broadcasting, where he hopes to work professionally after graduation.
"If you're live and all of a sudden there's dead air – you've got to think on your feet and improvise," says Miller.00
"As an interviewer, it has helped me form interesting and thought-provoking questions to my guests," he adds. "I really couldn't picture what my broadcasting education would be like without this experience."
Meraises Miranda, who will graduate next semester with her M.M. in music management and production, has worked alongside Fuller-Veloz in producing the show since last year. 
Miranda has assisted with scouting talent for the show and even helping set up lights, cameras and the show's online live stream and social media accounts. This year, Miranda is been mentoring newer interns on the in and outs of the show.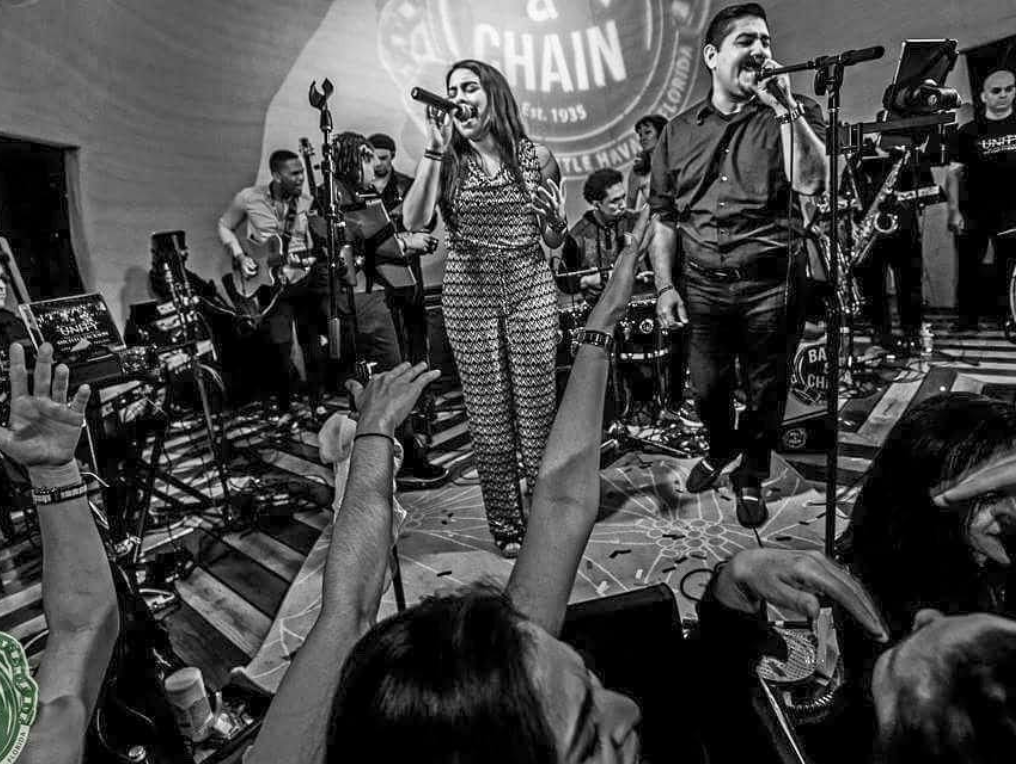 An experienced, singer, she has also performed on the music hour, singing bossa-nova and jazz. She also worked at the annual FIU Music Festival alongside some of her heroes — saxophonist Paquita d' Rivera and Tony Succar.
For undergraduate music business student Beatriz Guzman, the show has allowed her to book more gigs, such as the National Radio Day Festival at WDNA and Lagniappe, a music bar in Midtown, which reached out to her after seeing her perform on the show.
"Getting that gig was pretty life-changing. Being a music major, it can be really hard to feel secure but that moment helped me realize it's exactly what I want to do."
She also performed as part of a group for FIU Foundation Board Chair Richard Brilliant's birthday fundraiser.
"They wanted a singer and a band, and they were concerned about the quality of who they were getting," says Ousley. "So, I showed them a video of Beatriz from the radio archives, and they loved it."
For the young and small school of around 250 students, the partnership gives students the real-world experience they need to jump into the world of entertainment.
"It prepares you to network because you have to do interviews and helps you craft yourself as an artist," says Guzman. "You never know who's going to be tuned in to the show and where it could take you."
Students, faculty and alumni interested in performing at WDNA's FIU Music Hour can contact Karen Fuller-Veloz at  music@fiu.edu.
Performances are free and open to the public at WDNA 2921 Coral Way, Miami FL 33145.