By Vanessa Vieites
Whether you're interested in working in the brewery industry or simply enjoy serving others, consider volunteering at the 2019 North Miami BrewFest on Saturday, Nov. 16, at the Museum of Contemporary Art (MOCA) Plaza.
Every year, BrewFest has 50 to 80 volunteers, many of whom are FIU students. But not just anyone who signs up may volunteer. This is a highly selective process in which potential volunteers are interviewed and, if chosen, matched to lead, assistant lead and general volunteer roles based on prior experience, interests and perceived aptitude.
With more than 50 participating breweries and 20 restaurants, the Festival will provide students with numerous benefits. Here are three reasons students should volunteer:
1. Learn new skills. As a volunteer, you will get the opportunity to learn about or strengthen your background in managing and producing an event. Your responsibilities may include running the registration desk, welcoming and directing guests, scanning tickets, checking bags at the entrance, handing out information such as when seminars begin and end, marking and labeling inventory from brewers and distributing ice to brewers for their beer. You may also get the chance to "plate" for restaurants, during which you will help serve food to the Festival's guests.
 "The combination of all these tasks give you a sense of what it means to be out there in a reallife workplace and why even the simplest tasks are important," says Christina Jardim, FIU's director of Enterprise Development and senior staffer for BrewFest.
Sabrina Mehu, a graduate student in the Hospitality Management Program who was a general volunteer in 2018, says she plans on volunteering again. "Seeing beers with "banana" flavoring fascinated me. It was also fun to interact with the guests."
Taking the knowledge she acquired at BrewFest, Mehu later enrolled in a beer science course. "After having so much fun volunteering at the Festival, I decided to enroll in the class. I had the opportunity to learn about the history of beer, the different types of beer and how to make beer. I loved [it] because it was very hands-on," Mehu adds.
2. Build your resume. Offering your services at the Festival is a major resume-building opportunity. After volunteering, you will earn a university-certified badge, or micro credential, that you may put on your LinkedIn profile and resume. This badge will serve as proof of experience, letting your potential employers know that by volunteering at Brewfest you garnered a set of skills that makes you worth hiring.
3. Network with professionals. If you are intimidated by the thought of networking at large events (e.g.,the Food Network & Cooking Channel South Beach Wine & Food Festival presented by Capital One), then BrewFest's more intimate setting may appeal to you. Anyone who is engaged in the art and craft of beer brewing will be attracted to BrewFest, so you may be able to interact face-to-face with professionals in the hospitality industry.
"Most of the breweries had the owners present so that was nice to meet and speak with the person who had this idea for the breweries and their specific craft beer," Mehu said.
Jardim adds that networking is one of the biggest benefits of volunteering at the event. "We are always trying to get students in front of potential employers. BrewFest is our way of systematically trying to connect [students with employers] every year," she says.
Volunteers must be 18 and over to participate and will not be handling, serving or drinking beer or eating the samplers at the event. They will be provided with complementary meals.
Students from all majors are welcome to apply. To volunteer, go to  go.fiu.edu/brewfestvolunteer. The application opens on Oct. 1.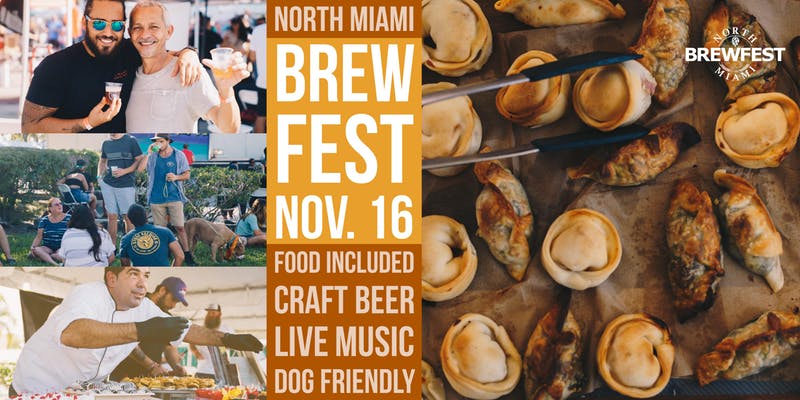 The 2019 North Miami BrewFest invites master brewers and casual beer fans alike to dive into the flavors of Florida's craft beer scene. Local South Florida breweries are preparing more than 200 different beers, including several brand-new tastes.
All inclusive, BrewFest attendees also will be treated to gourmet bites like slow-roasted tenderloin, BBQ brisket and empanadas from vendors that span South Florida - all in one ticket! The university community can save on tickets: Use the code FIUFAMILY for 20 percent off both VIP and general admission at checkout.