Three minutes is all it takes to explain even the most complex of ideas.
That is the concept behind  3 Minute Thesis (3MT), a research competition started by University of Queensland, which calls on graduate students to present their work to a general audience for the chance of winning a cash prize—$400 for the winner, $300 for the runner-up and $200 for the people's choice.
The competition, which is held at more than 600 universities worldwide, made its FIU debut as part of  Graduate Student Appreciation Week. Fifteen participants from across the university were nominated by their schools and colleges.
Manqi Zhang, a Ph.D. student in  biochemistry, was this year's winner. Her thesis on genetic protection from obesity-related diseases wowed the diverse panel of judges, which included Leonardo Cosio, news writer for WSVN-7NEWS; Juan Carlos Espinosa, dean of the  FIU Honors College; and Paula Hopkins, general manager and senior market director at PepsiCo.
3MT judging panel:
Ana Alfonso, president and CEO of Workforce Dynamics Consulting 

Sonja Montas-Hunter, assitant vice provost of the Office of Student Access and Success 

Albert Taño, pediatric MD at St. Mary's Medical Center and part of the FIU Foundation Board of Directors. 

Andre Teixeira, executive vice president and CFO of the The Graham Companies; FIU Foundation treasurer and member of the Board of Directors. 

Leonardo Cosio, news writer for WSVN-7NEWS 

Juan Carlos Espinosa, dean of the  FIU Honors College

Paula Hopkins, general manager and senior market director at PepsiCo. 

Zhang, an international student from China, also won second place in the statewide 3MT competition at the Conference of Florida Graduate Schools held on April 18.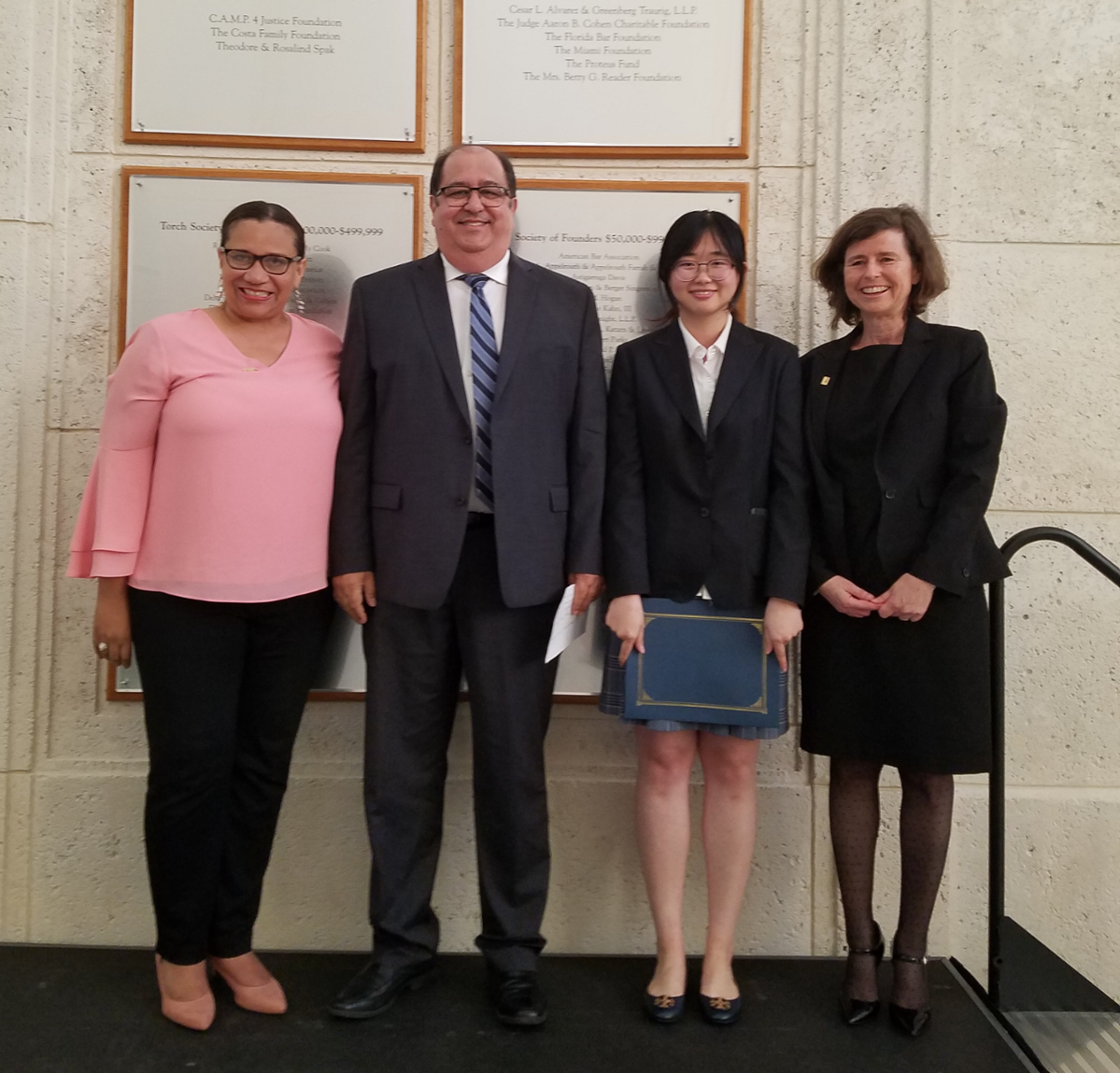 Susan Webster, assistant dean of  University Graduate School, says Zhang made her topic easily understandable to the audience by simplifying it and bringing it to the real world.
Zhang's presentation opened with examples of how staying in watching TV and shopping online instead of going to a store are both proof of how our lives are becoming increasingly sedentary as we aim for comfort and convenience.
"A 3MT competition is meant to engage you and hers did just that," Webster says.
Zhang also used her topic to relate to the audience, with examples of how being overweight or obese can lead to not just diabetes, but other threatening diseases like fatty liver, heart disease and even cancer.
"She had the emotional heart piece and one of the things she did very well was mentioning parts that are important to a thesis like what she looked for in the lab. To be able to incorporate that and tell a story, I think was unique," Webster adds.
 Zhang shared with FIU News five tips for students gearing up to give a presentation. 
Become an expert
In 3MT competitions, scholars present their own work; they are experts in their topic and can explain it better than anyone else.
When choosing your topic, Zhang suggests you pick one that speaks to you and urges you to learn more about it. If you're unfamiliar with it, do enough research so that you know it better than anyone in the audience.
Not only will this enthusiasm for your topic show throughout your presentation, but it will make you rely less on a script because you'll know the material by heart.   
However, it is just as important to pick a topic that will spark curiosity in your audience.
Zhang says: "You have to ask yourself: 'Why is it a concern?'"
Webster agrees, saying:  "You have to make sure people are curious about your topic and carry that curiosity with them even after the presentation."
Prepare yourself with an outline
With any presentation, it is imperative that you prepare an outline and, if necessary, write yourself a script.
In the case of a timed presentation, like in 3MT, a script can help you make sense of how much time you are dedicating to each segment of your presentation.
Do not, however, just perform the script verbatim, as it should merely be a guide.
"You should already know what you're there to present to people," Zhang says.
Another way in which she prepared for the competition was by watching videos of the winning presentations of previous 3MT competitions and analyzing their structures.
"This helped me see what was working in each presentation so I could apply it to my own."
Zhang adds that following a guide also helped her manage her performance anxiety.
Relate to your audience
Think of your audience and what they may or may not know about your topic.
For Zhang, her thesis revolved around diabetes, meaning she could include examples of foods we all love that spike our glucose, like candies and donuts.
Zhang says it is imperative to leave out any specific data, and instead use simpler and more general information, like percentages and statistics relevant to the audience so they can relate to the message.
More importantly, though, she suggests you use inclusive language and avoid scientific jargon.  
"In academia and in science, we use a lot of terms that many people wouldn't understand, like gluconeogenesis," she says. "My program director suggested I simplify everything and use examples to demonstrate more complex matters."
Keep it simple
Zhang recommends you let your ideas and speaking be at the forefront of your presentation.
She suggests wearing modest but proper clothing and using a natural speaking voice while presenting.
"Talk like you would in a regular conversation. Don't perform," Zhang says. "It may make you charming but you mainly want to get your point across to people and not make it about yourself."
Zhang adds that the visuals you use are very important to the presentation. In the case of 3MT, participants were only allowed one slide to have in the background.
The simpler you can make them, the better. Visuals should be straightforward and not flashy or distracting from the actual message.
"You want people to concentrate on you and your message."
Practice and get feedback
In preparation for 3MT, Zhang recited her thesis presentation in front of the mirror as well as with her lab partner to get some feedback on what she could work on.
Zhang suggests practicing the entire speech 10 to 20 times. She says practicing will make you more confident in your speech and will help you avoid stumbling along the way with words like 'um' or 'like'. "You don't want to make it seem like you're thinking on the spot.
"I'm an international student," she adds. "So I had to make sure that what I was saying was understandable. Practicing in front of people really helped me with that, too."