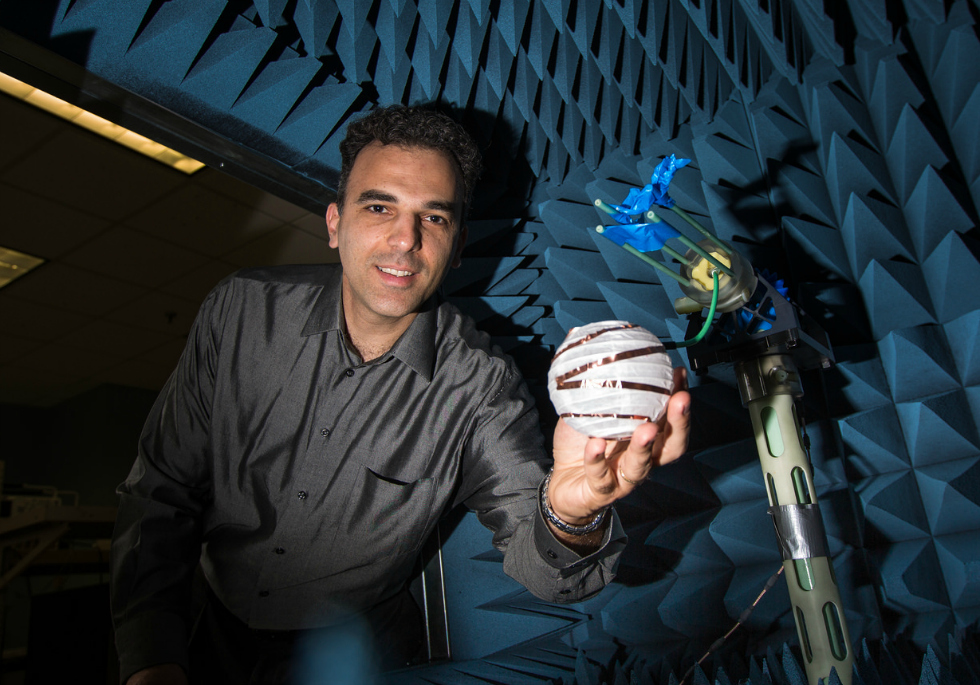 FIU is producing patents like never before
Professor Stavros Georgakopoulos (pictured above) exemplifies FIU's inventing culture. The  College of Engineering and Computing faculty member started with a novel idea: integrate the principles of the ancient art of origami into the production of electronics to create the ultimate portable, space-efficient technology. The Air Force saw the invention's potential and granted him $4.8 million to establish the  Transforming Antennas Center. Now, Georgakopoulos' research is pushing wireless communication into the future.
The origami antenna is one example in a stream of recent success stories made possible by the university's prioritization of innovation.
FIU has grown its patent production by 650 percent seemingly overnight. In the years 2014 and 2015, university researchers earned a total of eight patents. In 2016 and 2017, the two-year total catapulted to 60 patents. The university's rapid
turnaround began five years ago when an established researcher with a mind for inventing ascended to provost.
Trust the process
Provost and Executive Vice President Kenneth G. Furton, who holds 12 patents and has eight pending in the field of chemistry, conducted decades of research in the  College of Arts, Sciences & Educationbefore taking his current office in 2014. To earn those patents, he had to first submit documents
to the  Office of Research and Economic Development (ORED), which supports the university's research community and oversees its endeavors, to verify that his inventions were original.
In his new position, Furton wanted to develop a system in which these documents, known as disclosures, could be approved faster. "Our intellectual property office was very limited. I had inventions that I disclosed that wound up not getting patented, which kind of discouraged me a little bit from putting in further disclosures because it's a lot of effort to do all the paperwork and disclose it for the patent ultimately not to be issued," he said.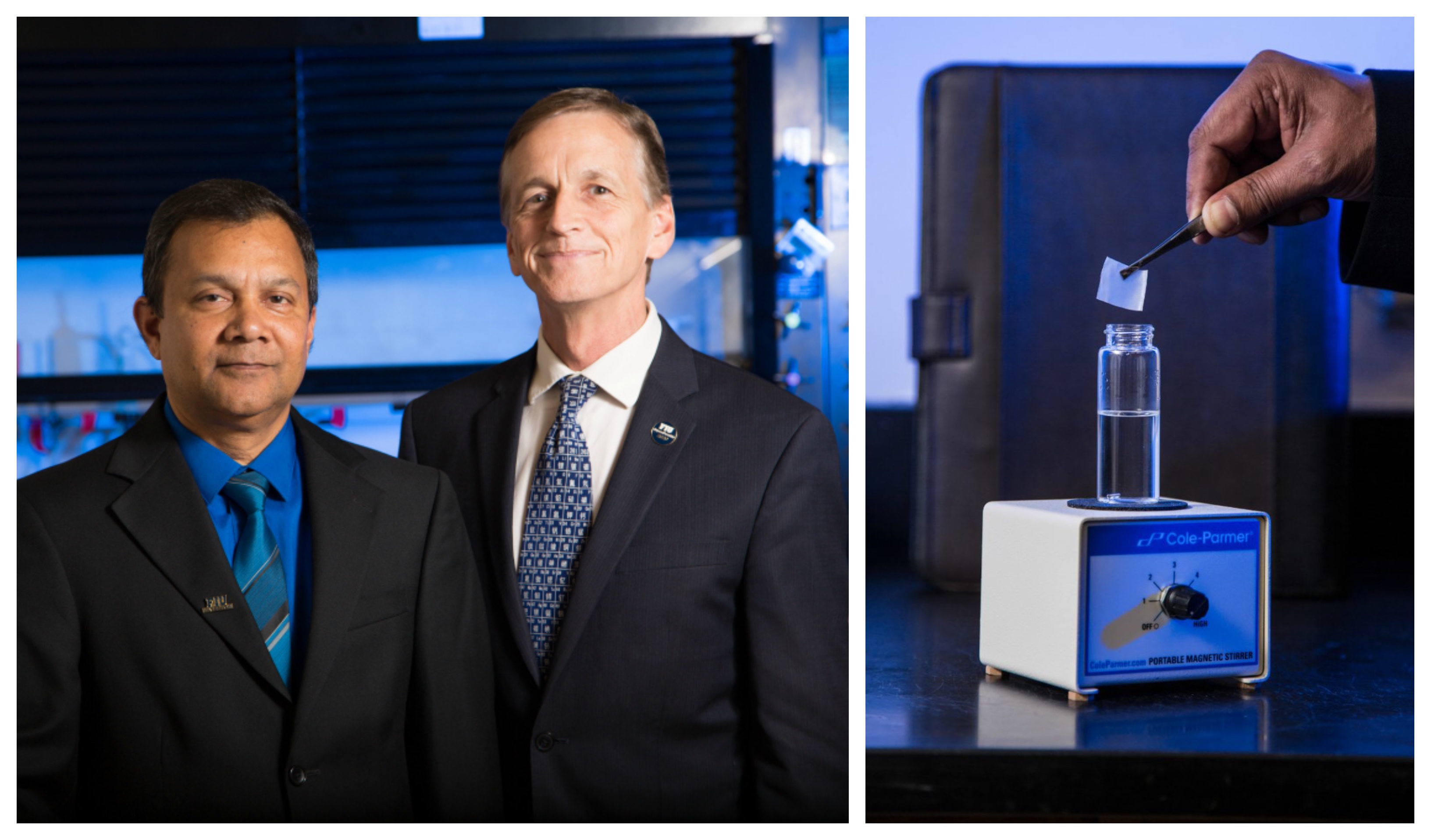 So Furton and senior management got to work changing FIU's inventing environment, and they set a stretch goal: 20 patents per year by 2020. To put this into context, in 2014 FIU was only producing one to two patents per year and had 25 patents in its entire history. An additional incentive rolled in when the Florida Board of Governors announced that universities producing 100 patents over
a three-year span would meet one of the Preeminent State Research University metrics.
Another influence on the patent surge: Pedro Hernandez, an engineer, patent lawyer and MBA who arrived at FIU six years ago with numerous years of experience at Motorola and Texas Instruments. He was well-acquainted with the intricacies of the patent process and understood the value of boosting efforts.
Hernandez talks about companies like IBM, that might patent 5,000 innovations in a year but only see a small percentage go anywhere. "They do it," he said, "because they want to have a culture of folks inside that company that are constantly coming up with good ideas."
A similar culture is taking shape at FIU, one rooted in research and bolstered by ORED's support and the university's encouragement of faculty invention.
"The emphasis on patenting has skyrocketed over the last five years,"
said director of the  International Forensic Research Institute DeEtta (Dee) Mills. She had ideas for two patents on the back burner for years. Now they are pending approval and already garnering interest from the U.S. Department of Defense.
Show me the money
Pursuing a patent can be a daunting
task for faculty. One reason: money, or lack thereof. To keep the research that leads to inventions going, researchers must apply for grants from federal agencies such as the National Science Foundation and the U.S. Department of Energy as well as state, local and private organizations.
ORED subscribes to a database of funders, lists funding opportunities on its website and sends email notifications to alert faculty to new sources of funding as they become available. Its staff is available to assist faculty in their efforts to identify funders and submit grant applications. ORED reviews a researcher's proposal to ensure it meets stated guidelines, assists in creating a solid budget and submits the document electronically.
"The challenge with patents is that faculty [members] are doing multiple things at once," said ORED Vice President Andres Gil. "Sometimes, the time you dedicate to that takes away from other things you're doing."
Once a grant has been awarded, ORED aids faculty by generating required quarterly and annual reports that include detailed accounting of expenses and, often, proof that safety and other protocols have been followed. Accurate and comprehensive reporting ensures that research compliance and integrity are preserved.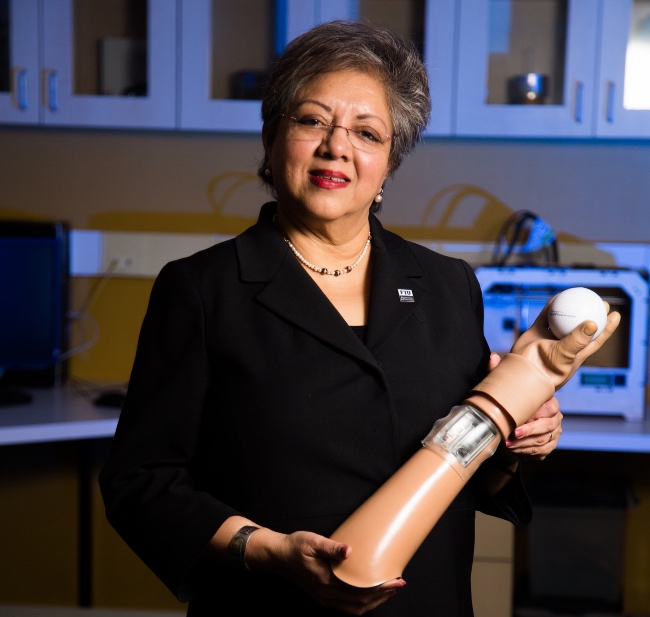 Recognizing—and protecting— intellectual property
Not all patents are born intentionally. Some faculty may have a potential invention on their hands and not even know it. Their research can contain a novel idea that they were not actively looking to patent.
This happened to Georgakopoulos, inventor of the origami antenna. After giving a talk about his research, he received a lot of interest about a subject he touched on: making wireless power structures foldable. It made him wonder how he could apply the method in other areas.
From a lecture, he thought of an idea— foldable antennas—that would secure millions of dollars for research.
"When you're researching, sometimes
you don't know what will come about," Georgakopoulos said. "Giving a talk and seeing what people are interested in can give you more applications."
Even during such a gray period—between active research and a solid discovery of something new—ORED works to keep researchers from accidently publishing ideas before they can be protected. The office stays connected with faculty across the university and discusses with them what they are working on. As a safeguard, researchers sometimes send their manuscripts to ORED for review before publication.
And finally, once ORED has approved a researcher's patent disclosure, the office also assists with patenting the intellectual property. Hernandez hires specialized attorneys to comb over details before an application is submitted to the United States Patent and Trademark Office, an important step that years ago the university did not have in place and one that has contributed greatly to the positive outcome. Today, about nine out of 10 patents FIU submits to the United States Patent and Trademark Office are approved.
Student and peer collaboration
Another obstacle that ORED helps alleviate for faculty is managing the raw amount of lab and fieldwork that goes into research. The office allocates additional funding toward postdoctoral and graduate students to assist research professors.
These connections are mutually beneficial. While professors gain help, students receive hands-on experience and a chance to convert their work in the classroom into applications that can improve the world.
The mentorship of doctoral student Haixiang Yu by chemistry professor Yi Xiao is a prime example of this reciprocal return. Together they patented  a test for cocaine consumption that is is faster, cheaper and more accurate than those currently used in DUI cases.
These student-professor endeavors end up generating more than patents. They prepare the next generation for academia.
"When I met [Yu], he wasn't sure if he wanted to go in this direction, and then I showed him this project and he fell in love," Xiao said. "He eventually wants to become a professor. I'm so happy he wants to do that and to carry on my legacy."
Cooperative efforts extend well beyond such student-faculty relationships, however. There is no environment of invention without interdisciplinary research. Inventors use a combination of expertise to turn an idea into a patent, something ORED encourages.
Anuradha Godavarty, a biomedical engineering professor, knows this well. Her patented hand-held scanner, which relies on light instead of radiation to evaluate
the progress of wound healing and
cancer therapy, is the latest example
in a career that takes advantage of interdisciplinary partnerships. Over the years she has worked with computer science and statistics faculty,
radiation oncologists, surgeons, dermatologists, psychologists and neuropsychologists.
"You cannot do anything alone," Godavarty said. "When it comes to research, you have to collaborate."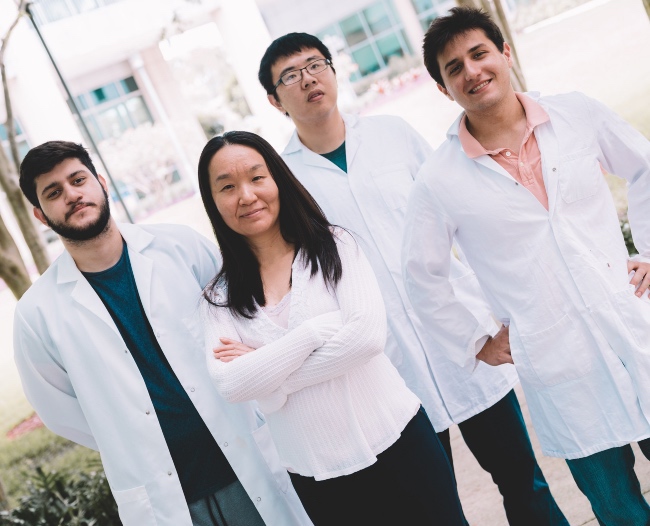 Next stop: commercialization
For a patent to have a wide effect, it has to be commercialized. There are two main avenues to achieving this: licensing the innovation to an existing company, or creating a new startup company to manufacture and market the innovation.
Licensing a patent to a large company or the government is the preferred route among academics as it frees them of business concerns to continue inventing. One of ORED's priorities is to connect with FIU alumni in select industries who might have a potential interest in such an arrangement or can help connect FIU to others in the industry who may have need for a specific technology.
For example, alumnus-owned company CDR Maguire currently markets and distributes a steel bridge system invented by a faculty member in the College of Engineering and Computing. Fostering such relationships is key to getting inventions into the marketplace.
"We need to have this community," Hernandez said. "We can have a good idea, but finding the person who needs that good idea is the hard part."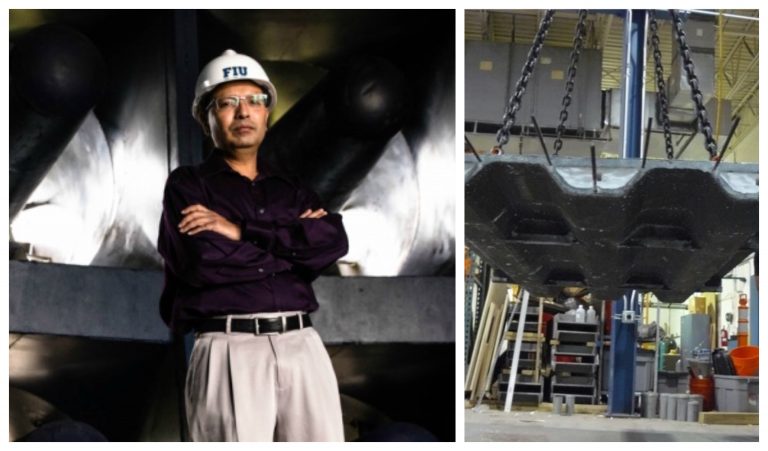 The alternative to licensing is creating
a startup. It is a potentially more lucrative way to go for both the inventor and the university—the two sharing profits on any invention that is ultimately commercialized— but finding an initial investor for such
a company can take a long time. FIU encourages researchers interested in building a company around their inventions to participate in ORED's StartUP FIU accelerator, which provides expert guidance and advice.
Sometimes, the most effective way
for an inventor to help the university commercialize a patent is to pursue both options. That's what Georgakopoulos is doing. He has established a small business to get his innovation into the marketplace even while he continues to look for a company interesting in licensing it.
"You definitely have to try different things because you never know which path is going to lead to success," he said. "So that's why we're pursuing different avenues."
* * *
Even as FIU slowly wets its feet in the realm of commercialization, its culture of innovation is churning out more ideas than ever before. Where FIU once aimed for 20 patents a year by 2020, the university saw more than 60 awarded in 2018 and is ranked 26th for patent production by the National Academy of Inventors.
What the future holds is pending.