Alumni have likely produced your favorite local beers
North Miami BrewFest has grown in tandem with an FIU beer program that is turning out local favorites.
By Eric Barton
An earlier version of this story appeared in 2017; it has since been updated.
A marine sciences professor more than a dozen years ago wandered into FIU's Chaplin School of Hospitality & Tourism Management. He had a hobby brewing beer and wondered if maybe he could teach a class in it.
The school decided to take a chance on an introductory homebrew class, and eventually it took off. A few years later, some of the students came to Mohammad Qureshi, associate dean of facilities and administration, with another idea: an FIU-sponsored beer festival. 
The students planned it themselves, and one of those early organizers, Matthew Weintraub '14, recalls that it was far harder than they thought.
"Honestly," he says, "it was all over the place." 
But those students persisted. Now, seven years in, the North Miami BrewFest expects to attract thousands of attendees and dozens of brewers to its Nov. 16, 2019, event.
It has become what those initial organizers hoped it could be – perhaps the most unique beer festival in the nation.
Students drive creation of BrewFest 
It wasn't that the school was turning its nose up to beer. It's just that back then, the Florida craft beer market barely existed. School leaders weren't sure if this was something students needed to know because there simply weren't many jobs in the beer industry.
The marine sciences professor taught the beer class for two summers. After he left, the school needed someone new to take it over. That was the fall of 2007, and Barry Gump had just arrived to become the school's Eminent Scholar Chair in Beverage Management. Gump had some homebrew experience, and as an analytical chemist by trade, he decided to call the class Brewing Sciences. 
"Maybe the sciences part scared people away, because I had three people in that first class," Gump recalls.
There also just weren't many students interested in beer back then, so Gump found his first teaching assistant, Alexandra Nowell, from the Department of Religious Studies.  
Word spread and enrollment grew quickly. The next time he offered the class, 16 students enrolled in it, and since then, it's always in the 30s. 
Soon, several of the brewing students started a homebrew club called B.R.E.W. FIU. In those early days, they brewed beers at home or, in the case of David Rodriguez '12, in the alley behind an apartment building. Rodriguez had taught himself how to brew beer in 2007 by reading online chats and forums and then took Gump's introductory and advanced brewing classes. 
"We really learned a lot of the things you need to know about brewing beer, like quality control, and which ingredients do what, and how to maintain the equipment," Rodriguez says. "There was not really a local beer industry at that point, so we were really learning things on our own." 
Weintraub recalls being there with Rodriguez in those early days, feeling like they were pioneering a new path at FIU. Weintraub had hospitality in his genes: his family owned The Netherland hotel on South Beach, and his father had been a manager and GM at several hotel properties. Weintraub figured he'd be in the industry himself someday, likely in food or beverage. "But brewing beer with those students at the beginning, it really molded me," Weintraub says. "I just did not have brewing in my sights, and I couldn't get enough of it."
They used a corner of a Chaplin School demo kitchen to cook up their homebrews and started serving them at beer festivals around town. Their now-legendary shirts helped bring in new members: "I drank my homework."
In 2012, one of those students, Zhilong Yang '13, came to Gump with an idea to bring some attention to FIU's new beer program. Yang wanted to hold a beer festival and bring homebrewers and professional breweries in to give out samples. As an homage to their professor, he proposed calling it the "Gump Cup."
The school was skeptical at first. They didn't want the kind of drunkfest some beer festivals can become. Nick Armada '12, one of the students who had proposed it, recalls coming back with a plan to assure that wouldn't happen. The festival would focus on educating people about beer. There would be seminars, and the samples would be less about quantity and feature conversations between the brewers and attendees talking about what makes each beer unique. 
Lack of organization in that first year could have sunk the festival for good, Weintraub recalls, but the school had come around and believed in BrewFest's potential. Other students agreed to help, and they held it again in 2013. 
By then, the school had seriously upgraded its beer program. In 2013, the Chaplin School built a true home-brewing science lab. Now the program could not only brew beers but experiment and conduct research. As a research assistant to Gump, Weintraub began testing ways to prevent an oily film that forms on the top of fermenting beer by adjusting the acid levels. 
Meanwhile, the beer industry in Florida went from infancy to breweries popping up across the state. A burgeoning interest in homebrewing – and drinking craft beer – brought in a new audience. 
In 2016, the City of North Miami offered to sponsor the festival. It worked out so well that this year the city came back with a new proposal. They would sponsor the festival for five more years, and provide a new venue in downtown North Miami. The BrewFest is now known as the North Miami BrewFest. Proceeds from the festival support the Chaplin School of Hospitality & Tourism Management and its brewing science program.
North Miami Mayor Smith Joseph says the festival fit into the town's re-branding and new marketing campaign: "A city on the move." No longer is the city a "drive-through community" of commuters, but one that has developed into a community of its own, he said. When he heard about the chance to sponsor BrewFest, he saw it as a chance to promote a more vibrant city with its own culture and activities.
"The city of North Miami has really nurtured this relationship with FIU, and it's a relationship that can only become stronger," said Joseph, who's a craft beer fan, especially of pale ales.
For the third year running, the festival will be  in the plaza next to the Museum of Contemporary Art North Miami. In addition to samples poured from dozens of craft breweries, there is a lineup of seminars on brewing. 
Those who pour the beers, the ones working for the burgeoning craft beer industry, have something in common. Many of them were those students who helped pioneer FIU's beer program.
From avocation to vocation
Shortly after graduating with a bachelor's degree in hospitality management in 2012, Armada had an idea to spread what he had learned about beer at FIU. He opened CerveTech Brew Institute out of a factory space, filled it with homebrewing equipment, and started classes for the public. 
Armada moved his equipment a year later into a shop he opened called Daddy's Beers, which sold ingredients to homebrewers. Then he spent a year as brew master at the newly opened M.I.A. Beer Company in Doral. After that, he became a consultant for other breweries, quickly going from FIU beer student to the granddaddy of brewing in South Florida. 
"Florida was behind the eight ball on craft beer for a long time," Armada says. "But that has really changed, and I think those students at FIU had a big part to play in it."
Those early FIU beer program students now dominate the staff lists at breweries in South Florida and elsewhere.  
Rodriguez, who started by brewing beer in an alley, is now missionary of beer/sales representative for Wynwood Brewing Company. Yang, who dreamed up the idea for BrewFest, now owns Standard Kegs, a Miami company that manufactures kegs and brewing equipment. Nowell, Gump's first teaching assistant, is now the master brewer at Three Weavers Brewing Company in California. Rodriguez looks forward to seeing his old FIU brewing buddies at North Miami Brewfest. 
"A lot of the pioneers of the local craft beer industry were born right there at FIU," he says. "Those people who were brewing together back then are now the ones you see running breweries in this town."
After Weintraub graduated with a bachelor's degree in hospitality management in 2014, he got a call from Gump, who had heard about a new brewery that needed someone to run it. Weintraub liked the idea of building a brewery from the ground up, and, in 2014, he began ordering equipment and hiring a team for what would become The Tank Brewing Co. Out of the 20 people he eventually hired, several were FIU grads. Today Weintraub is head brewer at La Cerveceria La Tropical.
Featuring his beer at the festival again this year will be Eddie Leon MArc '88, owner of M.I.A. Beer Company. After earning a master's degree in architecture, he worked at the university for several years in IT and then founded Spine 3D, a company that creates visual computer models of architecture projects.
During the economic slowdown in 2009, Leon was looking for ways to diversify outside of architecture. A home brewer himself for years, he was at a local brewery one day when it came to him. "I was thinking, man, my beers are so much better, and it was like a lightbulb went off."
In 2012, Leon found space for a brewery and then opened the doors a year later. He hosted several FIU events in those early days, and in 2014 he poured beers for the first time at BrewFest. 
He realized right away it was something different than the average beer festival. Attendees would approach with questions about the yeast strain he used or the types of malt. "Any time you have a chance to engage with the local community and help them learn about beer, it's great," Leon says. 
That kind of interaction with festivalgoers helped Leon figure out what beers people here like.
"I learned that people in Miami really don't like smoky beers or saisons or heavy stouts," Leon says. "Hearing their reactions firsthand really helped me hone in on what would work."
José Mallea '16 has participated in BrewFest since opening the doors in 2014 to his brewery, Biscayne Bay Brewing Company. He graduated from FIU with a degree in political science, but he had always had an interest in craft beers.
While Mallea wasn't part of that original crowd of Chaplin School beer pioneers, he says his time at the university did prep him for the brewery in ways he wouldn't have guessed.
"FIU gave me great exposure to a lot of experiences and a lot of different types of people," Mallea says. "Being a university that's as diverse as it is, it's a great way to meet people from different backgrounds and figure out what you want to do."
At BrewFest, Mallea says there's a real benefit for brewers. He gets a chance to talk with others in the industry about new techniques.
"What's fun about brewing is that there are certain procedures you have to follow, but then there's also room for innovation," Mallea says. "At BrewFest, you have this chance to chat with other people in the industry about really fun things they're doing." 
More than 50 breweries will pour 200 different craft beers at this year's festival on Saturday November 16. Tickets, at $45, include unlimited beer sampling from 3–7 p.m., gourmet food bites are included, live music, a commemorative tasting glass, and access to beer seminars. VIP tickets, at $75, allow for access an hour earlier (2-7 p.m.), with unlimited food samples, a commemorative tasting glass, a limited edition North Miami BrewFest SWAG bag with a shirt and a commemorative beer glass. 
FIU alumni receive a 20 percent discount on their ticket purchases. Use code FIUALUMSto secure your discount. Go to northmiamibrewfest.com for information and tickets.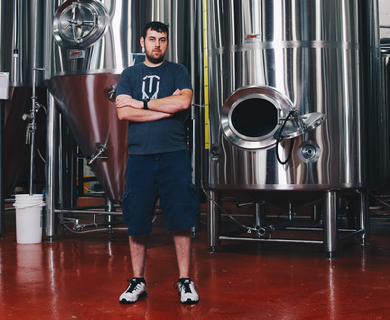 Matthew Weintraub '14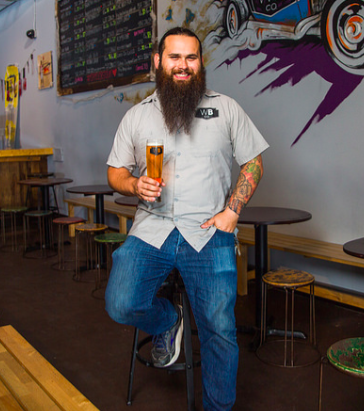 David Rodriguez '12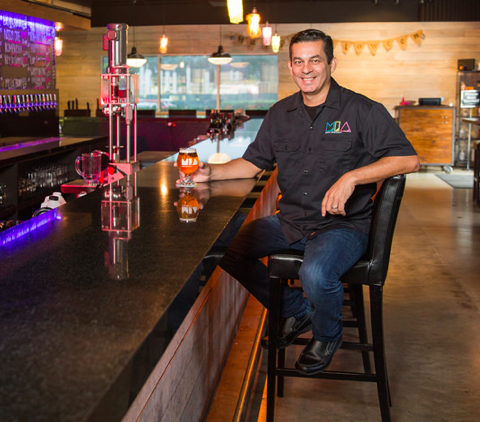 Eddie Leon MArc '88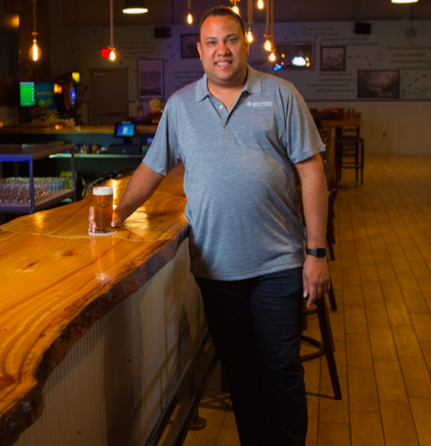 Jose Mallea '16