Alumni involved in launching new soccer expansion club in Miami, growing the sport in U.S.
Marisabel Muñoz '02 and Gabriel Gabor '88 help referee Inter Miami CF to the finish line.
As Major League Soccer celebrates its landmark 25th season and new teams are launched in Nashville and right here in Miami with David Beckham's Inter Miami CF, a pair of FIU communication graduates are helping the sport reach new heights in popularity. 
Alumni Marisabel Muñoz '02 and Gabriel Gabor '88 both serve in senior roles at the league and share the common goal of giving back to their home city and university. 
Muñoz serves as vice president of communications at Major League Soccer (MLS) and its commercial arm, Soccer United Marketing (SUM). In 2002, she started with the company as an intern just after graduating; she was later offered a full-time position and has since climbed her way through the ranks.
Today, Muñoz oversees media outreach initiatives for both companies, while balancing public relations and communications for its events. 
Muñoz, who is fully bilingual and leads the company's international communication efforts, double-majored in international relations and journalism and was part of the Honors College at FIU. She credits much of her experiences at the university as having guided her success.
"My background as a journalist helped me prepare to be a better public relations professional because I knew what journalists looked for," Muñoz says.
She adds that FIU laid a strong career foundation, allowing her to pick up on the practical and tangible sides of journalism.
"Now I know what it takes and what to expect from my staff because I have been there and done it."
Muñoz says that looking back on her journey, she feels inspired to give back to the university that has given her so much. Now that MLS is launching a Miami-based professional soccer club, she says it is the perfect time to involve her alma mater, the School of Communication + Journalism, in her initiative to give back. Muñoz plans to launch an internship program opened for communication students to gain real-world experience at Major League Soccer. 
Since graduating from FIU, Gabor was awarded the Distinguished Alumni Torch Award in 2012 and inducted into the School of Communication + Journalism's Hall of Fame in 2019. A graduate of journalism with concentrations in public relations and marketing, Gabor now serves as the a South Florida-based senior consultant for MLS and SUM. Miami is the hub of several Spanish-based television networks, making MLS' need to have a representative based here crucial.
Gabor says his job highlights include curating memorable public relations stunts and photo opportunities for brand recognition, while also serving as media officer for tent-pole events such as MLS Cup, MLS All-Star and the annual Mexican National Team U.S. Tour. He also presents media training sessions for players, executives and staff. Additionally, he has served as FIFA media officer and Gold Cup/Copa America Centenario Venue press officer.
The former head of communications at NBA Latin America works on both the league and international side of things, which is why he said no two days are the same.
"What makes my career fantastic is that there is no typical day," Gabor says. "One day I'm at my home office in Davie, the next I'm on plane headed to AT&T Stadium in Dallas, and other days I'm in New York visiting our offices."
Gabor says that the basis of his career was laid at FIU, where he developed and refined his writing skills. Another factor to much of his success, Gabor says, is Dr. Lillian Lodge Kopenhaver, his mentor during his time at FIU. Their relationship first began when he was an accounting major, not passionate about the field and lacking direction. 
"I was an accounting major to begin with, and to be frank, I wasn't doing so well," he says. "I went to speak with Dr. Kopenhaver and, luckily, she became my mentor and guided me through. Thanks to her, I think I am where I am today."
Kopenhaver took Gabor under her wing and helped him to discover his interest in public relations. Now 32 years later, the pair remain in touch. Gabor says that he volunteers his time to speak at seminars and classes held by Kopenhaver, in an effort to repay the professor for helping him to realize his life's work. 
Gabor has mentored hundreds of students and says he finds joy in witnessing their professional development. He wants other students to have career guidance similar to his experience, which changed the trajectory of his life.
"I had one student—who was not at all interested in the world of sports—volunteer for me at a Mexico vs. Colombia soccer game with me," Gabor says. "After that, she changed her career focus to sports [public relations], interned with MLS, and ultimately got hired by Univison. We have kept in touch and witnessing her professional accomplishments makes me very proud."
The pair says that they are passionate about being a tool to help students foster love for sports public relations, while giving back the opportunities that were given to them as students.
Headquartered in New York City, Major League Soccer features 26 clubs throughout the United States and Canada, in addition to future expansion teams in Austin, St. Louis, Sacramento and Charlotte.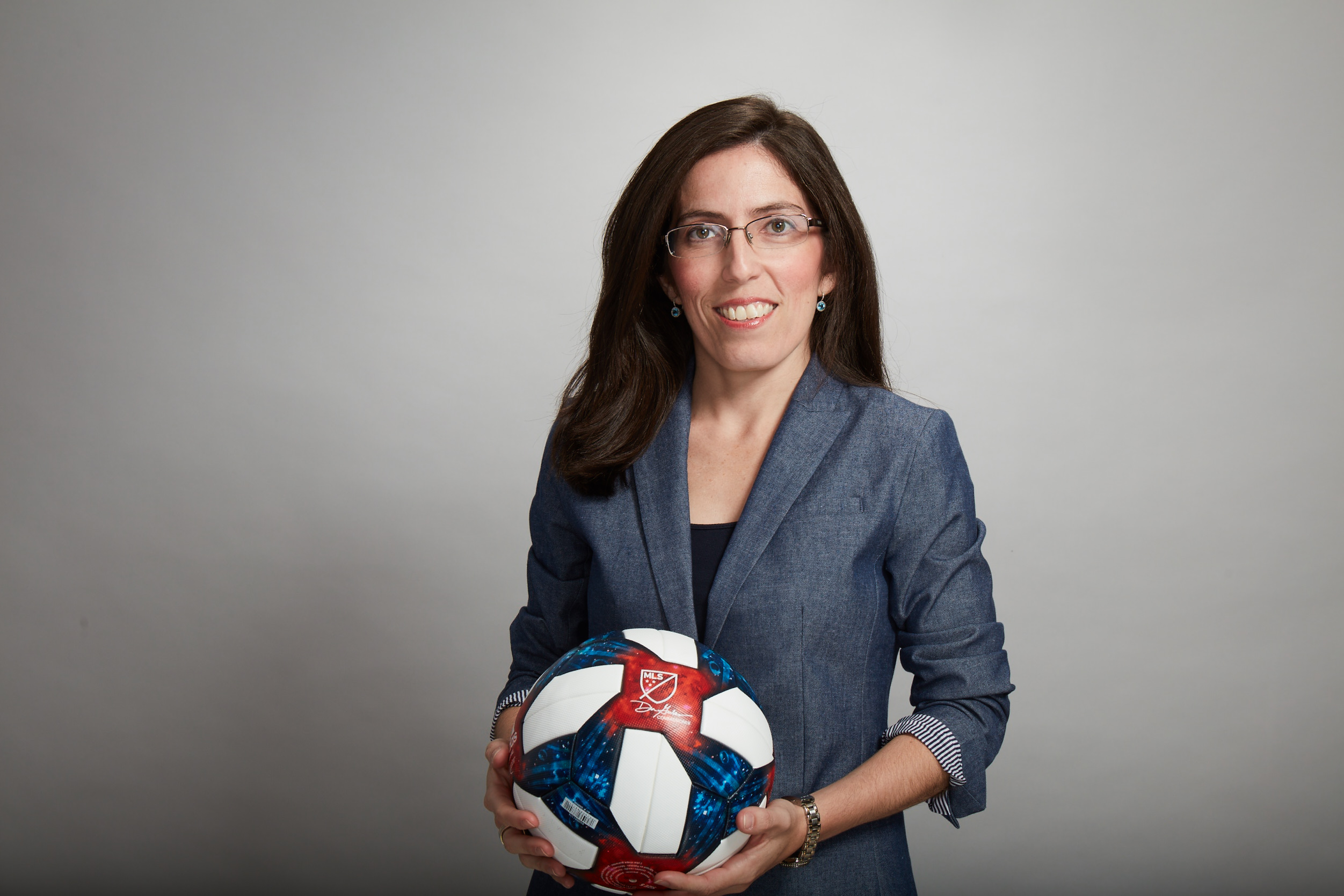 Marisabel Muñoz '02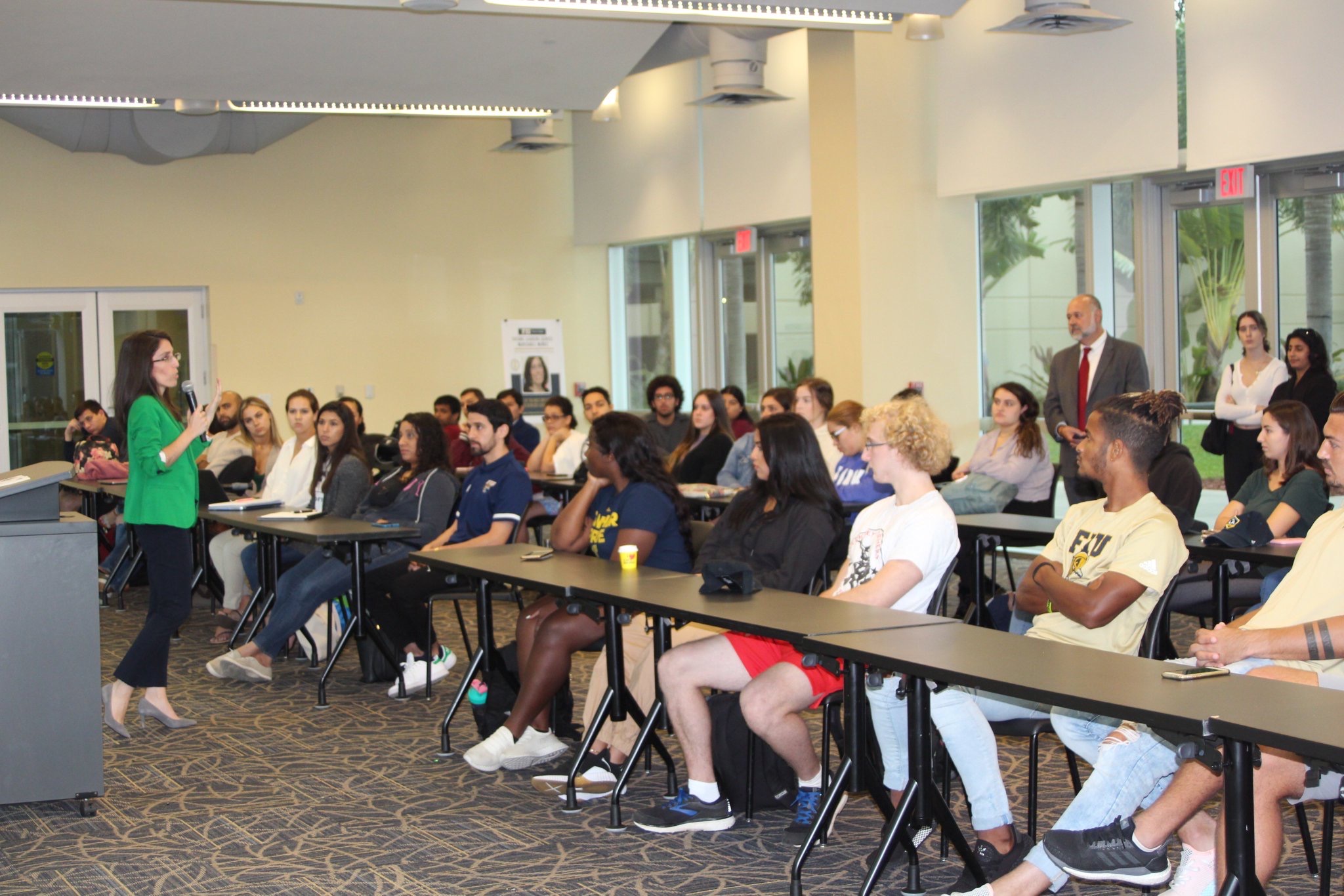 Muñoz speaking to a class of Honors College students during her last visit to the university.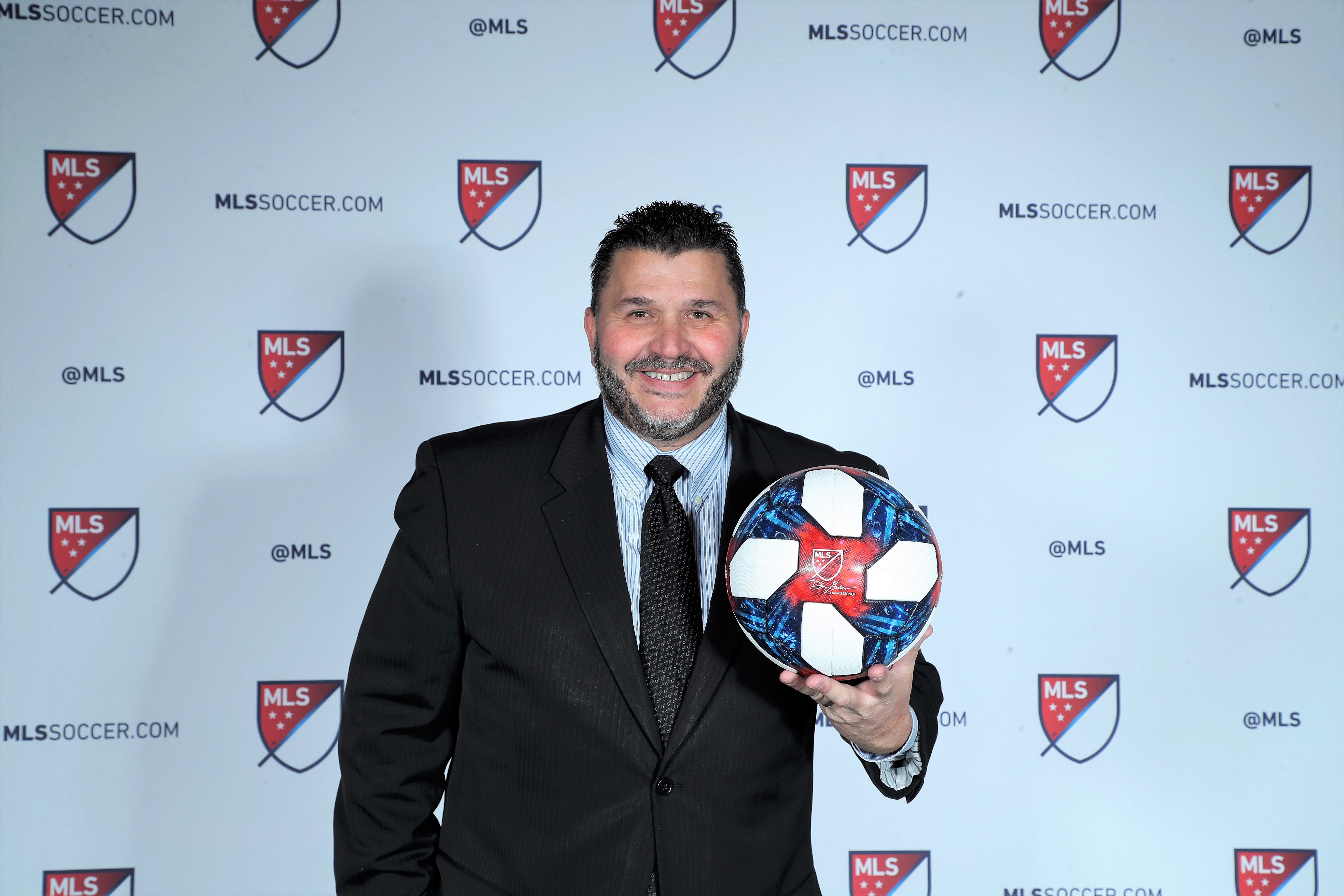 Gabriel Gabor '88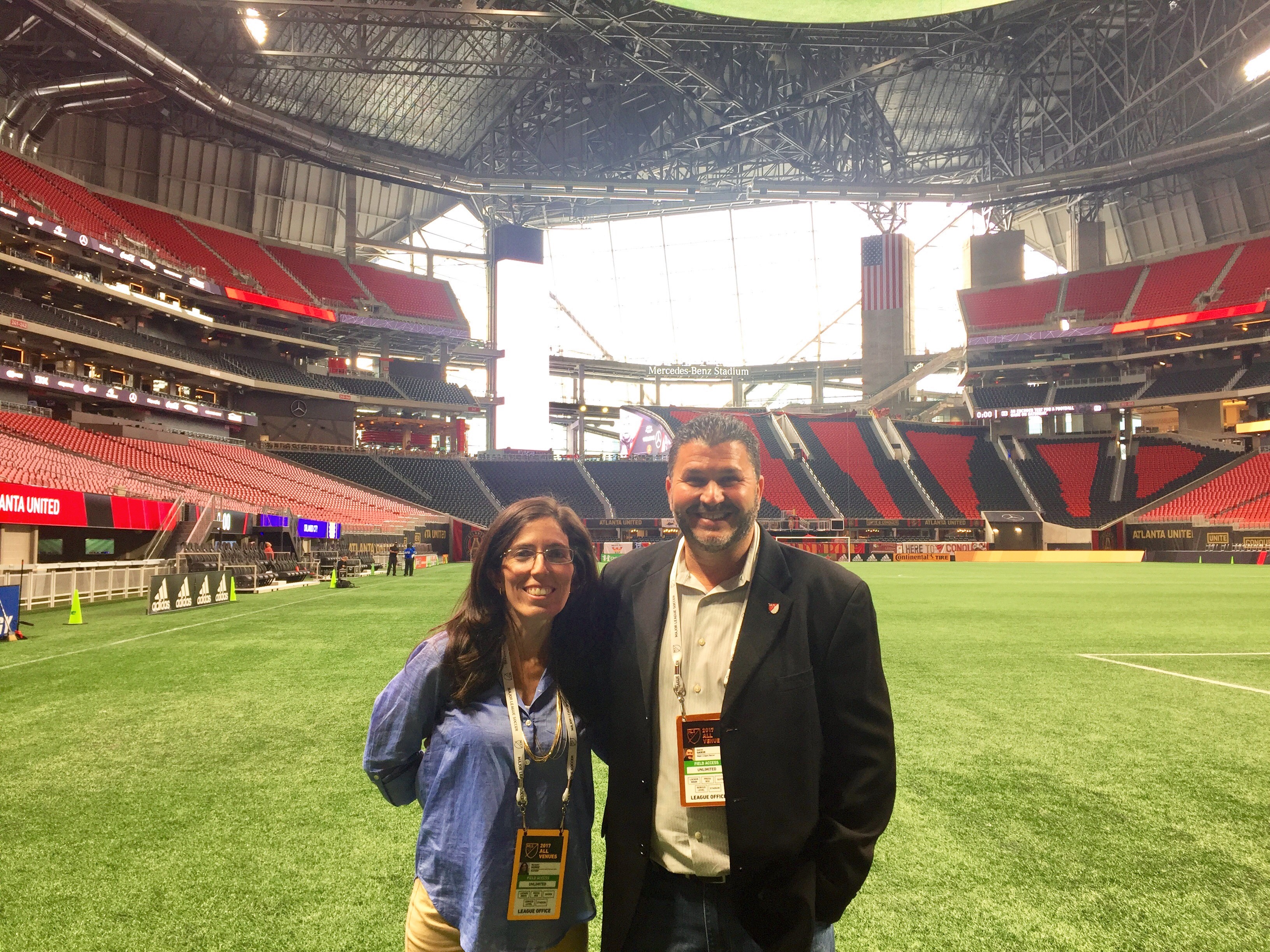 Left to right: Muñoz '02 and Gabor '88 at 

Atlanta's Mercedes-Benz Stadium during a 2017 media tour.