Alumnus creates first fellowship endowment in history
---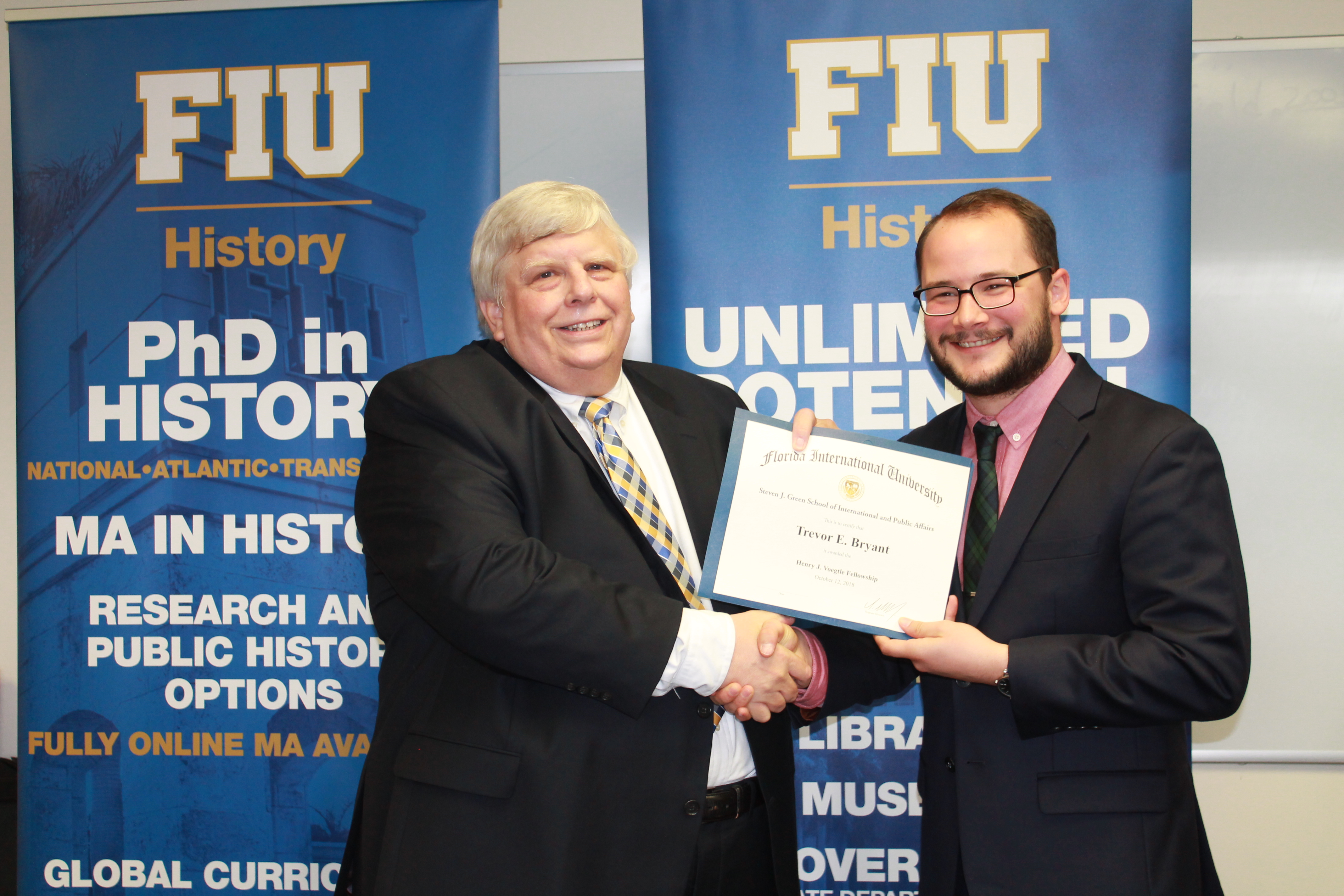 Henry "Hank" Voegtle graduated with a history degree in 1974, when FIU only had five history professors. Since then, the Department of History has grown exponentially and, throughout the years, its faculty and students have earned numerous awards for their research.
To give back to his alma mater and strengthen research opportunities for budding history scholars, Voegtle – who practiced law for 40 years and served as both assistant district attorney for Dallas County, Texas, and assistant attorney general for the State of Texas – recently established the first fellowship endowment in the Department of History.
The Henry J. Voegtle History Endowment is a yearly $1,000 scholarship that will support undergraduate or graduate researchers who focus on the history of Florida or the Southern U.S.
The scholarship will provide economic assistance for students to access archival material or conduct research trips.
"I wanted the emphasis on local history," said Voegtle. "In high school, you only get a trickle of history. You really want to learn from the bottom to top, not from top to bottom of history."
Trevor Bryant, a Ph.D. student focusing on slavery and black society in 18th century Florida, is the first student to receive the fellowship. He plans to use the funds to travel to Seville, Spain, and conduct archival research in the Archivo General de Indias, a large collection of documents that span the entirety of the Spanish empire. There, he will continue his investigation of slavery in Florida and its place in the wider Atlantic world.
His research focuses on how slaves and free people of color resisted the effects of the Atlantic slave trade by forming networks of families and friends that connected Florida to the Carolinas, Cuba, Haiti and many other places.
"I was once told that in order to study Florida's history, I would need a passport," Bryant said. "I obtained the passport, but I unfortunately lacked the funds to travel to overseas archives that housed Florida's past. This generous fellowship will allow me to spend much needed time in the archives to conduct my research."
Bryant plans to purchase copies of various documents that demonstrate how black men and women shaped Florida's multiracial and multicultural identity. He is interested in how these relationships informed the decisions and identities of the persons that formed kinship and friendship networks, revealing Florida's role as a central hub of migration before its acquisition by the United States.
History department chairman Victor Uribe said the Voegtle fellowship is an important milestone for the department.
"This pioneering award paves the way for the formation of additional fellowships on historical writing, cultural history and digital scholarship in the department," he said. "It shows other donors, and potential new philanthropists, the importance of promoting research in history and the humanities."
"It also prioritizes works focusing on the understudied history of our state or the history of the U.S. south, which both deserve additional attention."
In Fall 2018, the Department of History held an award ceremony to recognize Bryant and Voegtle.
"It was a treat to listen to his stories about what FIU was like when he attended school here and his impressions on how the university changed over the years," Bryant said. "He has a passion for history and was excited to share that passion with other people."
Voegtle said he had a similar impression of Bryant's passion for the subject.
"If you have a love of history you are going to pass that love on," Voegtle said. "He will be able to diffuse his knowledge to others."