An interview with Yusef Salaam of the Exonerated Five, keynote speaker at MLK Commemorative Breakfast
Every year, The Office of Multicultural Programs and Services honors the memory of the Reverend Dr. Martin Luther King Jr., with a month-long celebration inspired by King's lifelong dedication to equality, social justice and peace.
The 2020 celebration will be centered on the theme Advocating for Liberty and Justice for All and will feature Yusef Salaam as the keynote speaker at the 29th annual MLK Commemorative Breakfast on Jan. 17 in the Graham Center Ballrooms.  
Back in 1989, Salaam was one of five boys —four black and one Latino—who were tried and convicted for the brutal rape of a young woman in New York City. They became known collectively as "The Central Park Five" in a case that shook the nation. Their convictions were vacated in 2002 after spending between seven and 13 years of their lives behind bars.
Since his release, Salaam has committed himself to advocating and educating people on the issues of false confessions, police brutality and misconduct, press ethics and bias, race and law, and the disparities in America's criminal justice system.
FIU News spoke to Salaam prior to his campus visit to learn more about his work.
FIU News: As a criminal justice reform activist and board member of the Innocence Project, what does it feel like to have been silenced in 1989, and to know that in 2019 your story is currently part of one of the most watched series on Netflix? 
Salaam: To be silenced and rendered mute because the narrative against us was so loud, was the most painful thing to go through. You start to believe the negative hateful things said about yourself. To see where we have come to is tremendous and powerful. Our platform is now a global stage. I'm grateful to now be a beacon of hope in the darkness in the world. 
FIU News: In your opinion, what steps can we, as a community, take to ensure the United States' justice system serves its citizens correctly?
Salaam: I believe it is our duty to provide every citizen with equal opportunity under the law. For our most vulnerable citizens, we should go above and beyond in our treatment to ensure they are protected and perhaps given special status. We should also go back to teaching civics in school. Lastly, we can ensure we serve our citizens correctly by doing our due-diligence as citizens and not shirk that responsibility. 
FIU News: What advice do you have for those who find themselves wrongly accused?
Salaam: My advice is to pray and meditate. Prayer is often described as you speaking to God, while meditation is described as God speaking to you. Keep doing everything to remain mentally free. Keep walking through the fire. 
FIU News: Media coverage played a detrimental role in shaping public opinion surrounding your imprisonment. Do you feel the rise of social media has impacted the media's influence over the justice system? If so, how?
Salaam: Absolutely, social media now makes the media become more responsible because we have our own agency, and we can tell our own stories. We often have the ability to tell the right story when they get it wrong, offering a better and more truthful narrative. Often times people look to social media to verify what they've seen on the news, that's the power of social media.
FIU News: If you could talk to your 15-year-old self, what would you tell him?
Salaam: I would tell my younger self to hold on and enjoy the ride. Changing anything about the past changes everything about the future. 
FIU News: In 2016, you received the President's Lifetime Achievement Award from President Barack Obama. What was that like?
Salaam: Receiving the president's lifetime achievement award was the most amazing achievement I have received today aside from being exonerated. To be recognized by the highest office of the land for the egregious acts society has done is indescribable. I am still riding the wave of pride and blessings, even to this day.
The Annual Reverend Dr. Martin Luther King, Jr. Commemorative Celebration Breakfast is open to faculty, staff and community members. Click here to purchase tickets. 
The event is free for FIU students. RSVP required by Dec. 30. Space is available on first-come, first-served basis. Click here to RSVP.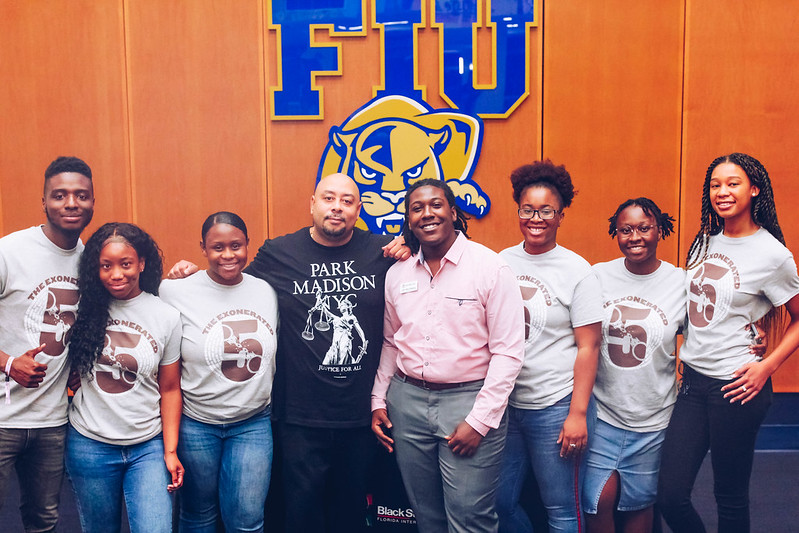 This semester, FIU students had the opportunity to meet special guest, Raymond Santana, also one of the Exonerated Five, at an event hosted by the Black Student Union. The Netflix's miniseries, "When They See Us," which retells the story from the boys' perspective, has introduced the Central Park Five case to a new generation—encouraging dialogue for justice system reform.