At annual breakfast, FIU scholars meet donors making their dreams attainable
April 15, 2019 at 12:00am
---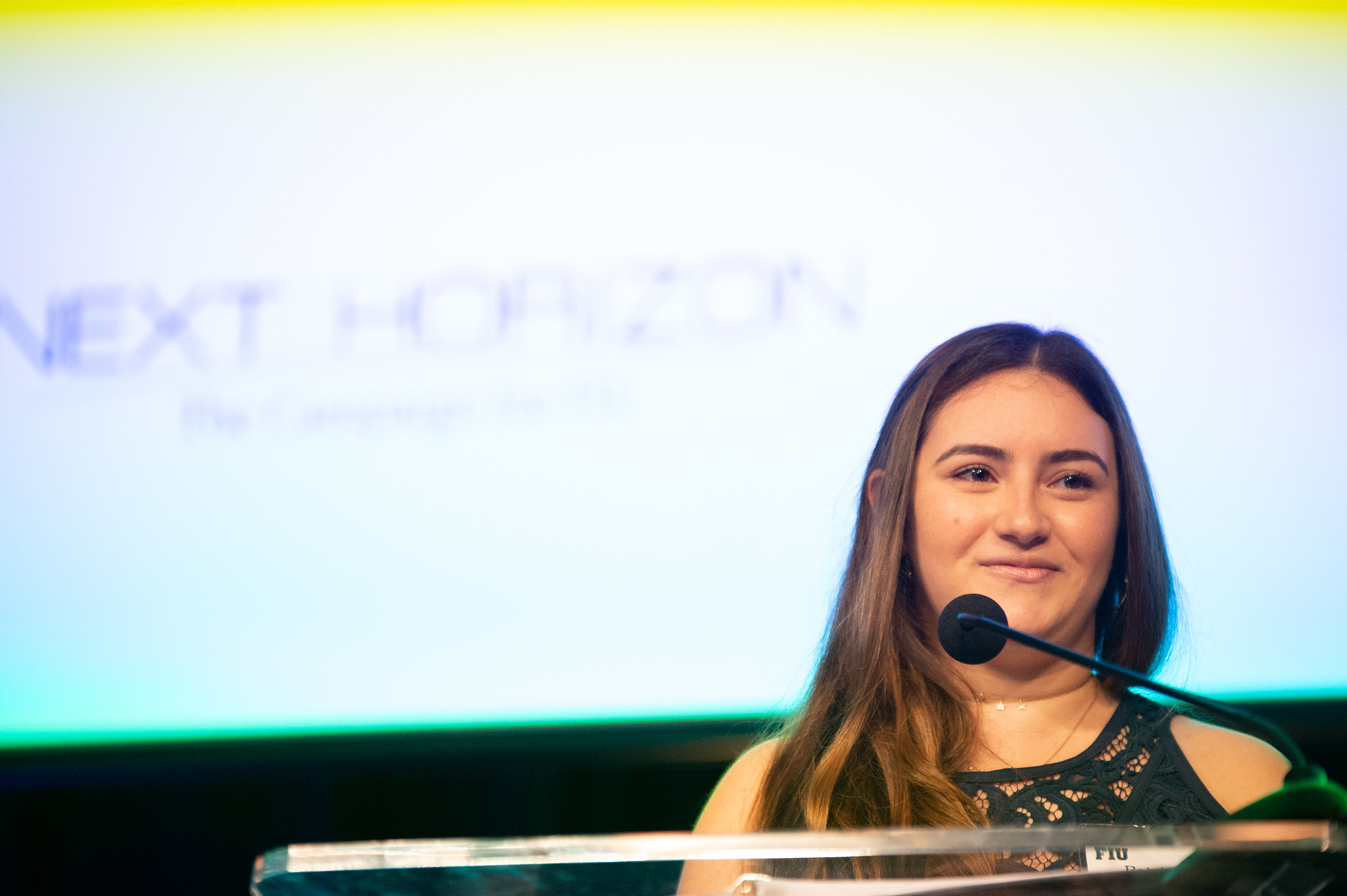 Mechanical engineering sophomore Patricia Garcia is on the fast-track to success.
By the time she entered FIU as a freshman, she had already completed a full-time, summer research internship at Worcester Polytechnic Institute. She then spent last summer in Massachusetts Institute of Technology research labs working on engineering 3D skeletal muscle for applications in the development of bio-robots, pre-clinical drug advances and transplantation.
But things haven't always been easy for the young woman with a seemingly natural affinity for STEM. As she was nearing high school graduation, her mother fell gravely ill and was unable to work. With medical bills piling up, Garcia was unsure how they would afford her college education.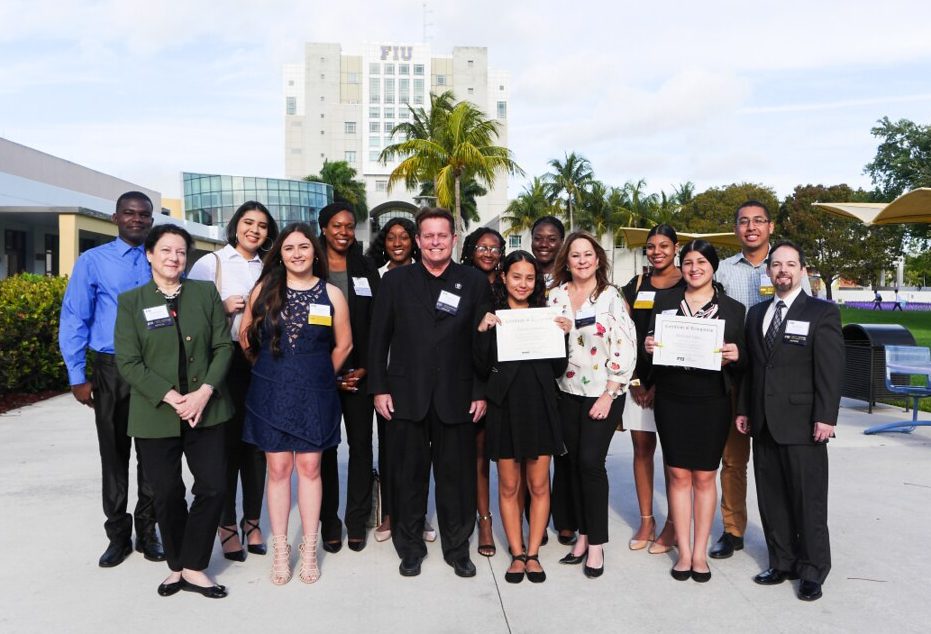 But Garcia was quickly matched with a scholarship from the Miami Bayside Foundation. "Soon the scholarship funds kicked in, and things were easier," she said.
Garcia had the opportunity to meet the chair of the Miami Bayside Foundation, Nathan Kurland, at a breakfast held by the FIU Foundation, Inc. on April 8 to recognize scholars and their benefactors.
Kurland is proud of the work the Miami Bayside Foundation and FIU have accomplished together since 2011. The foundation's work includes supporting scholarships in the MBA program and the general scholarship fund.
"We believe we have a real partner in FIU," Kurland said.
With the financial intervention her scholarship provided her, Garcia has more free time to focus on her studies, as well as her interest in advancing women and minorities in STEM careers. She plans to get involved in the initiative on campus.
"Because I believe the research laboratory and the engineering classroom are the perfect places for a girl like me," Garcia said. "Thank you FIU and the Miami Bayside Foundation for believing that too."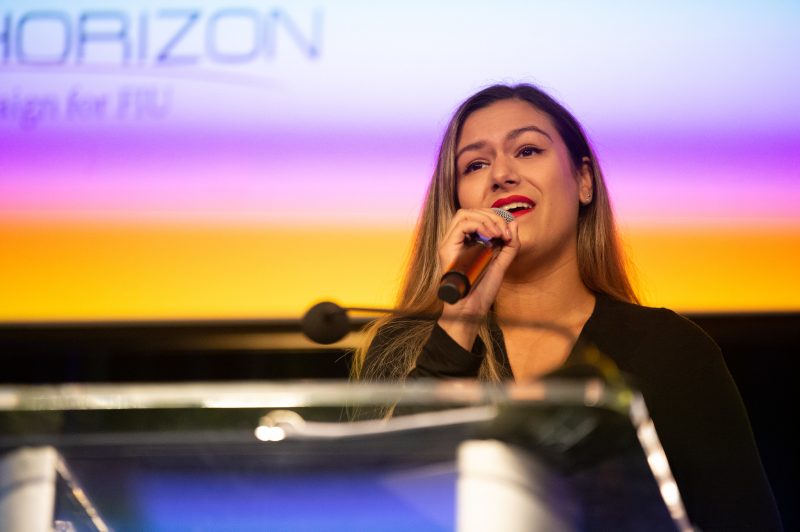 At the breakfast, senior music performance major Orianna Gutierrez wowed the crowd with a showcase of her vocal talents. Gutierrez is a first-generation college student and the recipient of the College of Communication, Architecture + The Arts scholarship and the School of Music scholarship, which provide her not only financial support, but also the opportunity to gain exposure as a performer by singing at various events on and off campus.
Gutierrez said that even though she had earned the Florida Bright Futures scholarship, it wasn't enough to cover all her expenses. The additional support she is receiving has helped her cut back on her need to work outside of school and be more involved on campus. She said she is grateful to those who support student scholarships at FIU.
"I just want to say a really big thank you. A lot of us who go here come from families who are immigrants who might not necessarily have the money to afford education. But we want to pursue an education anyway, so [your support] definitely helps us."
At the breakfast, President Mark B. Rosenberg thanked donors for believing in the university's mission and purpose. He added that they are helping FIU change lives while propelling the institution to its next horizon.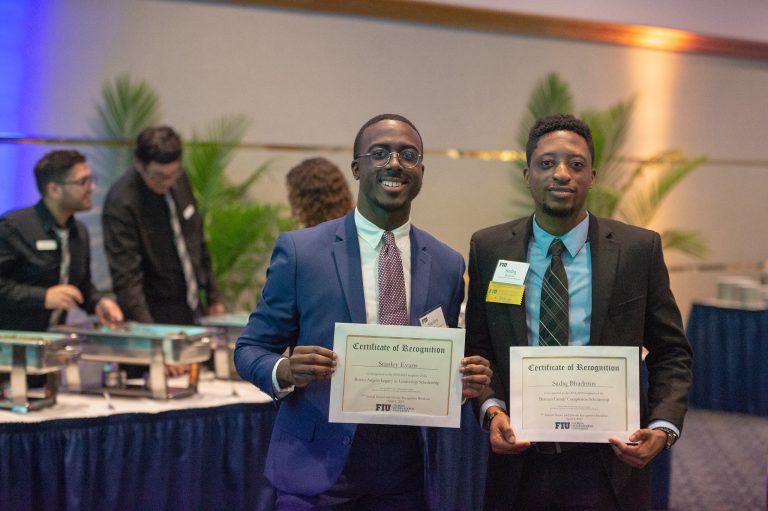 "Since our earliest days, one question that we have always asked ourselves is, 'In our rapidly-changing world, how can we remain a beacon of hope and opportunity – and add value to our students lives and enable their success?'" Rosenberg said. "Your generosity has always helped us answer this question. You have ensured that dreams at FIU are never deferred, never delayed and certainly never abandoned."
Howard Lipman, CEO of the FIU Foundation, Inc., said more than two-thirds of students at FIU receive financial aid, but many still have unmet needs.
"Our donors are a testament to the power of philanthropy and its ability to shape and uplift lives," Lipman said. "They have provided a pathway for students to secure an outstanding FIU education and realize their dreams."
Lipman introduced the Next Horizon campaign, a landmark effort to raise $750 million in support of student success and research excellence at FIU. From that goal, $145 million will be allotted to increase scholarships and student support.
"It is time for all of us to give back to our FIU. Your contributions matter—to the students who will rise to become leaders in every profession and field of endeavor, in our community and beyond. Together, we will make the difference to continue the rapid ascent of our great university. Together, we can take FIU to its next horizon."