At recent symposium, women led the way in STEM student research
---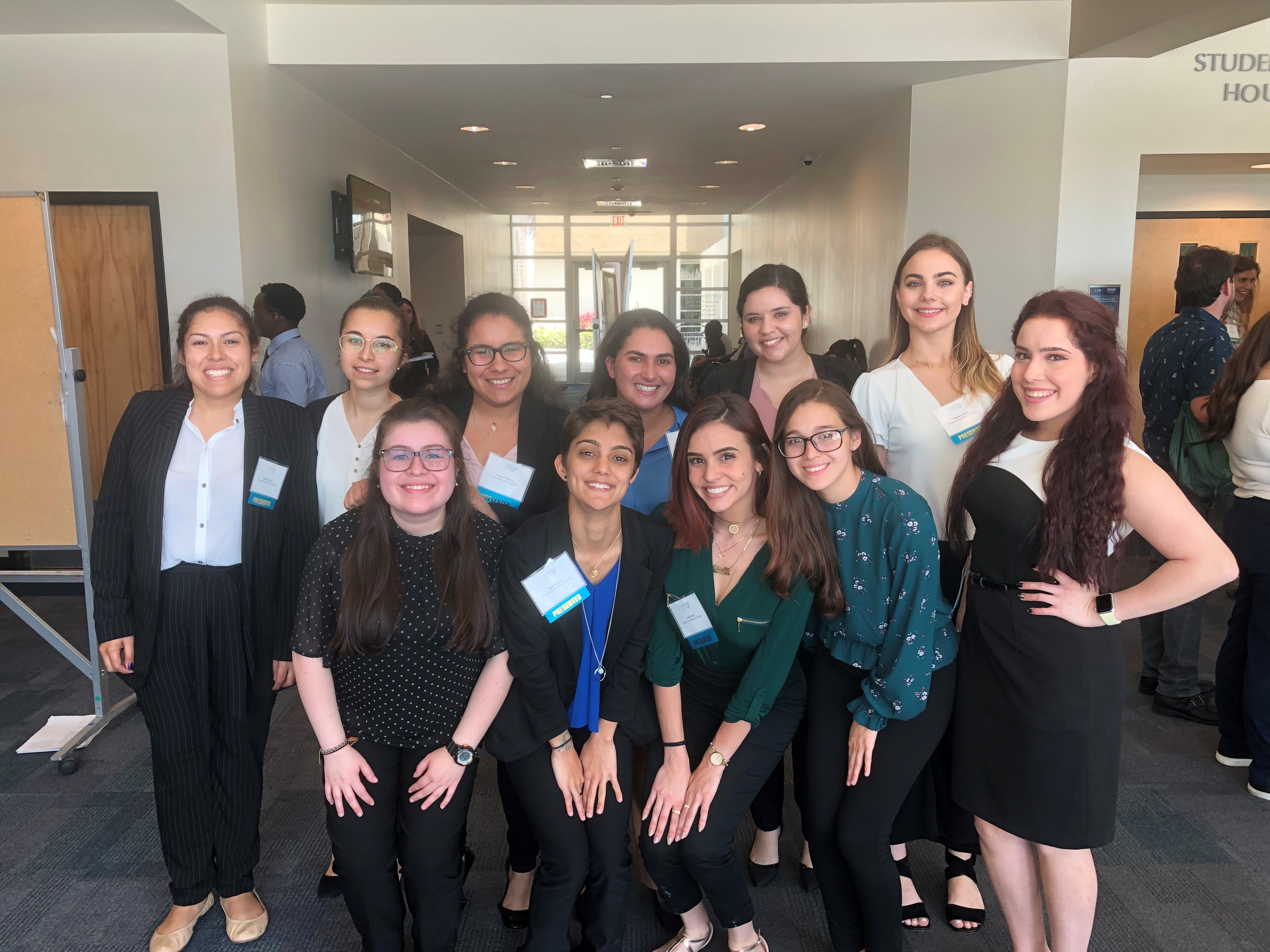 Of the 16 FIU students presenting their original research at the Life Sciences South Florida (LSSF) 7th Annual STEM Undergraduate Research Symposium this past Saturday, April 6, 12 of them failed to notice one unique similarity they had – they were all women in STEM.
In 2018, 50 percent of all STEM bachelor's degrees were awarded to women, so it's no surprise these women didn't notice they were all women in a once male dominated field. Instead, the researchers focused on their passion for the research they shared at the all undergraduate symposium.
When asked about what it's like to be a woman in STEM, most of the student researchers had nothing to comment. Their experiences in the labs at FIU had not been focused on their abilities as women, but their collaborative mindsets as researchers.
"Everyone is trying to help each other and advance. In the lab, we all know we can rely on each other for support," said Kassey Morales, a junior researching in FIU's Infant Development Laboratory. "It's great because you never know, when we become professionals and academics, who we will need in our network."
The topics of research varied widely among the students. Kaityn Contino studied the impact of joint attention on vocabulary development in infants. Nidia Rodriguez and Daniela Gomez worked to improve a drug to require a lower dosage and reduce toxicity. Cristol Espinosa and Leah Letland researched the effects boats have on marine ecosystems when they rip up patches of sea grass.
These student researchers are working on impressive research that have consequence to the way we understand the world.
"Our research can help us identify children at risk for cognitive delay," said Michelle Munio, a senior studying the effect of multi-sensory response and its impact on identifying cognitive delays early on in children. "Once it's externally validated, I hope for this study to be in pediatric offices and help to predict children's attention abilities."
Katherine Delarosa and Silvia Garcia, both Department of Energy fellows, worked on two separate studies relating to removing contamination from ground water and working to prevent contamination from occurring. Through their fellowships and research, they have been able to secure internships that allow for continued research.
Silvia Garcia, a previous intern at the Department of Energy headquarters in Washington, D.C., said, "I definitely have a lot of connections through these internships. I know people in headquarters and national labs. I've learned what I like and what I don't like in a professional setting, as well as found people to guide me in finding graduate schools and job opportunities."
This research may seem daunting for students who have yet to set off on their path to scientific discovery, but many of the LSSF presenters advise interested students to let intimidation subside and just get started.
"If you have an interest in anything, don't be afraid to go up to faculty," said Diana Ugalde, a junior who serves as the only undergraduate research assistant for FIU Associate Professor Valentina Bruk Lee. "They love hearing from undergrads. Mentors and faculty are always looking for undergraduate students who are determined."
Hosted by Florida Atlantic University, the seventh symposium was the largest yet with more than 100 student participants from many LSSF member institutions, including FIU, FAU, Miami Dade College, Nova Southeastern University, Indian River State College, Broward College, St. Thomas University, Palm Beach State College, Florida Gulf Coast University, Florida Memorial University, Barry University and the University of Miami. Launched in 2010 and chaired by President Mark B. Rosenberg, LSSF is overseen by FIU's Office of Engagement.
FIU's Jenesia Perez, a junior majoring in biological sciences, took 2nd place in oral presentations.