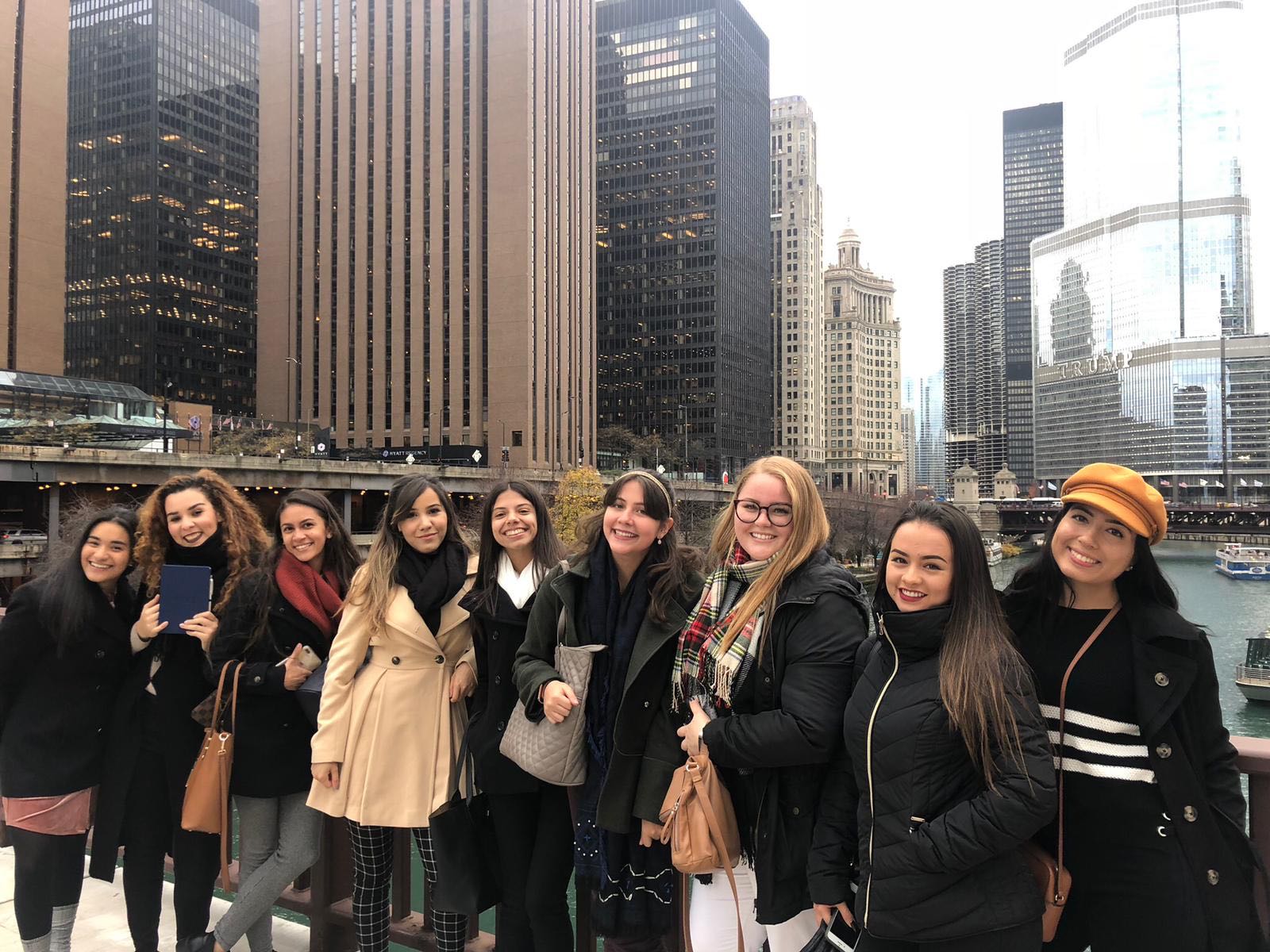 By Dillon DiBartolomeo
This fall, nine female members of FlU's BOLD Communications Agency traveled to Chicago to visit various agencies and network with top-level company executives.
BOLD is a student-run and faculty-managed strategic communications agency where students gain hands-on, real-world experience in a professional agency environment. The experiential learning opportunity helps students develop and sharpen their skills through real client work, workshops, team-building exercises and networking engagements with professionals and thought leaders in the communications industry.
The Chicago trip, which spanned three days, Nov. 6 – 8, included tours of seven companies specializing in public relations, social media management, marketing and advertising. Organized and led by BOLD Ad Director Lilianne Savinon, visits included stops at the following companies:
Edelman
SapientRazorfish
Ogilvy
Liquidus
iHeartMedia
Gogo Inflight Entertainment
DineAmic Group
BOLD members were educated on agency life – learning what it's like to work at a real-life agency. They also met with top-level executives to learn about their career paths.
Nathaly Carvajal, a junior majoring in public relations, advertising and applied communications (PRAAC) and current account executive for BOLD, says: "I've grown immensely since traveling to Chicago. Meeting these amazing creatives and professionals out in the 'real world' and being able to hear their 'How-I-Got-to-Where-I-Am' stories was life-changing."
BOLD members learned that not every top-level executive had the same starting point in their careers.
"I had a very naïve mentality – that all things in life could be cookie-cutter. It was great to hear that's not the case for most people," Carvajal adds.
Aside from picking the brains of top-level executives, BOLD members were also informed of upcoming internship opportunities. They were offered an exclusive opportunity to network and socialize with CEOs, project managers, account executives and art directors.
"It was a wonderful opportunity to make connections and network with professionals in the field with a great team that shares a common goal with me," says Alexandria Rodriguez, a junior majoring in PRAAC.
When asked to sum up the Chicago trip in one word, Rodriguez says: "inspirational."
"Since Chicago, I have grown in my resolution to push forward in learning new techniques and programs and doing everything possible to achieve my goals," she adds
In addition to their educational impact, the women had a social impact as well. During their trip, the BOLD members held an Insta-Story takeover on FIU's and BOLD's Instagram account (@boldfiu). Led by Justine Ortiz and Maria Camila Vargas, the Insta-Story initiative resulted in more than 13,000 impressions.
Want to learn more? Visit https://boldfiu.com/.