CasaCuba receives $750,000 from the National Endowment for the Humanities
---
The National Endowment for the Humanities (NEH) announced that CasaCuba has received a $750,000 matching grant, which encourages additional private support. The funding will support the architectural design phase of the state-of-the-art center that will host lectures, academic conferences, community events, and digital and physical exhibitions intended to further the study and public understanding of the Cuban heritage.
"This extraordinary award from NEH is a testament not only to CasaCuba's inspiring vision and progress to date, but to FIU´s long history as an epicenter of Cuban studies and culture," said María Carla Chicuén, executive director of CasaCuba. "I am grateful to NEH for recognizing CasaCuba´s potential as a prominent intellectual and cultural institution, and hope that this gift will inspire many others to support us philanthropically."
This funding cycle marks the second round of grant awards made under NEH's Infrastructure and Capacity Building Challenge Grants program, which seeks to leverage federal funds against private investment to help create and sustain the nation's humanities infrastructure.
"We could not be more proud and honored that CasaCuba has been selected by the National Endowment for the Humanities for such a monumental grant," said Ray Rodríguez, vice chairman of the CasaCuba Board of Advisors. "This grant, along with the grant from the Knight Foundation and those from other community leaders, is building tremendous momentum. These very prestigious organizations have recognized what CasaCuba will mean to all who have an interest in Cubans' past, present and future."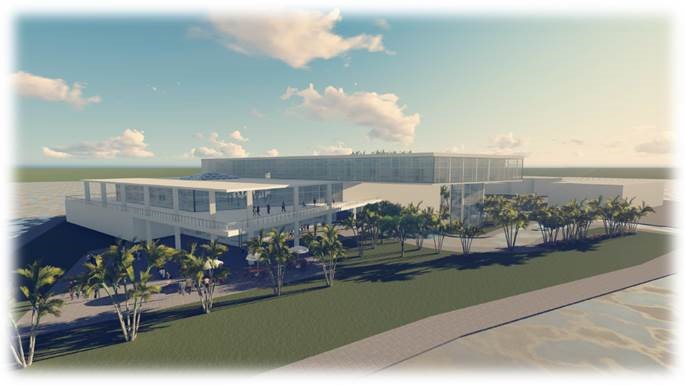 In 2015, FIU announced plans to build CasaCuba as the leading venue outside of Cuba for the creation and dissemination of knowledge about Cuba and the celebration of Cuban culture. As a gathering place for researchers, students, the South Florida community and visitors from around the world, CasaCuba will offer a welcoming home away from home to learn about Cuba and the Cuban diaspora, and a think tank that provides a forum for exploration and discussion of Cuban affairs, producing impactful analysis to guide policymakers and business leaders. As a cultural institution, CasaCuba will celebrate artistic expression in all its forms, recognizing talent and achievement and inspiring creativity in the Cuban community and beyond.
CasaCuba has launched a campaign to secure funding for the design, construction and operational endowment of its planned building. Major gifts to date include $2.2 million from the James S. and John L. Knight Foundation and $1 million from local business leader, chairman of the CasaCuba Board of Advisors, and FIU Foundation Board of Directors member Agustín R. Arellano, Sr. and his family.
"This recognition could not have come at a better time, as we launch our fundraising campaign," said Arellano, Sr. "This prestigious grant from NEH shows that the top agencies in the country believe in and are backing us in building CasaCuba."
FIU's Next Horizon campaign is raising funds to secure the match for this grant and make the vision for the facility a reality. To learn more about CasaCuba´s history, leadership and current activities, click here.
These are the members of CasaCuba´s Board of Advisors:
Agustín R. Arellano, Sr. – chair of construction firm NV2A Group, board chairman
Ray Rodríguez – former president and chief operating officer of Univision Communications, board vice chair
César Álvarez – senior chairman of Greenberg Traurig and member of the FIU Board of Trustees
Néstor Carbonell, Sr. – former international public affairs and business leader at PepsiCo
Alfonso Fanjul, Jr. – chairman and chief executive officer of Florida Crystals Corporation and Fanjul Corporation
George Feldenkreis – executive chairman of the board of Perry Ellis International
Andy García – actor and director
Alberto Ibargüen – president, chief executive officer and a trustee of the John S. and James L. Knight Foundation
Jorge Mas – chairman of the board of MasTec
Lily Prellezo – author
Claudia Puig – senior vice president/eastern regional manager of Univision Communications and chair of the FIU Board of Trustees
Mark B. Rosenberg – president of Florida International University
Eduardo M. Sardiña – former president and chief executive officer of Bacardi U.S.A.
José J. Valdés-Fauli – private investor and former banker