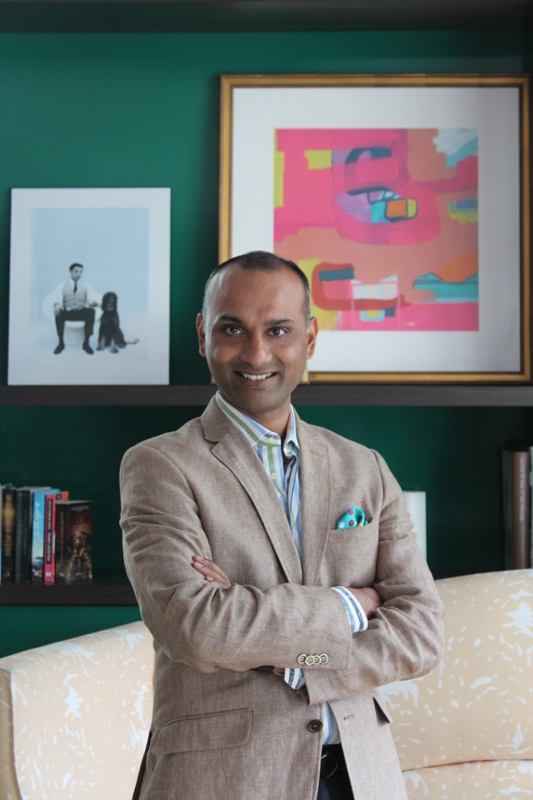 In less than two decades, the Food Network & Cooking Channel South Beach Wine & Food Festival ( SOBEWFF®) has blossomed from a small gathering into a national destination for food, wine and spirits. For alumni like Mohan Koka '01 who work at hotels on South Beach, watching the festival grow first-hand has been remarkable.
Koka arrived at FIU like many fellow freshmen —from overseas. An academic advisor made him feel comfortable about leaving India and enrolling in the  Chaplin School of Hospitality & Tourism Management.
"The atmosphere was great. Being on the bay didn't hurt either," Koka said.
Among his experiences, of which there were many—he met his wife in the dorms and graduated magna cum laude—were volunteer shifts at the Florida Extravaganza. It was a one-day gathering of a few hundred people to eat, drink and have a good time at Biscayne Bay Campus. The hospitality students helped run the festival, and the proceeds went back to the Chaplin School.
"It was so much fun because we were all students that knew each other and we felt like we were part of something that was much bigger [than us]. None of us had any idea it would grow into what it is today. It was exciting for us to do something that was out of the norm," Koka said.
He soon graduated and his career led him around the United States. When Koka returned to South Florida in January to become the general manager of the Kimpton Surfcomber, a luxury hotel on South Beach, the Florida Extravaganza had evolved. It is known now as  SOBEWFF®.
SOBEWFF® is the nation's destination for food and beverage connoisseurs, hosted annually throughout South Florida. In February, thousands of attendees will eat and drink with world-renowned wine and spirits producers, chefs and culinary personalities at more than a 100 events. The festival has raised more than $28 million for the Chaplin School.
Koka will be participating in it again, but this time, as a business partner. The Kimpton Surfcomber will host the  Art of Tiki Cocktail Showdown hosted by Ted Allen, an evening of Polynesian flare and tiki-inspired cocktails taking place on Friday, Feb 22.
"Everybody who is somebody wants to be a part of [SOBEWFF®]. Many other cities have created their own versions of it. The fact that the festival has not lost its intensity, and not lost sight that it is a student-oriented festival, is really special," Koka said.
Koka is not the only Chaplin School alumnus on South Beach who will warmly regard the bustle of SOBEWFF® as it pours into his hotel lobby.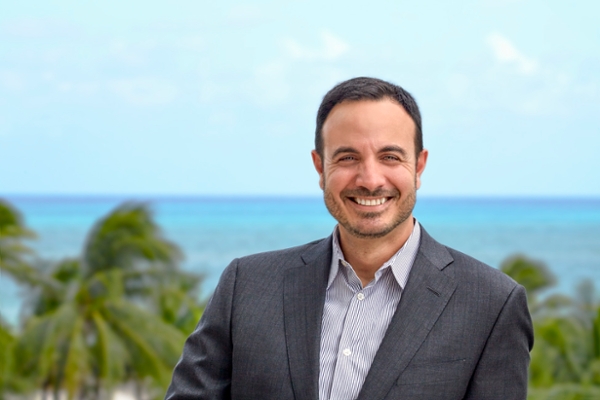 "For me personally, having gone to school there and seeing the school achieve its goals and become more relevant in the hospitality world, it's been really cool," said Alex Tonarelli '94, MS '97, the managing director of Loews Miami Beach Hotel, which serves as the Festival's host hotel partner, and chairman of the board for the Greater Miami and the Beaches Hotel Association.
Tonarelli has been working at the Loews Miami Beach Hotel since it became the first hotel partner of SOBEWFF® 18 years ago. His hotel hosts several events during the weekend, including:
He has seen the festival grow first-hand, and with it, an increase in its value to students.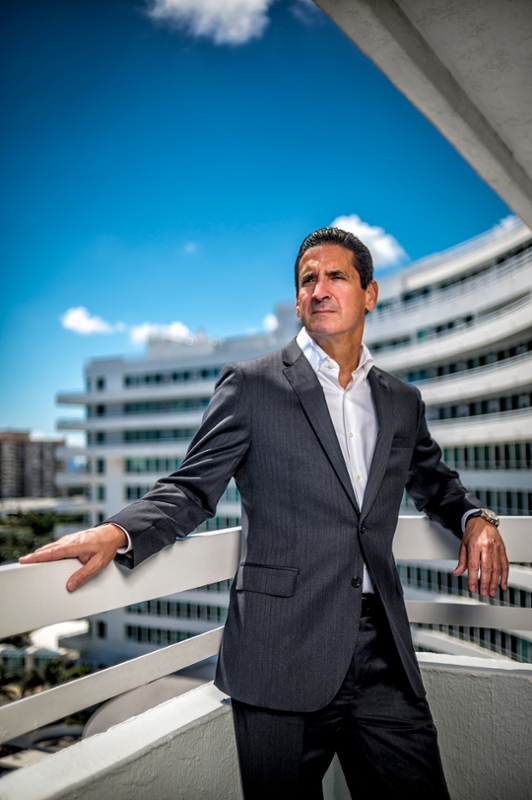 "Students are getting hands-on experience. They're getting the ability to be more marketable and put [SOBEWFF®] on their resumes. They're getting the ability to see their contributions and how it impacts a team. They're getting the satisfaction of volunteering and doing something that benefits their school," Tonarelli said.
This experience is more valuable for hospitality students than ever, said Philip Goldfarb '79, president and chief operating officer of the Fontainebleau Miami Beach. More than 1,000 students from all disciplines volunteer at SOBEWFF® every year.
"There's no other university in the world that provides our students with the opportunity to do 100 different jobs in the festival itself. Some of them are in the kitchens, working with world-famous chefs. Our students get to be involved in every aspect of the festival," Goldfarb said.
Goldfarb is an active FIU alumnus in both business and university involvement. He served as chairman of the Chaplin School's advisory board for three years and employs 128 university graduates at his hotel. During SOBEWFF®, the Fontainebleau Miami Beach will once again hosts Wine Spectator's  Best of the Best sponsored by Bank of America, an event that pairs up gourmet food samplings with highly acclaimed wines.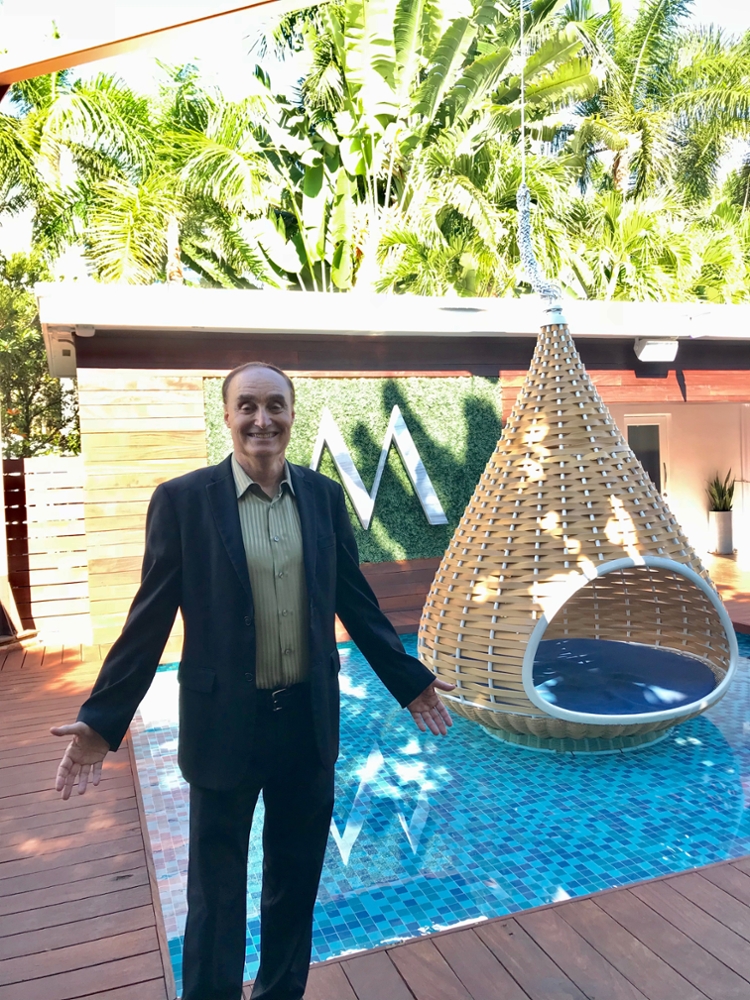 The Chaplin School alumni are also in agreement on this: the networking opportunities that students receive through the festival can be tremendously beneficial to their careers.
"They get to just walk around and see how the biggest chefs and biggest liquor companies in the world operate, interact and just how they greet everybody," said Mark Gardner BA '75, MS '76 and general manager of the Marseilles and Dorchester hotels.
Like his fellow Chaplin alumni, Gardner enjoys watching the next generation of Panthers gain real-world experience at SOBEWFF®. To facilitate this, he offers a special price to hospitality students who stay at his hotels during the festival.
"The students are enthusiastic," Gardner said. "They like to come back year to year. It's refreshing to see. Hospitality students are a special kind of people."
Just like Gardner is happy to see students return to SOBEWFF®, associate dean of the Chaplin School Mohammad Qureshi finds joy in watching alumni participate.
"It is always a pleasure to have alumni who continue to support the university and school by supporting and collaborating with the Food Network & Cooking Channel South Beach Wine & Food Festival," Qureshi said. "They understand the value SOBEWFF® has added to many students, who then join the ranks of alumni."